SED RECORDS SHOWCASE; HORNET, THE BURNING CROWS & BLACK STATE HIGHWAY
by Chris Danielson
Guest Writer —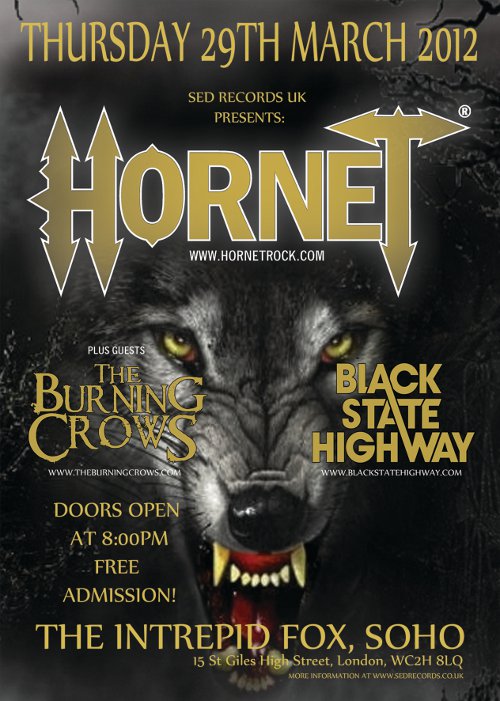 After another full capacity show at The Intrepid Fox in Soho, three great bands are yet again going to kick ass! SED Records UK will be returning for a fourth time to host another one of their fantastic free-entry live rock music nights on Thursday 29th March 2012. SED's hard rock outfit Hornet are returning once again for a night of rock 'n' roll mayhem by re-energising rock 'n' roll at its unpretentious best with a fusion of punk and metal having been described as a 21 year-old AC/DC with Henry Rollins on vocals! Support comes strong with high quality bravado rockers, The Burning Crows who play hard and well and Black State Highway, a band who plays classic rock riffs with a southern rock swagger.
Headliners, Hornet will show you why they have everybody talking about them! After rocking for three years with their catchy hard rockin' songs and take-no-prisoners approach to their live show, you will be sure to keep your head banging until the end of the night (or until you've had too much beer!) Hornet recently had their demo track 'Second Hand Smoke' re-mixed by Pedro Ferreira (Producer of The Darkness' multi-platinum selling album 'Permission To Land') and mastered by Ade Emsley (Who recently mastered Iron Maiden's 'From Fear To Eternity') and Big In The Game Magazine reviewed Hornet and said; "In their time The Sex Pistols had revolutionised the music industry in a way never seen before. It is my belief that Hornet will do the same, all that's left is to see their influence spread. Need I say any more?" You know the Hornet boys are on to something big!
Glasswerk said; "It's Like witnessing Nirvana, The Sex Pistols and Black Flag and the crowd here is lucky enough to catch the band in intimate surroundings, clearly aware that they are witnessing something very special indeed. 'Outta Control', 'Second Hand Smoke' and 'Rock n Roll Riot' already sound like classics. The bands rise to superstardom depends on one thing – whether a major label has big enough balls to take on this rock leviathan."
After gigging for two years classic rockers, The Burning Crows, have unveiled their lavish musical mayhem with their aptly named "Never Had It So Good" EP. After spending innumerable hours on the road and playing countless shows to master their craft, the band recently took some time out to record at the world famous Rockfield Studios. With the EP being Produced and Mixed by Nick Brine (The Darkness / Bruce Springsteen / Oasis) and with Keith Weir (The Quireboys / Def Leppard) making a guest appearance on keys, it seems that some of rock's biggest players are starting to join the ever growing queue to get behind the band. If high energy rock, n' roll played hard and played well is your thing, come and see The Burning Crows and be a part of a decadent feast for the senses and carnival of frivolity.
Brighton's Black State Highway met as students at BIMM and are new on the scene, they will be opening the night. Described as having bone-crunching riffs and "bottle shattering vocals" they will certainly be worth watching.
They have taken the Brighton scene by storm and played at top venues such as The Hydrant, The Concorde 2 and Komedia aswell as playing at London venues such as The Dublin Castle, The Monto Water Rats (supporting Blaze Bayley) and The 100 Club. Make sure you get to the venue early to see some full-throttle rock as Black State Highway are surely on the road to success!
Be a part of rock history and to get to this show on the 29th March at The Intrepid Fox, Soho. Doors open at 8pm so be there early as it's gonna be even busier than the last show! You don't want to end up like a sardine in a tin…
Written by Chris Danielson