Sonic Station | Sonic Station
by Justin Gaines
Staff Writer —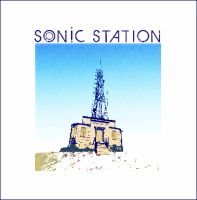 Sonic Station is a new West Coast (by way of Sweden) AOR project put together by guitarist/composer/producer Alexander Kronbrink and smooth jazz keyboardist Jonathan Fritzen. Now if you read "West Coast" and "smooth jazz" and started feeling drowsy, you're not alone. The whole West Coast "yacht rock" sound is pretty damned mellow in the first place, so adding soothing saxophone solos isn't going to help much. Still, the fact that Sonic Station's self-titled debut is on the Frontiers label is reason enough to give it a shot.
Once you clear the three-minute instrumental introductory track, "Gonna Show the Way" tells you just about everything you need to know about Sonic Station. It's a fusion of AOR, pop and jazz (the kind they play in dentist offices, not the fun stuff you'd hear at a bar), and at its most rocking, it's about as aggressive as the average Toto album. This isn't necessarily a bad thing if bands like Work of Art and Lionville are your cup of weak, watered-down tea, but it's not a selling point for those looking for some rock in their melodic rock. The players involved are all very good musicians, and the songwriting and production jobs are first rate. At the end of the day though, this is a cross between pure Toto worship and a soap opera soundtrack, and a little of that goes a long way.
The Sonic Station debut features four different vocalists: Tove Lo, Kristoffer Fogelmark, Magnus Blacklund and Swedish television star Marika Willstedt. All four vocalists have strong, distinct voices, and all four get a chance to shine. They all fare best on the more upbeat, rocking songs, but Willstedt in particular can pull off a weepy ballad better than her male counterparts.
It's hard to give Sonic Station a very enthusiastic recommendation. For what it is, it's not bad at all, and those of you who loved Lionville and Work of Art ought to love it. It makes the latest releases from Kimball-Jamison and Fergie Fredericksen seem almost like metal albums though. You've been warned.
Genre: AOR, Melodic Rock
Band:
Alexander Kronbrink (g)
Jonathan Fritzen (k)
Henrik Linder (b)
Aron Mellergard (d)
Marika Willstedt (v)
Magnus Backlund (v)
Kristoffer Fogelmark (v)
Tove Lo (v)
Track Listing:
1. Intro
2. Gonna Show the Way
3. I Wish I Could Lie
4. Hold On To Me
5. You Have To Let Me Go
6. The Most Beautiful Fear
7. Running Through the Night
8. Never Let the Sunshine Die
9. My Last Refrain
10. Love You More
11. Reasons
Label: Frontiers
Website: www.sonic-station.com
Hardrock Haven rating: 6/10