Taberah | The Light of Which I Dream
by Justin Gaines
Staff Writer —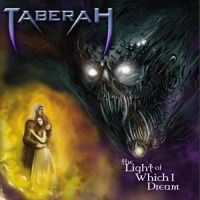 The Light of Which I Dream is the debut full-length from Taberah, a heavy metal band out of Tasmania, Australia. Taking their name from the Biblical site of God's wrath, Taberah plays a kind of metal that's equal parts power metal and traditional heavy metal. Fellow Australian metallers Lord Tim and Mark Furtner (of Lord) make guest appearances on this album.
Mixing traditional and power metal is always a great combination, and Taberah pulls it off pretty well here. They've got the rapid fire riffing and headbanging rhythms of Accept and Saxon, plus the melodic focus and anthemic nature of the Helloween/Gamma Ray power metal style. Some of the melodies as well as Jonathan B's vocals also bring to mind Falconer at times. Lyrically, The Light of Which I Dream ranges from serious odes to battles, blood and fire to weepy ballads of lost love to full-on cheesy metal anthems. Some of these themes work better with Taberah's overall sound than others. Opening (once you clear the throwaway instrumental intro track) anthem "Brothers of the Fire" is a monster of a metal anthem, but the lyrics would make Lost Horizon blush. "Stormchild," "Requiem of the Damned" and the title track, however, are very effective songs with amazing energy.
The Light of Which I Dream is a very solid debut from a very promising band. It doesn't quite measure up to the "name" power metal bands, but Taberah has definitely made a strong first impression here. It will be interesting to see how the band progresses. If you've been following the resurgent traditional metal scene in recent years, especially "under the radar" bands like Widow, Absolute Steel, Season of the Wolf, Praetorius and Age of Distrust, The Light of Which I Dream is an album you will definitely want to check out.
Genre: Heavy Metal, Power Metal
Band:
Jonathon B (v) (g)
Tom Brockman (d)
Myles "Flash" Flood (g) (v)
Dr. Dave Walsh (b) (v)
Track Listing:
1. The Descent
2. Brothers of the Fire
3. The Call of Evil
4. Fearless
5. Stormchild
6. The Ballad of Ruby Joy
7. The Light of Which I Dream
8. Freedom or Death
9. Requiem of the Damned
10. The Reaper
Label: Metal Evilution
Website: www.facebook.com/taberah.tas
Hardrock Haven rating: 7.75/10