The Jimi Hendrix Experience | Winterland
by Alissa Ordabai
Staff Writer —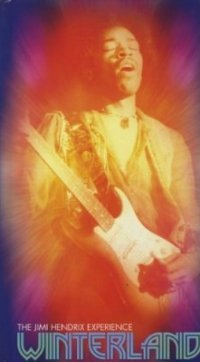 Released in September 2011 after decades in the Hendrix family vault, the material on this 4-disk live box set is another compelling testimony to the ultimate guitar hero's genius. Tapes of three shows the Jimi Hendrix Experience played in October 1968 at the Winterland ballroom in San Francisco were dusted off by modern technology, but the end result retains the authentic sound and atmosphere of those nights with carefully preserved accuracy.
There is a bounty of gems on this release – Jimi's stunning chops, the whopping variety of his tonal colors and textures, his extraordinary emotional latitude, and the equilibrium he holds between being accessible and expressing his full inner self.
Part of where it's at is the control he holds over the proceedings while allowing himself just enough experimentation for music to turn into magic. And while at times his spontaneity leads him into previously uncharted territories, all three shows remain firmly directed trips. The way he regulates the texture of the band sound with his rhythm playing, the juxtaposition of his sweeping sustained notes and precise phrasing, his impeccable interaction with the rhythm section – all this unifies the material into one seamless whole, no matter how far off he ventures during improvisations.
Speaking of which, nothing in Hendrix's arsenal is as compelling on this release as improvisation – how he keeps entertaining the audience while going for spontaneous musical experiments, unfolding his creative process in real time in front of the crowd. There is none of the unsmiling lab-like sterility of the high-brow jazz impro, none of the dry studiousness which would later invade prog-rock, and none of the self-aggrandizement of the shred generation that would later follow.
An improviser of unsurpassed breadth of vision in rock, Hendrix still remains accessible on each track of this release, even when his extrapolations take him outside of any genre and into an almost free-form impro, as on standouts "Hear My Train A Coming" and "Star Spangled Banner" on disk 1.
It doesn't matter if Jimi is firing on all cylinders and dropping one impromptu bomb after another as on "Killing Floor", or goes into deep meditation as on "Tax Free" on disk 1. No matter what he does, he always remains in touch with the emotional core of the song and – most importantly – with his listener. You could put it down to his experience from touring with such standard-bearers as Little Richard and Ike and Tina Turner, or simply to his non-egoistic approach to music, or to his fundamental respect for his audience. But whichever way you choose to analyse it, none of it explains the unselfconsciously exploitative drive, the constant eye on the ultimate goal, and the supreme confidence at the root of Hendrix's magic.
Part of the secret could be in him making it his goal to play "exactly what you feel" as he says in the accompanying this release 1968 interview. Which is a telling remark, as a lot of musicians since then have tried – and still try – to sound like Hendrix, but no one's ever managed to either feel or make you feel like he did.
Genre: Rock
Line-up:
Jimi Hendrix – guitar, vocals
Noel Redding – bass, backing vocals
Mitch Mitchell – drums
Jack Casady – bass on "Killing Floor"
Herbie Rich – organ on "Hey Joe" (October 11)
Track Listing:
Disk 1. October 10, 1968
1. Tax Free
2. Lover Man
3. Sunshine of Your Love
4. Hear My Train A Comin
5. Killing Floor
6. Foxy Lady
7. Hey Joe
8. Star Spangled Banner
9. Purple Haze
Disk 2. October 11, 1968
1. Tax Free
2. Like a Rolling Stone
3. Lover Man
4. Hey Joe
5. Fire
6. Foxy Lady
7. Are You Experienced?
8. Red House
9. Purple Haze
Disk 3. October 12, 1968
1. Fire
2. Lover Man
3. Like A Rolling Stone
4. Manic Depression
5. Sunshine of Your Love
6. Little Wing
7. Spanish Castle Magic
8. Red House
9. Hey Joe
10. Purple Haze
11. Wild Thing
Disk 4
1. Foxy Lady (October 12, 1968)
2. Are You Experienced? (October 10, 1968)
3. Voodoo Child (Slight Return) (October 10, 1968)
4. Red House (October 10, 1968)
5. Star Spangled Banner (October 11, 1968)
6. Purple Haze (October 11, 1968)
7. Boston Garden Backstage Interview (November 16, 1968)
Label: Experience Hendrix, Legacy
Online: http://www.jimihendrix.com
Hardrock Haven rating: 10/10