Tommy Johansson | Swedish Hitz Goes Metal
by Nikiforos Skoumas
Staff Writer —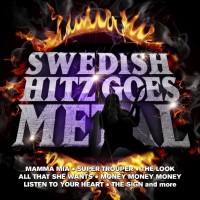 The original album cover does not do this release any justice… What looks like a compilation of Swedish pop/AOR songs turned metal by various artists, is actually the brainchild of one man alone. We are looking at no other than young guitar prodigy Tommy Johansson recognized by most as the leader of the progressive metal band Reinxeed, also lead guitarist of the Swedish all-star Christian-neoclassical group Golden Resurrection.
To his credit, Tommy delivers what the title promises; only what king of metal versions is one getting with Swedish Hitz Goes Metal? Is it power metal, neoclassical metal, progressive metal? The spelling of the word 'Hitz' actually gives it away, experienced fans got it right, this is indeed glam metal or melodic hard rock if you prefer. So you can expect thick yet melodic guitar lines, all the original keyboard harmonies recreated while the up-tempo rhythm section adds tons of attack to these compositions without undermining the instrumental melodic lines and vocal harmonies which is what this album is all about.
As in Reinxeed, Tommy handles all lead vocals and guitars and does a surprisingly good job considering that it is fairly difficult to cover classic hit songs convincingly. Guitar-wise the young man is overqualified for the job, he is however challenged on the vocal department where he has to utilize his full range-from the lowest to the highest note- and for the biggest part he succeeds.
Another key factor for the artistic success of this project/venture is actually choosing the performing line up. Instead of current band-mates, Tommy teams up with bassist-vocalist Sebastian Roos and keyboardist Anders Berlin, both from the Swedish AOR, melodic hard rock band Miss Behaviour. The line up is sealed by veteran drummer Andres Johansson.
There is no denying that the album features some rather predictable inclusions such as "Mamma Mia," "Money Money Money," "The Winner Takes it All" and "Lay All Your Love On Me." But the fact remains that they do sound great in their hard rocking versions. And the reason they work so well is not really the distortion and heavy drumming, but because the electric instruments reinforce the melodies of each song, and arguably great melodies are what made these tunes global hits in the first place.
Genre: Arena Rock, Melodic Hard Rock, Melodic Metal
Line Up:
Tommy ReinXeed — Guitars & vocals
Nic Steel – Bass
Sebastian Roos — Guitars & backing vocals
Anders Berlin — Keyboards & backing vocals
Andreas "HABO" Johansson – Drums
Track Listing:
1. Mamma Mia (ABBA Cover)
2. The Look (ROXETTE Cover)
3. Lay All Your Love On Me (ABBA Cover)
4. The Sign (ACE OF BASE Cover)
5. Summer Night City (ABBA Cover)
6. Sleeping In My Car (ROXETTE Cover)
7. Super Trouper (ABBA Cover)
8. Money Money Money (ABBA Cover)
9. Beautiful Life (ACE OF BASE Cover)
10. Intermezzo nº1 (ABBA Cover)
11. The winner Takes It All (ABBA Cover)
12. All That She Wants (ACE OF BASE Cover)
13. Joyride (ROXETTE Cover)
Band website: http://www.facebook.com/swedishhitzgoesmetal
Hardrock Haven rating: 8/10