by Erik Tweedy
Staff Writer —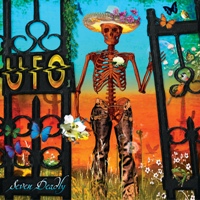 Over 40 years have passed since UFO released their debut record in 1970. Since that time, they have released some damn fine hard rock music and 20 studio albums. It would be understandable that after a career of that magnitude, in an extremely tough business, the passion would eventually give way to waving adios and riding off into the sunset and a seat at the table for an afternoon bridge game with the rest of the old folks. Not so for the two remaining original members of UFO, Phil Mogg and Andy Parker. Along with longtime stable mates Paul Raymond and Vinnie Moore, UFO has recorded one of the best releases in their illustrious career with Seven Deadly.
Seven Deadly finds UFO doing what they do best, creating enigmatic hard rock numbers with a bluesy swagger and some brilliant guitar playing that compliments the vocal styling of Phil Mogg. With a crunchy guitar intro, "Fight Night" opens Seven Deadly and showcases one of the UK's best hard rock vocalists in Phil Mogg. Mogg is often overlooked when it comes to discussing Britain's best rock vocalists, but at the age of 63, this man's still got it and can easily hang with Paul Rodgers, Glen Hughes and David Coverdale. "Fight Night" is a no frills typical UFO track that straddles the line between hard rock and heavy metal.
Track number two, "Wonderland" is a barn-burner. With a chugging guitar and keyboard laden intro reminiscent of Deep Purple's "Highway Star", "Wonderland" features guitarist Vinnie Moore at his best with a smoking guitar solo on perhaps the best track on Seven Deadly. It might take you ten listens to figure out what the lyrics mean and why Mogg is singing about a monkey throughout, but that is not a bad thing as this track really rocks and is worth hitting the replay button.
The roots of UFO can be found in the back alley clubs of London and the British blues scene is on full display with "Mojo Town." After 40 years, this band still knows how to use its influences to create something entirely new and fresh sounding. Complete with a Black Sabbath inspired bass line and harmonica to boot, this sounds like the soundtrack for a gator infested, swampy, bayou movie and sets a cool vibe as the disc heads into the terrific and melodic "Angel Station". "Angel Station" is a real joy to listen to and shows a different side to UFO with its melody and harmonies, but still provides the punch with Vinnie Moore's massive bluesy solo.
There is a very comfortable feel throughout this release and each track brings something new, but still feels like your favorite old pair of shoes, broken in, but not worn out. With tracks "Year Of The Gun", "The Last Stone Rider", "Steal Yourself" and "The Fear" the rock and blues combination makes for some really good music. This is every bit as good and possibly even better than Black Country Communion's latest release, "2", that has been getting rave reviews.
"Burn Your House Down" again showcases Mogg's steady vocals and Moore's incredible guitar skills that backdrops this entire track. Moore has been a part of this band for over 7 years and it is easy to tell why Mogg wanted this superstar in the band. Moore fits the structure of these songs so well and with Paul Raymond on rhythm guitar, they make for a dynamic duo. With its beautiful soloing by Moore closing out the track, "Waving Goodbye" ends this terrific release on a strong note and hopefully the title of this track is not hinting at something to come. If Seven Deadly is any indication of what the future holds for UFO, this band is far from calling it quits. The production is top notch and the variety of music makes this a very enjoyable disc to listen to from start to finish. With so many studio releases in their career, it is hard to pick out a favorite or one that stands above the rest, but Seven Deadly assuredly includes some of the best tracks this band has ever recorded. UFO typically flies under the radar of most rock music fans, but Seven Deadly is worth seeking out to add to your collection. It is amazing to see a band that has been together for so long create something so good. Well done UFO, very well done.
Genre: Hard Rock
Band:
Phil Mogg – Lead Vocals
Paul Raymond – Keyboard/Guitars
Vinnie Moore – Guitar
Lars Lehmann – Bass
Andy Parker – Drums
Track Listing:
1. Fight Night
2. Wonderland
3. Mojo Town
4. Angel Station
5. Year Of The Gun
6. The Last Stone Rider
7. Steal Yourself
8. Burn Your House Down
9. The Fear
10. Waving Goodbye
Limited Edition Digipak Bonus Tracks
11. Other Men's Wives
12. Bag O' Blues
Label: Steamhammer/SPV
Website: http://www.ufo-music.info
Hardrock Haven rating: 9.2/10