Underride | Distorted Nation
by John Kindred
Staff Writer —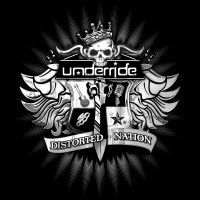 Melodic hard rockers Underride deliver their latest studio album Distorted Nation, an 11-track affair that revels in the '80s, while maintaining a modern edge. Hailing from Seattle, which is commonly known for Grunge, Underrides is far from that genre with its sonic delivery. The band comprises five blokes who hand down their take on rock with a revitalized guitar-driven attack, driving percussion and groove and vocals that are gritty, edgy and very listenable. With names that fall right out of the pages of a Japanese Magna novel, Rev, Suzuki Sixx, Princess, El Barto and Double A, are here to supplant those who lack the will or desire to survive the business of the music industry.
Distorted Nation is not Underride's first rodeo – see 2008's One of Us – their music features tight and cohesive songs that are built on hooks and catchy melodies. The album was produced by Rev, the vocalist, and executive producer John Elder. Their knowledge of the studio and song structure is apparent, as they deliver a balanced collection of songs that feel like they belong together and can stand on their own merit. The music is mixed expertly, allowing all the instruments to be heard while not stepping on each other and creating anarchy.
Hammering out an existence in the Seattle music scene has offered the band the opportunity to merge their influences into their vision of what rock means to them, creating music that is appealing and enjoyable to listen to. Steering away from the negative stereotypical constructs of many of today's bands, their message is lighter and easier to digest.
With songs like "Paparazzi" and "Porn Star," the band takes a poke at life in a fun way. "Do Anything To Me" drives forward with a catchy singable chorus and tongue-and-cheek lyrics. Bits of sleaze and cheese come across in "Candy Girl." "Inside Out" has another memorable singalong chorus. Throughout the album, the band musically delivers, even playing guitar solos. It's a nice change of pace from the more recent modern drivel that has been cast upon music fans over the last few years. Solid production, good songs and strong musicianship make Distorted Nation a winner.
Genre: Modern Melodic Hard Rock
Band:
Rev – vocals
Princess – guitar
Suzuki Sixx – guitar
El Barto – bass
Double A – drums
Track Listing:
1. Another Way Out
2. Paparazzi
3. Say Goodbye To Everything's That's Gone
4. Love Is Like Dying
5. Porn Star
6. Don't Walk Away
7. Do Anything To Me
8. Inside Out
9. Blinded By You
10. Candy Girl
11. Road To Nowhere
Label: EPI-Records
Hardrock Haven rating: 7.5/10