Van Halen | A Different Kind of Truth
by Nikiforos Skoumas
Staff Writer —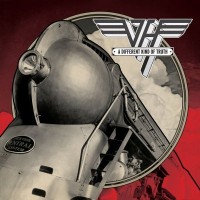 It would be safe to assume that a good part of the international community dreamed of this day during the past decade, the day when Van Halen would put out a new studio album. Well A Different Kind of Truth is indeed that and a hell of a fiery record. For the objective-as-possible Van Halen fan A Different Kind of Truth is sure to deliver the most positive shock to one's system for a number of reasons uncovered below.
Fans of the guitar wizard himself should be pleased to know that A Different Kind of Truth has more guitar parts than just about any other Van Halen album. In the sense that Eddie never settles for stereotypical rhythm parts on this one, instead he throws in riff after riff and adds minor alterations to those licks that need to be repeated and, in this way, sounds unpredictable without having to mess with the structure of any given song. Long term admirers of the guitarist will possibly get the impression that the legend is actually pushing himself to balance technical flamboyance and musical substance in the very same riff or solo, which is more than a pleasant surprise knowing the guitarist's attitude of late.
When it comes to style and swagger David Lee Roth is king, his charisma as a performer comes perfectly through in the way it did on their very early albums. Ok, one can overlook a few off-key notes on some of the more challenging passages because Roth is the undisputed spirit of Van Halen and could very well fool you into thinking that nearly 30 years of absence from the band never occurred.
Even if it sounds like a blasphemy, one has to acknowledge that A different Kind of Truth shares artistic bonds with the first two Van Halen albums as it is once again a guitar-bass-drum-vocals affair while attempting to reach the creative peak with those four instruments alone. Another argument for this thesis is the sheer variety of songwriting styles found on A different kind of Truth. You get the melodic rock singles ("China Town"), the groovy tunes ("She's the Woman"), those jazzy/bluesy pieces("The Trouble With Never") and a few, good double-bass driven power rockers ("You and Your Blues"). So, much like I and II, A Different Kind of Truth has a little bit of everything that made early Van Halen such an artistic eruption.
It is a joy to realize that A Different Kind of Truth leaves the listener no room for structured assessment of its quality – instead – it forces one to switch off their brain and enjoy this album in every other way. It is a honest ride in rock extravaganza by the same guys that wrote the book on how to be an extravagant persona in rock.
Genre: Hard Rock, Rock 'n Roll
Line up:
David Lee Roth – lead vocals
Eddie Van Halen – guitar, keyboards, backing vocals
Alex Van Halen – drums
Wolfgang Van Halen – bass guitar, backing vocals
Track list:
01. Tattoo
02. She's The Woman
03. You and Your Blues
04. China Town
05. Blood and Fire
06. Bullethead
07. As Is
08. Honeybabysweetiedoll
09. The Trouble With Never
10. Outta Space
11. Stay Frosty
12. Big River
13. Beats Workin'
Hardrock Haven rating: 9/10