Xandria | Neverworld's End
by Joe Mis
Staff Writer —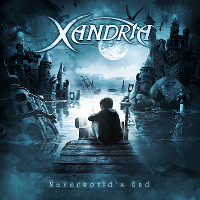 Neverworld's End marks the welcome return of Germany's Xandria to the symphonic metal scene, and the debut of their new dynamic lead vocalist Manuela Kraller. Together since the early 2000s, Xandria has developed a significant following courtesy of a number of solid releases, including Kill The Sun and Ravenheart, and well attended tours. Their newest release further cements Xandria into the symphonic metal pantheon of the greats.
Unlike many other symphonic vocalists, Manuela Kraller is always clear and understandable – even when in full operatic mode. Her range is huge, and she can modulate her vocal power to cover everything from simple and soft verses to over-the-top full opera without losing clarity. Philip Restemeier and Marco Heubaum provide the well polished and precise guitar teamwork, with Heubaum contributing the massive keyboard presence as well. The bottom end it provided by bassist Nils Middelhauve and double-bass drummer Gerit Lamm. Xandria works well as a team, the overriding prerequisite for any symphonic act.
The album opens with a symphonic blast through "A Prophecy Of Worlds To Fall." Big keys, synth strings, and sweeping guitars pave the way for Kraller's fine operatic vocals. This track allows her to express the full range of her abilities from soft and somber to powerful and dramatic, and proves that she is not stuck in the "opera thing," but can sing in a conventional manner without sacrificing anything. "Valentine" continues the orchestral assault with some powerful bass and drum work courtesy of Middelhauve and Lamm. A beautiful choral passage opens the mellower "Forevermore," which is a great mid-tempo rocker with a complex and intricate guitar line, melodic pianos and intriguing tempo changes. "Euphoria" has a vaguely middle eastern tone to it, and features a sweeping chorus, neat guitar fills and fine vocals by the entire band. "Blood On My Hands" features a great rolling rhythm line, superbly done guitars and a powerful and dramatic bridge – quite probably the best track on the release. "Soulcrusher" is a darker and more intense track with heavy Gothic overtones and a truly manic drum line.
A soft, almost Celtic passage, an amazing guitar solo, and beautifully delivered vocals make the ballad "The Dream Is Still Alive" a true highlight of the album. Mythical subject matter and high energy metal drive "The Lost Elysion," while "Call Of The Wind" is simply a rollicking, upbeat good time track. "A Thousand Letters" is undoubtedly Kraller's best vocal performance, and a hauntingly beautiful ballad – proving that Xandria can do just about anything. "Cursed" is a complete u-turn – booming and powerful, dark, chaotic and creepy. "The Nomad´s Crown" is a nine-minute medieval epic with a driving rhythm line, orchestral passages, tempo changes, intense guitars and dramatic vocals – in other words it is symphonic metal at its purest.
The engineering and production values are high, allowing all aspects of the instruments to be heard and not allowing Kraller's vocals to dominate the production. The guitars are clean and power-metal precise, and the keys and synths are allowed equal time. Bass is always audible and driving, and the drums are ever-present but never distracting. Backing and doubled vocal lines are well done and effective without being overdone. In other words, Xandria is engineered as a whole and complete entity, not as a bunch of individuals who happen to be playing at the same time.
Pure symphonic power is the key to Xandria's music, and they deliver beautiful artistically developed music with technical perfection. Always dramatic and heavy, Neverworld's End might be the album that will convert non-symphonic fans into followers of the genre due to accessibility of Kraller's vocals and clarity of lyrics. If you have any interest in symphonic, orchestral, or gothic metal, there will be something here for you. Neverworld's End is a shining example of powerful and emotional symphonic metal. Xandria's latest is intense, powerful, theatrical, and ultimately beautiful – definitely recommended for fans of the genre!
Genre: Symphonic Metal
Band:
Manuela Kraller (vocals)
Philip Restemeier (guitar)
Marco Heubaum (guitar, keyboards)
Nils Middelhauve (bass)
Gerit Lamm (drums)
Track Listing:
1. A Prophecy Of Worlds To Fall
2. Valentine
3. Forevermore
4. Euphoria
5. Blood On My Hands
6. Soulcrusher
7. The Dream Is Still Alive
8. The Lost Elysion
9. Call Of The Wind
10. A Thousand Letters
11. Cursed
12. The Nomad´s Crown
Label: Napalm Records
Website: http://www.xandria.de/
Hardrock Haven rating: 9/10