Zakk Wylde of Black Label Society
by Cameron Edney
Guest Staff Writer —
Roasted And Ready To Rock With Zakk Wylde!
Growing up a fan of Heavy Metal pioneers such as Judas Priest, Slayer and Ozzy Osbourne, it was always about the music as much as it was the controversy that surrounded these bands. When it came to Ozzy Osbourne I always loved the phenomenal musicians he surrounded himself around, especially the guitarists such as Randy Rhoads, Jake E Lee and the one and only Zakk Wylde. I will never forget the first time I seen the video clip for 'Miracle Man', my introduction to one of the finest guitarist of our time.
You knew a star was born; Zakk's onstage stage presence and phenomenal playing alongside Ozzy earned him the cover of guitar and music magazines around the globe. As the years have passed Zakk's image may have changed from the young starry eyed teenager with blonde locks and leopard pants to a body building, black leather vest wearing rocker we see before us today but one thing that's never changed is his determination to better himself as a guitarist, vocalist and song-writer. Outside of his amazing career as Ozzy Osbourne's guitarist and song-writing partner Zakk made a name for himself with both the bluesy and acoustically driven Pride and Glory and Zakk Wylde's Black Label Society, two very different musical entity's yet both incredible and loved by rock and metal fans around the globe.
In 2011 Zakk Wylde's Black Label Society released there eleventh album 'The Song Remains Not the Same' which featured acoustic re-workings of tracks from the bands previous album 'Order of the Black' as well as covers from Black Sabbath, john Rich and Simon and Garfunkel to name a few. The album was a huge success and reached #41 on the Billboard 200 charts. Since the album's release the band has enlisted Breaking Benjamin drummer Chad Szeliga following will hunt's departure.
Heavy metal's beard dwelling, guitar squealing madman Zakk Wylde has returned to Australia this week playing live shows for the first time down under since 2006. Zakk Wylde's Black Label Society are here as part of the Soundwave Festival and will be sharing the stage with Over ninety artists from the rock, punk and metal genres including Hellyeah, Shadows Fall, Biohazard, Steel Panther and Lamb of God.
Having been a fan of Zakk's career for so many years now, it was a true honor and pleasure to have chat with one of the most influential guitarist of our time. After so many years of conducting interviews this would have to be one off the funniest conversations I've ever had with one of my idols and no doubt you'll agree after reading what Zakk had to say! I spoke with Zakk about returning to Australia for the Soundwave Festival, recording cover tunes, the recent rock roast and much more. Australian Chapter are you ready? Here is what Zakk had to say…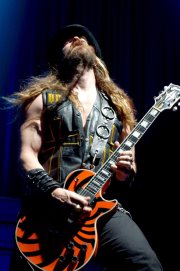 Hardrock Haven: Hey Zakk, it's awesome to be chatting with you and thanks so much for answering these questions for our readers, how ya doing mate?
Zakk Wylde: I'm doing good buddy… we're psyched to start whoopin' ass with the Australian chapter of the order of black; we're really looking forward to it!
Hardrock Haven: We can't wait either but before we get into that let's talk about the recent Zakk Wylde Rock Roast… I've seen some online footage and it looked pretty fuckin' funny man! From what I watched Sharon Osbourne really gave it to ya!
Zakk Wylde: The whole roast, everybody kicked ass on the thing, [laughs] it wasn't like it was just a roast on me, everybody got roasted, it was awesome. I hope they do them every year now!
Hardrock Haven: How did you end up getting roasted, tell us how that all came together?
Zakk Wylde: I remember telling Fred from Guitar World that I was talking about doing these Black Label Roasts among other stuff. I said between all of my musician buddies, actors and athletes; everybody that I know in the entertainment business the list is just endless. Look at everybody we could roast, I'd roast a friggin cartoon character, its ridiculous! Fred got back to me one day and said "Zakk we're gonna start doing these roasts, and we decided that you're going to be the first one" [laughs] I said "ah great [laughs] the more brutal the better."
Hardrock Haven: Well that it sure was mate! Now as all the Aussie fans know this tour is well overdue with your last visit in late 2006. What can we expect when Zakk Wylde's Black Label Society Hit's the stage?
Zakk Wylde: Well I've been hitting the Kim Kardashian quick trim pretty hard myself and the rest of the guys in the band are using this new product we have… black label thigh thinning cream, I've been using that religiously and I feel that we're going to be hitting the stage with reckless sexual abandon [laughs].
Hardrock Haven: [Laughs] something for us all to look forward too I see [laughs]. You've been here a few times now on promotional tours as well as with Ozzy Osbourne, what fond memories do you have from your previous Australian visits?
Zakk Wylde: Well, obviously not to ask for Fosters [laughs] and make sure you ask for VB [laughs], that's what I remember from last time. The craziest thing is that in America Fosters is considered the Budweiser of Australia, then you speak to someone from Australia and they're like "we ain't drinking that rat piss!" Everyone in America thinks that's the beer man!
Hardrock Haven: It's really sad to see that after all these years Fosters is still the only Aussie beer that they are trying to sell to the world [laughs].
Zakk Wylde: Oh without a doubt, that's the marketing campaign. Everyone would say to me, Zakk VB is the beer down here, if you're drinking beer it's VB! I had a blast last time I was down there man, we did a lot of bar hoping after the gigs!
Hardrock Haven: You're back in Australia for the Soundwave Festival and this year's line-up is unreal with many of your friends also taking part this year! Will you be putting much time aside to watch the other bands, who are you most looking forward to seeing?
Zakk Wylde: Half the time when you're at the festivals you're usually always working, there's always something going on but obviously you go and check out as many bands as you possibly can. A lot of the guys you actually know, you can always hook up with everybody and see how they're doing. Usually everybody's always touring or making records so it's always cool catching up with everybody.
Hardrock Haven: The BLS fans are great man, very dedicated, some fanatical… you have the best seat in the house to witness the mayhem that takes place in the crowds… what comes to mind as some of the craziest things you seen happening whilst playing?
Zakk Wylde: That depends, sometimes some of the smaller places are even more insane, just put it this way, as long as nobody's getting hurt that's all that really matters at the end of the day! I've seen some pretty ridiculous stuff but then again [laughs] it depends on how many cocktails are flowing.
Hardrock Haven: How about when it comes to dealing with other members on the road… as we know at times it can become quite frustrating sharing a bus/hotel room for weeks, sometimes months at a time. How have you found is the best way to deal with each other on the road especially when it comes to those harder / not so pleasant times?
Zakk Wylde: I write all the checks so the bottom line is…
Hardrock Haven: [Laughs]
Zakk Wylde: I say, "Stay away from me, and don't look at me cause I'm the artists" [laughs] and you know what they seem to enjoy it, and they all like me!
Hardrock Haven: [Laughs]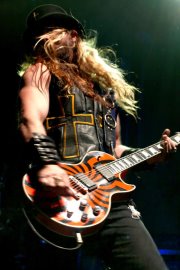 Zakk Wylde: Seriously, I've never been in a band situation since I was fourteen years old where we didn't get a long, everybody usually hangs out and has a good time, otherwise why would you be in a band? I don't get it, the whole time I played with Ozzy all we did was laugh our balls off, so that's all that ever was about; we were doing what we love.
Hardrock Haven: I've heard many stories about you over the years, how you're a funny guy and love practical jokes. What's the best joke you've pulled on the road?
Zakk Wylde: I'm trying to think… the guys have gotten me too so [laughs] put it this way, you don't want to piss anyone off to the point that they're going to beat your ass [laughs]. All of us have to go to sleep sooner or later [laughs] so you have to be careful on how far you pull the practical joke; it's always a good time though man!
Hardrock Haven: Aussie fans will be introduced to the newest member to the BLS family and incredible drummer Chad Szeliga this week, what's it like working with Chad?
Zakk Wylde: Oh man, with Chad in the band right now… Chad's awesome man! All he does is jam all day, we go down to the venue, he gets his practice kit set up and you know where you can find him. Chad's a super cool dude, it's always been a prerequisite for the guys who have been in [Zakk Wylde's] Black Label Society that you can't be a douche bag, and you have to be able to play your instrument. All the douche bageries… leave that to me [laughs], I write the checks, I am the douche bag [laughs].
Hardrock Haven: [Laughs] Zakk I want to talk to you about life in the studio… you're not only a great singer and guitarist, you're an amazing writer, when you look back on your back catalog what are most proud of, is there one song or album that stands out above the rest?
Zakk Wylde: Well like JD always says… I'm shocked that anyone does listen to this garbage
Hardrock Haven: [Laughs]
Zakk Wylde: [Laughs] JD always tells me the thing that you should be most proud of is that you managed to pull this off [laughs]
Hardrock Haven: [Laughs] That's a fantastic way to keep you grounded isn't it!
Zakk Wylde: [Laughs] I lit him on fire after he told me that!
Hardrock Haven: [Laughs] Last year you released 'The Song Remains Not The Same' which featured some great covers and the re-working of tracks from 'Order of the Black'… looking back over the recording process now is there anything you would have changed?
Zakk Wylde: No, obviously when you're making the records you're always doing the best job you can at that time. I guess you can always listen back on it and say that could've been better or whatever but as far as the "Order" record and 'The Song Remains Not The Same' I think the production on those albums came out stellar.
Hardrock Haven: Dude I love how you changed up your songs, as much as I'm a fan of the heavier work you've done I think you acoustic work is among some of the best I've heard from any musician! When you take an album like 'Order of the Black' and then re-do some of the tracks I can't help but wonder how many of those songs originally may have started out acoustically?
Zakk Wylde: Usually it's the instrument that will dictate what I'm going to be doing. If I'm sitting there behind a piano it will be more reflective Neil Young, Elton John, The Eagles type of stuff but obviously when you're playing through a wall of Marshall's you're going to start writing more Sabbath, Zeppelin type of riffs. As far as 'The Song Remains Not The Same' stuff I was just sitting around jamming. After we get done doing all the heavy stuff at the end of the night I'm just noodling around on the piano. I'd be using lyrics that I've already written just as something to mumble over while I'm singing a melody; that's how 'Parade of the Dead' came about and some of the other heavy songs we took and made into a mellow tune.
Hardrock Haven: When you look back over the great material that you've been created, what have you found has been the hardest, most challenging album to make?
Zakk Wylde: I don't know, you're writing music you enjoy playing. It's not like we're making fusion albums. I usually make it a challenge to see how simple you can write something whether it's a song like Led Zeppelin's Whole Lotta Love or just one riff throughout the whole song; that's a challenge in itself to make the song as simple as possible. In the solos you can always do whatever you want to do, but as far as it being challenging even with all of the Ozzy records, I've never made an album where I was like oh man it's so hard.
Hardrock Haven: Are you currently working on any new material?
Zakk Wylde: No obviously we're talking about doing this Unblackened thing, so we're figuring out the set. There are strings and it's still going to have electric guitars and drums. We're figuring out when we're going to be able to do rehearsals, fitting it into our schedules, we've already got stuff booked up til 2014 and then doing the Unblackened set.
Hardrock Haven: As I mentioned with the last album there were some great cover songs, and over the years you've covered many fantastic tracks, for me the standout is your version of Led Zeppelins 'Going To California'. Is there a song that you've always wanted to cover but for some reason it just hasn't happened?
Zakk Wylde: No not yet, I enjoy doing covers cause it's some of your favorite bands, I'm sure eventually when we do the next album we will knock out some more covers. They always work as b-sides and I would say that's a great excuse to end up doing covers.
Hardrock Haven: Zakk you're certainly an incredible guitarist and to many you're classed as a legend, an icon, your certainly one of the most influential players of our time, when you hear yourself classed as an icon a word that is used for the likes of Hendrix, Page and Beck, what runs through your mind…
Zakk Wylde: When the wife's yelling at me I just throw that in her face and that makes her even madder.
Hardrock Haven: [Laughs]
Zakk Wylde: [Laughs] it's either that or she just laughs me out of the room [laughs].
Hardrock Haven: It's really fantastic to see that all these people around you keep you grounded by just giving you shit!
Zakk Wylde: [Laughs] completely, at all times [laughs] instead of having that roast they should have just been at my house the whole time, or on the road with the guys, it's the same shit all the time.
Hardrock Haven: [Laughs] Who have you been surprised to learn is a fan of your work?
Zakk Wylde: I'm trying to think cause I know nobody in my family likes it [laughs]. Maybe the dogs [laughs] they haven't bitten me yet. But then again I'm the one that always feeds them so I don't think they're going to bite me [laughs].
Hardrock Haven: [Laughs] Zakk on a serious note, the longer you're in the industry the more you learn, whether on tour, in the studio or the all important business side of things. What do you feel has been the most important lesson you've learned to date?
Zakk Wylde: I guess your perception of everything from when you first start and as you get older and you see how things go. It's so funny your perception of things then to see how it really goes down! That's why you've gotta love the music and love it for that reason alone you're always going to have ups and downs that's what it is.
Hardrock Haven: Zakk unfortunately we're out of time and it's certainly been a blast chatting with you, do you have any last words for our readers?
Zakk Wylde: Tell the Australian chapter to stay strong and keep bleeding black man!
Zakk Wylde's Black Label Society Kick off their Australian tour today at the Brisbane Soundwave Festival Make sure you see this kick ass band live.
Images by Cameron Edney courtesy of Wicked Pix