Andy Timmons Band | Plays Sgt. Pepper
by Alissa Ordabai
Staff Writer —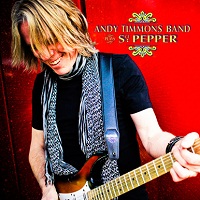 Somewhere between the sublimity of Bill Frisell's recent tribute to John Lennon "All We Are Saying…" and the kitsch of Big Jim Sullivan's renditions of the late 60s- early 70s pop classics, the record at hand is a hit-and-miss affair, albeit ambitious in its choice of material.
Apparently aware of the prerequisites for tackling material of this magnitude, Timmons offers an interpretation of the greatest album in the history of pop which is more often homely than daring. Mostly it's faithful renditions of the classic tunes – safe and tame, not attempting to extrapolate extra meaning from what is already there. Notable exceptions are "With a Little Help from My Friends" where Timmons breathes bitter-sweet magic into the familiar-from-childhood original, and "She's Leaving Home" where he goes beyond the prescribed and unfolds the song from an unexpectedly intuitive, deeply personal angle.
Otherwise the vocal polyphony of the originals, the subtleties of the songwriting and the nuances of the original production are lost, turning a multi-dimensional piece of visionary work into a humdrum, albeit pleasant and tasteful affair. Versions of "Getting Better," "Fixing a Hole" and "Lovely Rita", however, sag below average, sounding at times like a bunch of tracks that have fallen off the final mix of some sketchy demo.
Overall this is a perplexing record with a perplexing choice of material – given the level of casualness with which Timmons treats it – and an even more perplexing in its unwillingness to search for meanings and connections beyond the apparent and the familiar.
Genre: Instrumental Guitar, Pop, Rock
Track Listing:
1. Sgt. Pepper's Lonely Hearts Club Band
2. With a Little Help from My Friends
3. Lucy in the Sky with Diamonds
4. Getting Better
5. Fixing a Hole
6. She's Leaving Home
7. Being for the Benefit of Mr. Kite
8. Within You, Without You
9. When I'm 64
10. Lovely Rita
11. Good Morning, Good Morning
12. Sgt. Pepper's Lonely Hearts Club Band (reprise)
13. A Day in a Life
14. Strawberry Fields Forever
Label: Favored Nations
Online: http://www.andytimmons.com/
Hardrock Haven rating: 4/10