Axel Rudi Pell | Circle of the Oath
by Justin Gaines
Staff Writer —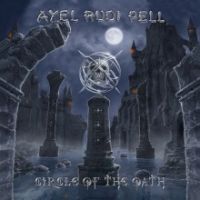 German guitar wizard Axel Rudi Pell is back, right on schedule, with a new studio album, titled Circle of the Oath. This is Pell's fourteenth studio album (excluding the Ballads series and the Diamonds Unlocked cover album), and his eighth with Hardline vocalist Johnny Gioeli and journeyman drummer Mike Terrana on board.
Axel Rudi Pell is nothing if not dependable, and in addition to knocking out a new album every two years fans can always count on each new album sounding almost exactly like the albums that came before it. The formula goes something like this: start with a short instrumental introductory track (for Circle of the Oath it's "The Guillotine Suite"), then blaze right through a couple of high octane hard rockers ("Ghost in the Black," "Run With the Wind" and "Before I Die"). After that it's time for a sweeping epic that clocks in somewhere around the ten minute mark (see the title track). Then do it all over again, with a couple more rockers and at least one ballad, before closing things out with another epic ("World of Confusion"). Another brief instrumental is optional. As for lyrics, just throw everything Ronnie James Dio ever wrote into a hat and pull lines out at random until you have enough to fill an album.
OK, it's possible Axel Rudi Pell puts more thought into each new release, but the honest truth is that Circle of the Oath sounds exactly like The Crest, which sounded exactly like Tales of the Crown, and so on. Now, if you love that formula then by all means pick up a copy of this album. You'll get Pell's dynamite guitar work, Terrana's very steady drumming and, perhaps most notably, a powerhouse vocal performance by Gioeli. What you won't get is anything you haven't heard at least seven times before.
At this point what seemed so exciting on albums like Oceans of Time and The Masquerade Ball is all too familiar. It's enjoyable enough while it's spinning, but in the end Circle of the Oath feels like just another safe and predictable Axel Rudi Pell album.
Edition Notes: The limited edition version of Circle of the Oath comes in a digipack and features a live version of "The Temple of the King" (a Rainbow cover) as a bonus track.
Genre: Melodic Metal, Melodic Rock
Band:
Axel Rudi Pell (g)
Johnny Gioeli (v)
Volker Krawczak (b)
Mike Terrana (d)
Ferdy Doernberg (k)
Track Listing:
1. The Guillotine Suite (intro)
2. Ghost in the Black
3. Run With the Wind
4. Before I Die
5. Circle of the Oath
6. Fortunes of War
7. Bridges to Nowhere
8. Lived Our Lives Before
9. Hold on to Your Dreams
10. World of Confusion (The Masquerade Ball Part II)
Label: SPV Records
Website: http://www.axel-rudi-pell.de
Hardrock Haven rating: 7/10