Brendan Small's Galaktikon | Brendan Small's Galaktikon
by Trevor Portz
Staff Writer —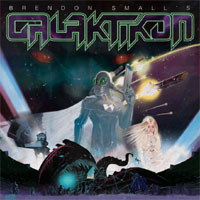 Brendan Small is a talented guy. Come on, he's managed to successfully blend extreme metal and comedy on the surprisingly popular Metalocalypse. Plus, he spearheaded one of the most underrated animated shows of the last 20 years (Home Movies). On top of all that, he's a wicked guitar player (and Berklee grad). Sometimes it seems like he is truly the master of all he attempts. Unfortunately, on his most recent musical outing—Brendan Small's Galaktikon—he's proven that not everything he touches turns to gold.
Before delving into why this album isn't amazing, let's talk about what is great about it: the musicianship. Gene Hoglan needs no introduction, and delivers an as-expected top-notch drum performance. Bassist Bryan Beller has worked with such luminaries as Steve Vai and Dweezil Zappa, so it's no shock that he too shines here. And, as previously noted, Small is a wicked guitar player. From a purely technical standpoint, there's little to criticize about this album. But technical skills aren't everything.
Small noted in an interview that this album is essentially a musical graphic novel, purposefully overblown and silly, but that takes itself too seriously. Sounds like a pretty good idea in theory. In execution? Not so much…
What's lacking here is an important combination: great songs and new ideas. The songs are mostly forgettable, and the best moments come off more as "stolen from" than "influenced by." For instance, the Queen-esque layered guitars and melodies in opener "Triton" are so identical to Brian May's tone and style that one may wonder if they aren't just sampled from classic Queen tunes. This style-stealing flows throughout the record. There are elements of Satriani, Vai, Grohl, Malmsteen, and a host of others. While Small has mastered the ability to cop the styles of those he loves, he leaves behind the great songwriting that made them great.
Additionally, the vocals are pretty uninspiring. Small can carry a tune, but doesn't have the chops to lead an album that's supposed to be extremely grandiose, Galaktikon is advertised to be. To achieve the overt, epic drama this album purports to deliver, someone with the versatility of Devin Townsend or the power of Michael Kiske would need to be brought in. Small is, unfortunately, neither of these.
While this album is a bit of a disappointment based on Brendan Small's previous output, it's unlikely to hurt his career, and it shouldn't. It was an interesting, albeit failed experiment. Now that it's out of his system, he can get on to making awesome animated TV and metal that isn't too clone-y.
Genre: Power-esque Metal
Band:
Brendon Small (v,g)
Bryan Beller (b)
Gene Hoglan (d)
Track Listing:
1. Triton
2. Prophecy of the Lazer Witch
3. Beastblade
4. Deathwaltz
5. Truth Orb and the Kill Pool
6. You Can't Run Away
7. Dangertits
8. Arena War of the Immortal Masters
9. On My Way
Label: Williams Street Records
Website: http://www.facebook.com/pages/Brendon-Smalls-Galaktikon
Hardrock Haven rating: 4.8/10