Cam Pipes and Shane Clark of 3 Inches of Blood
by Steve Patrick
Staff Writer —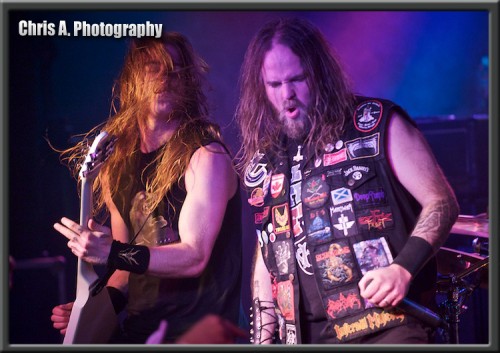 The Canadian horde known as 3 Inches of Blood have been flying the flag of heavy metal for over a decade. Immediately recognizable thanks to Cam Pipes ear-shattering high notes, the band has a hard-earned and well-deserved reputation of destroying audiences with their fusion of classic and modern metal elements. Shane Clark and Justin Hagberg's infectious guitar hooks are the perfect complement to Pipes' epic delivery. Tying the whole sound together is the relentless bass of the mighty Byron Stroud (ex-Fear Factory, Strapping Young Lad) and the percussive onslaught of drummer Ash Pearson (Sound of the Swarm, Just Cause).
3 Inches of Blood have just released their fifth album, Long Live Heavy Metal. On Sunday, March 26th the band blew the roof off the world famous Alrosa Villa in Columbus, OH. It was the first time that 3 Inches of Blood had ever played the venue and they definitely left an impression. Their dynamic set might have been brief, but it was most assuredly a tough act for tourmates Job for a Cowboy, Dying Fetus, and DevilDriver to follow.
Immediately after their set, Cam and Shane took some time to speak with Hardrock Haven about the new album, camping in British Columbia, playing the Alrosa and whatever else came to mind:
Long Live Heavy Metal is available wherever records are sold. 3 Inches of Blood can currently be seen live as part of the Metal Alliance Tour. For more information, please visit www.facebook.com/threeinchesofblood or www.metalalliancetour.com
Photos appear courtesy of Chris A.