by Derric Miller
Staff Writer —
Ex-Great White lead singer Jack Russell checked in with Hardrock Haven to talk about his new band, Jack Russell's Great White; their current tour High Seas and upcoming America Rocks 2012; his current status on being removed from the band and their announcement of a 30-year anniversary release Elation (with Terry Ilous on lead vocals); a "digging in the vault" query about pre-Shot in the Dark tracks like "Black Lace and Leather" and "Survival;" if a new album is on the way; and a whole lot more.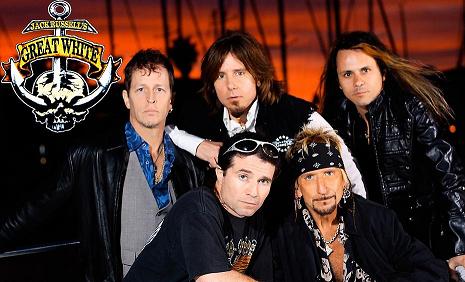 ::: Listen to the interview :::
When you look at all of the vocalists to come out of the '80s, there were few — if any — who could compete with Russell. From his "Jack evil" vocal days on songs like "Down on Your Knees" to his flawless crooning on "Save Your Love" to his sheer Rock greatness on "Once Bitten, Twice Shy," it's no contest. Now that Jack is back, make sure you catch the band on the High Seas current tour or this summer on America Rocks 2012.
Online: jacksgreatwhite.com