Jay Parmar: Britain's Best Kept Secret
by Marija Brettle
Staff Writer —
He's well known for having a very George Lynch type style and has performing on the Lynch tribute CD, Will Play For Lynch; but these days, U.K. based guitarist, producer and guitar tutor Jay Parmar is better known and admired for pulling off some great playing and songwriting on his own records.
Jay's music is immersed in feel, emotion and depth and his high octane guitar playing is infused with eastern influence. The sonic soundscapes that he creates are tangible and thought provoking and have established him as a world class player.
In 2005 he released his first solo album, Strange Day which gained much praise from reviewers, fans and professional musicians. The CD introduced Jay's skills as a guitar player, writer, engineer and producer to the world.
Now signed to Steve Vai's record label, Digital Nations, Jay is about to release his blistering new album Circle Of Fire. The 12 track album to be released on 12 March, features performances by Carsten Schulz, Pete Newdeck, Andreas Novak, Tim Wallace, Mike Rotella and guitar legend George Lynch.
HARDROCK HAVEN managed to talk to the maestro about his new release, his earliest musical influences, Warren Dimartini, Steve Vai and Hendrix… His pride and joy to work on his new album with his long- time guitar hero, George Lynch… his plans to tour, future goals and more…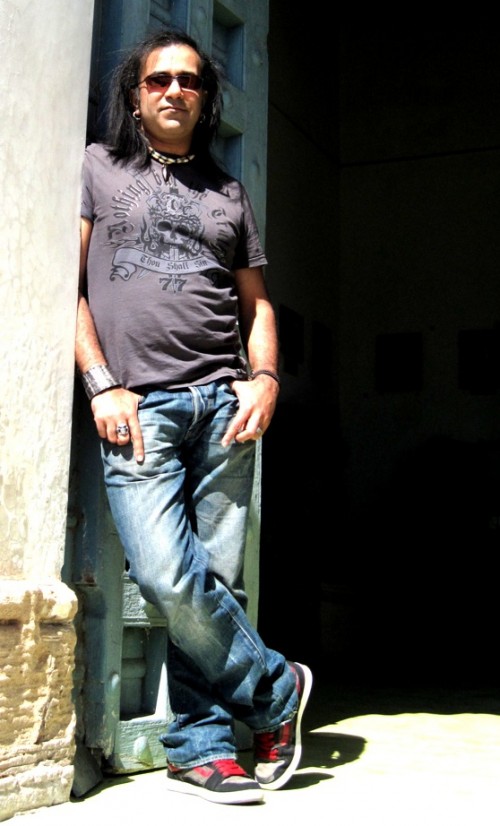 HRH: Hi Jay. Thank you for making the time for HARDROCK HAVEN, taking that it's a very busy time for you, as with your new record and all.
Jay Parmar: It's always a pleasure speaking with you guys. Happy to make the time.
HRH: This must be a very exciting time for you… Firstly, you are finally releasing your new record. Secondary, you are working alongside with the legendary guitarist George Lynch, who happens to be your most influential and favorite guitarist. How does it feel to be in the studio and working (this time on your own record) with your all-time guitar hero?
Jay: Yes, very, very exciting time right now. I'm thrilled that people will get to hear the album at last as I've been talking about it for a long time and I'm so happy with all of the songs, performances, the production, the artwork, etc. The whole package came together just how I wanted it to.
HRH: So, what was it like working with George?
Jay: Amazing! It's fantastic having him on the album. George has been an influence and friend for a long time and it's something that I've wanted to do for a long time and now it has become a reality! The solo he recorded fit so well on the song and is full of his signature style, lots of emotion and movement and it just sends shivers down my spine every time I listen to it! I wasn't in LA when he did the session but George and I had met up a couple of times in the previous months (Bologna and Firefest in 2010 and NAMM in January 2011) and we'd talked about what I wanted to do. He asked me for some direction but I told him that he had a free run as I trusted that he'd lay down exactly the right notes. The song that I sent to him was really important though. George has done the whole hard rock thing for a long time and I knew that the 'outside the box' songs would be the ones that really grabbed his interest. So I knew that it could only be one song – 'When Angels Cry.' It was the perfect song. When I received the files and dropped them into the mix I was completely hooked. I listened to the solo 10 times, played it to my wife probably 10 times as well, and then picked up my guitar and learned the whole solo. It was amazing.
HRH: You have been working on your new record for quite a long time now. You mention in one of your more recent blogs that working on this record felt like a journey for you, rather than a quick trip to get to a destination. Tell us more about the recording of Circle Of Fire from start to completion?
Jay: For me, the creation of every piece of music, or any creative process for that matter, is a journey. The discovery, inspiration, expansion and growth is constant. There is no destination. The musician that I was when I started the whole project is different from who I am today. And likewise, the person I am now will evolve by the time I'm recording the next song or album. I learned so much from creating Circle of Fire and am always adding to that. The recording process itself I'd started out about 6 years ago for a band that I was putting together in the USA, but that didn't work out for various reasons. I had about 6 or 7 songs written though so I kept those on ice. I then started a couple more projects, which again didn't work out, but I had written more songs. So eventually I just decided to do another album under my own name and get people in to do the vocals and drums. I then moved to where I live now and started building my studio, Sacred Sound. Around the same time the Eden's Curse tours came up. Both events again delayed finishing the album, but actually helped a lot in making the final album what it is. I think that if I'd finished the album a few years ago, it wouldn't have been anywhere near as good as it is. Firstly moving out of London and building my studio helped a great deal as I had a beautiful and inspiring place to live and work with lots of space and a sea view; and a fabulous creative space to write, record and produce. Also, I learned so much from touring with Eden's Curse and picked up influence from them and all of the bands that I encountered. Playing alongside Thorsten Koehne really tightened up my playing. At this time I started to write a lot of new material that was going in a different direction to the one I had started out with. The songs I had sounded great – but they were very typically 80's hard rock influenced. The newer material had a freshness to it and so I decided to carry that on and re-wrote most of the album. So in reality I spent about 2 years creating 'Circle of Fire'. I had about 20'ish songs written and recorded when I had finished. The 12 that made 'Circle of Fire' were the best ones in my opinion and there are 2 more that are complete and will be released on the CD release in a couple of months. Three of the songs that I'd written about 4 or 5 years ago made the album, the rest are new.
HRH: In the process of making the Circle Of Fire, you decided to collaborate with an incredible collection of musicians, playing and singing on the record. How did you come about to working with musicians like, Carsten Schulz, Andreas Novak, Pete Newdeck, Tim Wallace, Mike Rotella and of course the guitar legend George Lynch?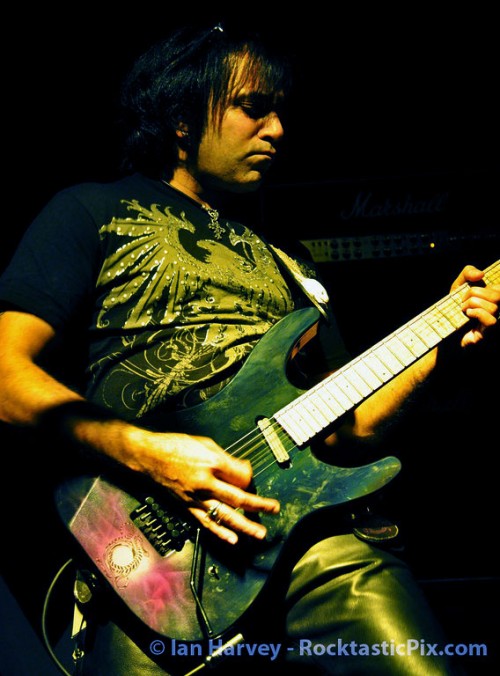 Jay: Well, Carsten, Andreas and Pete, I met as a result of working with Paul Logue, Eden's Curse's bassist, on an AOR project sometime ago which didn't come to fruition. I was recording guitars for Paul and we'd been talking about my solo material and he wanted to have a listen so I sent him some tracks. He was really impressed and wrote a couple of songs (one of which was 'Guilty') and he asked who was singing. I didn't have anybody at the time so he suggested Carsten, who he was friends with. I'd discovered Evidence One about a year earlier and was really into them. So, Carsten and I hooked up and started working together. Andreas was singing on the AOR project with Paul. When that didn't work out, I kept in touch with Andreas and was trying to put together another project with him. However, that fizzled out as he had a really busy schedule, but we'd been working on a song already and he'd put down some scratch vocals/lyrics on it. Nothing that made too much sense, just gap fillers so that he could work out the vocal melody. So I took the lyrics and did some re-writing and we had 'Test of Time'. Pete I met when I toured with Eden's Curse. He asked me if I needed a drummer and it was a done deal! He did a wonderful job on the drums. He also wrote and sang on 4 songs. He has a fabulous voice that is very unique. Brilliant delivery. Tim and I have been friends for a long, long time. We met because of our mutual admiration of George Lynch. He's a great singer and I'd wanted to work with him for many years so I asked him if he wanted to write some lyrics to one of my songs. He jumped at the chance and the result was 'Harm's Length'. He came over to my studio where we recorded his vocals and later on he recorded the vocals for 'The Dragon' as well. Mike Rotella is an old friend of mine and amazing guitar player. Again, I met him via the George Lynch connection. We'd been working on some songs but because of my schedule I had to give that project up and focus on 'Circle of Fire', but I wanted him on the album so I asked him to record a solo. The solo that is on the album is actually the scratch track that he sent me with a note saying 'here are some ideas!' It was a beautiful solo so I said keep it! And George I met through working on the George Lynch Tribute album, and we've been friend and kept in touch since then.
HRH: Are there any more guitarists that you would like to play with –if the opportunity arose?
Jay: (Laughs) Yeah, lots! Warren Dimartini and Doug Aldrich are guys I would like to work with. Both have such a wonderful sound and style. I was at one point talking to somebody who was trying to arrange for Doug to play on one of my songs, but that was a few years ago and it didn't happen. Maybe on the next album… Steve Vai, Reb Beach, Steve Stevens, Jeff Beck.(Laughs) It'd be awesome to have all of these guys on my album…there wouldn't be too much space left for me!
HRH: Is there any particular meaning in the name of the album title?
Jay: The cover art best illustrates what Circle of Fire means to me now. The meaning for me is the connection to inspiration, which is something more than just the physical or thoughts and experiences. It comes from a much higher consciousness. The song itself has a different meaning, but like I said, life is always moving and evolving, hence the meaning has moved as well. The song lyrics are about life situations in which people are tempted by a false sense of promise and belief and to have that trust and faith broken. We've all been in that place where we put our trust and faith in someone or something, put our positive energies into it, believing that it will take us to an ideal which we think up in our heads, only to discover that the someone or something isn't what we thought. Ultimately this leads to our concept of disappointment. It's part of life's journey though. If we don't experience it then we can't learn from it.
HRH: On your website, you mention that the preview of the "Circle Of Fire" has been already heard by a handful of people, and it has been incredible well received. What should the rest of us expect from this record?
Jay: Really good songs, performances and a great sounding album. A really nice comment I had from a friend was that the songs were literally jumping out of the speaker at him. There is a good mixture of styles and sounds on the album, so the album, like the recording, is a beautiful journey that will hold the listener's interest right the way through. There's something new to discover on every listen as well.
HRH: What are your favorite tracks of the new album if you must choose?
Jay: (Laughs). All of them! I couldn't pick a favorite because I like the whole album. That's always the perspective that I write and record from. If I'm not 100% happy with the final song, then it doesn't make the album. There are so many highlights – the solos, the vocals, the guest appearances… the overall sound. I'm really happy with everything!
HRH: Besides the guitar contribution, what other impact (if any) did George have in the making of "Circle of Fire"?
Jay: George has influenced me personally as well as musically for many years by being the person that he is. He's an amazing gifted musician, but so humble and grounded. I've learned a lot about humility, life and discovering who I am from knowing and speaking with George. He's a very inspiring person.
HRH: How did you end up recording for the George Lynch's tribute album, Will Play For Lynch? Was it your way of thanking him for all the awesome music and inspiration that he provided for you and your fellow musicians?
Jay: Yes, the Lynch Tribute was primarily a 'Thank You' to George. I was a member of the George Lynch message board at the time (2002/2003) and saw a post about the project so I put my name down for three tracks, 'Wicked Sensation', 'River of Love' and 'Mr. Scary' ('Mr. Scary' is still available from my website as a download). I was working at an entertainment company, so had knowledge about how to bring the whole thing together, clear the songs, work out the logistics, etc, so I offered to co-ordinate and made sure that it got done and released.
HRH: Where did you get the inspiration when you wrote the lyrics and melodies for this album? Who wrote the songs on this record and what are they about?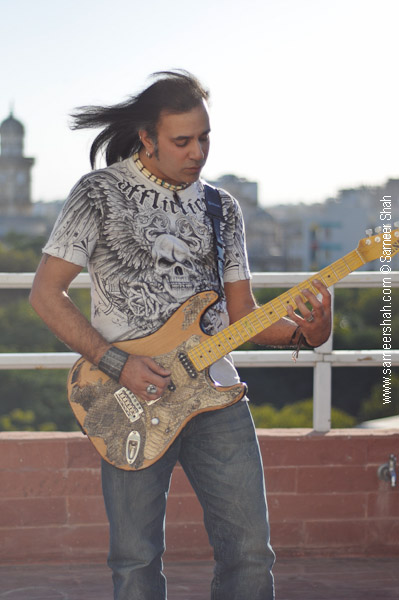 Jay: Inspiration came from a lot of different places – music, art, films, literature. Sometimes just hearing a line in a movie or song would be the spark. I work quickly when I get an idea. The bare bones of the song is usually done within a couple of hours and then just hearing the skeleton creates more inspiration and ideas. The songs were written by myself and all the singers on the album. What they mean, they'll be different for each listener. I don't want to spoil the surprise. Some songs have obvious meanings, like 'The Dragon' which is about addiction, but not to drugs or alcohol. It was written about having an addiction to negativity. The meaning of others is less obvious, but all the lyrics are really great, so I'm gonna leave it to the listener's interpretation so that they can experience their own journey as they listen. In fact I'd love to find out what they think the songs mean.
HRH: When you are composing do you do that exclusively on guitar?
Jay: Pretty much. It usually starts with a part that I hear in my head and then I work it into a full song. The one song which was composed differently was 'When Angels Cry'. I wrote and recorded the piano part first and then added everything else. That was a really different way to work for me.
HRH: How did the new record differ from your first record, Strange Day?
Jay: In a lot of ways. The vocals are the most obvious. Also the approach to the songs. On Strange Day I was creating just a backdrop to play lead guitar over, so it was all about the guitar parts, not so much about what the bass, drums and keyboard were doing. With the songs on this album I was creating space for the vocal as they were the predominant focal point. Then I had to balance that with interesting guitars, bass, and keys without overplaying. The lead guitar parts only went into spaces where the vocals stopped or endings to compliment the vocals. It was much more about the overall song than just the guitars.
HRH: Can you tell us more about your early days of getting involved in music. How did you start?
Jay: I was a late starter on guitar. I started playing at 16 years old. I was into music and had played a few instruments at school but then somebody gave me some Iron Maiden albums to listen to and then I wanted to play guitar, grow my hair long, etc. (Laughs).
HRH: How old were you when you discovered your real passion for guitar playing –and who originally influenced you to become a guitar player?
Jay: A year after I started playing, around 17 years old. I started playing guitar because I was so into Iron Maiden. Adrian Smith and Dave Murray were the guys who inspired me to pick up guitar, but then I heard Jake E. Lee in Ozzy, Yngwie Malmsteen and Steve Vai and was starting to really get into them. A friend then gave me a cassette tape with Dokken's 'Kiss of Death' on it, and I was completely hooked on that song. I found out everything I could about Dokken – there was no internet at that point so it was from guitar and rock music magazines. I bought all the Dokken albums and started to teach myself the songs. 'Back For The Attack' was a very influential album on me. I used to play through the songs for hours. Dokken then broke up and Lynch Mob released 'Wicked Sensation' which became the album that most influenced my guitar playing.
HRH: What essentially inspires you to create great music?
Jay: The love of music inspires me to create. It's a passion, it's what I do, my life purpose, if you want to call it that. The magic of creating a song from just a thought, recording it, producing it and then listening is awe inspiring. That inspiration just comes from somewhere much higher than myself. It's not a physical or mental exercise. My body and mind are just a vehicle to assist in that miracle happening. And I'm very grateful for that.
HRH: I read somewhere you saying that Steve Vai was one of the earliest influences on your music career. What was it about Steve's playing style that resonated with you?
Jay: Steve Vai has been a big influence in many respects. His guitar playing abilities are incredible, but also his approach to music and how he can take the same lick and play it 20 times in 20 different ways. That was a huge influence when I was writing and recording Strange Day. The emotion that guitar players like Steve Vai and George Lynch convey with every note is what I strive for. I'm not really a shred guy in the traditional sense of lots of fast playing and then back off now and then. It's the opposite way around for me! The fast playing is the icing, the slow to medium is the cake. Also, just like George Lynch, Steve Vai does it his way and paves his own path, and that's something I like to do as well.
HRH: Besides Steve Vai and George Lynch later, who are your other guitar icons you worshiped throughout your music career – and why?
Jay: My walls used to be covered with posters of guitar players when I was learning to play. Warren Dimartini was somebody I was very much into because Ratt and Dokken had pretty similar music. Marty Friedman and Dave Mustaine. Joe Satriani. Hendrix a little later on. Actually I have a very cool picture of Hendrix in my studio now! Jimmy Page. There's many more. All of my influences have added something to my playing.
HRH: As a guitar tutor yourself, what would be your advice for all those new and hopeful guitarists – in the process of making it big, and reaching their full potential?
Jay: Picture the end goal and keep hold of that image always. Meditate on it. Create a vision board, do whatever it is that keeps that image in your mind because everything that ever was, started as a thought. That will give you the energy to reach whatever goal that you want to reach. Learning and practice come into it, but that's an endless journey, even I'm still a student of guitar. But it's really important to have that vision and have absolute certainty that it will happen. People may say that it is impossible, or that you gotta think about a secure job, but we get one shot at this life and I believe that we should do everything that we desire and feeds our soul. When you follow your life's purpose, everything that you need to make it happen comes to you. You just have to be open to it. The other piece of advice would be, to be grateful for everything that comes to you. Even if you have just one fan, that's one more than zero. We're taught that the measure of success is selling a million records, making more money than Bill Gates, etc, but inspiring just one person has more impact than any amount of possessions or record sales. So gratitude plays a big role.
HRH: Being well known for your unique melodic guitar style and technical mastery, in your opinion what makes the guitar stand out compared to other instruments?
Jay: It's the tactility. My fingers are on the strings, the neck, the frets. The material the guitar is made of is organic so contributes to the tone. The pickup choice makes a difference to the sound. There is so much interaction with the instrument while playing – you can slide, bend and caress the notes out, which is unique about stringed instruments. There is also the vast palette of sounds and textures that you can create by altering the volume control, by picking softer, by picking with my fingers. There is so much that you can do. And that's without going into amplifiers and effects. Guitar can keep you busy for a very long time. (Laughs).
HRH: During your 14 years of working in this industry, what has been the biggest obstacle for you so far?
Jay: I don't think of them as obstacles. Anything is possible and achievable. There have been plenty of challenges along the way, but they are always there to learn something about yourself, or what you are doing. So I just deal with them. 'Strange Day' was a challenge in that it was an instrumental album and had a limited appeal. Musicians really liked it, but others wanted to hear singing. But I got it out there and people heard it. It was successful in establishing me. A couple of the challenges that I faced with creating 'Circle of Fire' were how to put it all together myself, finding my own voice, producing and mastering the album myself, and starting to sing. Again, I just dealt with these as they came along and learned from the experience. Everything fell into place with the musicians and I discovered my own musical style and voice during the process of writing the songs. The production was a big challenge because at one point the mixes were not translating well outside the studio, so I went back to basics, re-learned and honed my skills in the studio, and started the mixing from scratch. I even changed my studio monitors which helped enormously. It was a great experience and I'm so pleased with the sound of the album. It's punchy but smooth and has lots of depth.
HRH: Having been in the music industry for quite a long time and playing along with many great guitar names, I'm sure there were times and moments when you felt some kind of rivalry- or friendly competition with other fellow guitarist-in terms of technique and guitar style. Something I have seen and heard before, between guitar egos, like Steve Vai, Joe Satriani and Yngwie Malmsteen…
Jay: You know, I haven't really tried to compete with any other guitar players over the years. I had my focus and followed that. There were times when I felt like throwing the guitar away because I'd just heard somebody who was completely amazing! But I see these guys as an inspiration now. There's space for every type of musician, especially guitar players. There is always something to learn from other guitarists and that's a wonderful place to be because it means that I can always pick up something new and evolve. I am really comfortable with the way I play and my sound, gear, and studio. More so now than ever before. My playing may not be the fastest or flashiest but it conveys what I want the guitar to say, which is what playing is about for me.
HRH: Are there any amusing or embarrassing experiences that stuck with you and you would like to share with our readers?
Jay: Embarrassing stories will have to wait to be on the extras on a DVD or something. One thing that does stay in my mind is when I was sending the songs to Pete (Newdeck) to record the drums they would come back with drums…and vocals, and arrangement! All that was missing was the guitar solos, which I thought would turn up with Pete's name on them at some point as well! I couldn't help but laugh. But in all honestly he gave wonderful, wonderful performances and direction on all of the tracks that he worked on. His drumming is exceptional and his voice is very recognizable and so full of emotion. Just listen to his harmonies on 'Now You're Gone'. Incredible! Pete was working on his album, Tainted Nation, at the same time so was practicing his vocals as much as possible. He recorded the vocals for 'Walking In Circles' at my studio, Sacred Sound, and it's the funniest session I've ever had! He was dancing around in the vocal booth while he was singing, throwing his arms up, turning around between lines and pulling faces! I got it all on video and you can see it on Youtube – http://www.youtube.com/watch?v=eJ-k5TvzrsU.
HRH: Can we hope to see you soon on tour?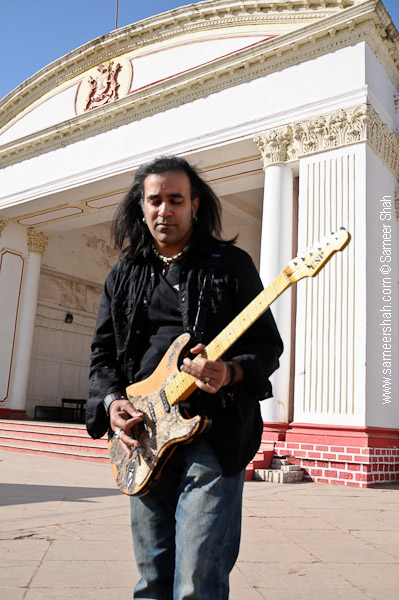 Jay: Yes! I wanna take this show on the road! The songs already sound live so I will do some gigs. So putting a band together… Applicants send resumes with sound clips please!
HRH: What can your fans expect to see at your live performance?
Jay: (Laughs) I want it to be a surprise. It will be very, very cool though.
HRH: What do you like most about touring?
Jay: The performance firstly. The stage is a very special place to be. There's sacredness in playing in front of people and really delivering a great performance and I'm honored that I've had the opportunity to do that and will do it again. Also, interacting with the people who come to see me play. When I was on the road with Eden's Curse, we'd get to the merchandise stand within 10 minutes of finishing our set so that we could speak with the fans. It's an amazing experience.
HRH: What are your goals, short and long term?
Jay: To create more, both short and long term. My immediate focus is on releasing this album, letting people know about it and playing live. The ideas are starting to flow again so I will start writing and recording again very soon. A track or two may even make it as an extra on the CD release in a couple of months. Longer term, maybe take over the world and then the Universe! (Laughs). That's all still in the planning stages.
HRH: Often you have been called a brilliant guitarist with his own superb guitar niche. How would you like to be seen in years to come? Maybe one of the new guitar virtuoso…?
Jay: That will feed my ego! Laughs). No seriously, I tend not to label myself so as to leave the door wide open for me to get involved in all sorts of crazy musical ventures. I do music because it's a passion and what I love to do. Being in the studio and playing, writing, teaching, recording, producing just feeds my soul, so I want to carry on doing more of that. If people see me as a virtuoso and it inspires them to pick up a guitar or just listen to music that brings them joy, then that's awesome. That inspires me to do more.
HRH: Thank you again Jay for taking time for this interview. And best with the record and the tour!
Jay: It's always a pleasure to speak with you guys! Looking forward to next time.
Visit Jay Parmar on the web: http://www.jayparmar.com/wp/