Jay Parmar | Circle of Fire
by John Kindred
Staff Writer —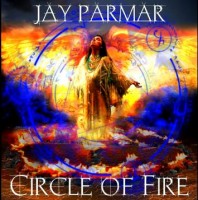 Jay Parmar returns with his sophomore studio release titled Circle of Fire on Steve Vai's label Digital Nations.The album follows up his 2005 debut release, Strange Day, and tracks his musical progress and growth over the last seven years. Although it seems like quite a stretch in between releases, Parmar has been busy with building his studio, writing and demoing this forthcoming release and touring as second guitarist in the band Eden's Curse in 2009. That tour produced a live album, Condemned to Burn, which featured Parmar on two of the recorded songs.
Parmar finds himself in great company on Circle of Fire. His hard work and networking ability has led him to becoming friends with fellow musicians Carsten Lizard-Schulz (Evidence One/Paradise Inc), Andreas Novak (House of Shakira/Mind's Eye), Pete Newdeck (Eden's Curse/Tainted Nations), Tim Wallace, Mike Rotella and guitar legend George Lynch, all of whom contributed to Circle of Fire. And, as all of Parmar's friends and fans know, George Lynch is a good friend and inspiration to the guitarist.
The core of Circle of Fire is built around the original arrangements written by Parmar. He worked with Pete Newdeck to arrange and record the foundation of the music. Newdeck handled the drums, while Parmar provided the bass, keys, rhythm guitar and his lead solo tracks. From there, each of his "guests" continued to bring the music to life, contributing lyrics, vocals and additional guitar solos. Circle of Fire comprises 12 songs, all of which maintain a cohesive vibe even though different vocalists sing throughout the CD.
Although the inspiration may come from his influences, Parmar pushes forward, letting his voice be heard compositionally and vocally. The music is melodic hard rock, and the vocalists reflect this as they perform melodic and catchy vocal melodies. Newdeck and Schultz handle the majority of the songs, while Novak only is the featured vocalist on "Test of Time," Wallace appears on "Harm's Length." Parmar makes his singing debut on "When Angel Cry." Circle of Fire delivers great all-around vocals from everyone involved. At times, they fall in between the AOR and Melodic rock world, almost pushing into the '80's stadium-rock-arena on several occasions.
There is no getting around the fact that George Lynch has had a major influence on Parmar's own guitar style. He won't deny it. You can hear it within the context of his rhythm guitar work, but it is more evident in his solos. His legato phrasing, attack, harmonic squeals and guitar sound pull a lot from Lynch. It would be bad if he did a poor job of it, but Parmar is extremely accomplished. It's almost as if the torch is being passed from one legend to the next generation of shredders. Hopefully, as Parmar continues to write and record, his lead guitar work will evolve into a signature style that is all his own. For now, he nails it song after song.
Parmar and Newdeck build a solid foundation for the 12 songs that comprise Circle of Fire and deliver inspired, melodic hard rock bliss. Rotella and Lynch, both, deliver amazing fret board acrobatics alongside Parmar. The slick production magnifies the high caliber of musicianship that comprises Circle of Fire. Unlike a lot of independent artists out there today, Jay Parmar has taken the time to learn his craft, with his guitar and in the studio, before unleashing himself on listeners with sub-par studio albums. His approach and music is a mature and confident. This is reflected on Circle of Fire in his songwriting ability and the quality of professional musicians who brought the album to life.
Highlights: "Hell Is The Place," "Walking In Circles," "Dragon," "Circle of Fire"
Genre: Melodic Hard Rock
Line-up:
Jay Parmar (g)(b)(k)(v)
Pete Newdeck (d)(v)
Carsten Lizard-Schulz (v)
Tim Wallace (v)
Mike Rotella (main solo on "Hell Is The Place")
George Lynch (intro/main solo on "When Angels Cry")
Track Listing:
1. Walking In Circles
2. You're Not Alone
3. Test of Time
4. Lost In You
5. Now You're Gone
6. Hell Is The Place
7. Stop Laughing
8. Guilty
9. Harm's Length
10. Circle of Fire
11. The Dragon
12. When Angels Cry
13. Circle of Fire (Single)
Label: Digital Nations
Web: http://www.jayparmar.com/wp/
Hardrock Haven rating: 9/10