Lance Lopez | Handmade Music
by Alissa Ordabai
Staff Writer —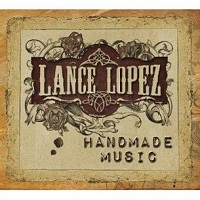 An inviting promise of a hearty feast of Southern rock, the first two cuts of Lance Lopez's new album turn out to be deceptive starters. After the initial thrill the juicy, muscly guitar strutting over a life-affirming Elmore James groove on opener "Come Back Home" and the blustery locomotion of the follow-up "Hard Time", things suddenly start sliding downhill. The intense, ballsy conviction of Lopez's blowout blues-rock chops, his edgy guitar tone, and rocks-and-gravel voice – spot-on in its raw, swaggering intonation – are swiftly replaced by tired, done-to-death clichés interested in little apart from radio play and chart action.
The press release hails Lopez as a follower the great Texas blues tradition, but a SRV or a Billy Gibbons he is not. Although at times so close, you forget his blatant hankering after mainstream's patronage on the mild roots-meet-pop crowd-pleasers which make up the bulk of this album. It's not the solicitations of mainstream success, however, which place him in a different league from his legendary predecessors, nor the hurried sleekness of his practiced chops, and not even his apparent inability to take subtle liberties with the metre. It's rather the derivative, commonplace phrasing that doesn't let Lopez depart from what is prescribed and touch upon things which turn regular guitar players – no matter how chopsy – into unique artists.
When it's time for the melancholy closer "Lowdown Ways", the credit of trust is all but expired, the cut coming through more caustic than heartfelt, with Lopez's hurried, pause-free solos further confirming that there is some rethinking to be done before continuing to refer to SRV or Hendrix as personal touchstones. But with nothing in music being strictly this or that, in the end you could still say that Lopez succeeds in his own way as a niche standard-bearer for a certain type of Americana, or that he simply is an artist who chose tradition to construct his own personal comfort zone, despite being equipped well enough to use it to discover something very personal and new.
Genre: Blue Rock, Blues, Roots
Track List:
1. Come Back Home
2. Hard Time
3. Let Go
4. Dream Away
5. Get Out And Walk
6. Your Love
7. Traveling Riverside Blues
8. Letters
9. Vaya Con Dios
10. Black Cat Moan
11. Can You Feel It
12. Lowdown Ways
Label: MIG / String Commander
Online: http://www.myspace.com/lancelopez
Label: MIG / String Commander
Hardrock Haven rating: 5/10