Lanfear | This Harmonic Consonance
by Derric Miller
Staff Writer —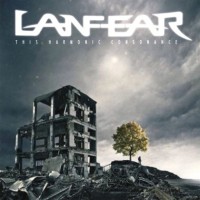 On the German-based band Lanfear's sixth studio album, This Harmonic Consonance, we are once again exposed to one of the most glaringly underrated bands on the planet. (Which by the way, is how they tout themselves on their website. It just happens to be surgically accurate.) They've been around since 1994 (demo) and in 1996 released their first studio album. Through lineup changes, multiple labels, and of course a tanking industry rife with thieves and cowards, they somehow forge ahead and yes, give their fans another unique, melodically aggressive (and at one point jazzy!) creation in This Harmonic Consonance.
Unfortunately, like most bands of this ilk, they begin with a monotonous instrumental that is only 1:06 in length. Next …
"Colours of Chaos" is the first real track, and you'll be pumped by guitarist Ulle's almost Jeff Waters-like riffing. It's caustic and machinelike in its mechanical fury. The vocalist, Nuno, is a multi-faceted talent who allows them to get near thrash levels in guttural chaos yet can also croon and nail high, falsetto shrieks. Oh, and at 2:55 into the song, it's the aforementioned Jazz quotient, with Nuno breathily singing with an understated soft falsetto … but then they get back to the anthemic speeds again. One "poetic" note is that they call the song "Colours of Chaos" but sing throughout the song "The colours of existence." So … chaos=existence.
"By-Product Nation" is a little more accessible if merely for the flowing, happily melodic keys from Richer. And the album is obviously a deconstruction of mankind's continually bleary devolution, because the lyrics like "worst expectations come true" show that Lanfear is paying attention, even if no one else seems to be.
If you get into a spelling competition with the guys, you'll probably lose, even if it's an attempt to create neologisms. For instance, "Idiopathic Discreation." It's refreshing to listen to a band write such existential lyrics to perfectly mirror the complicated tempo changes, off-time rhythms, and backbone of the song. It's haunting when they end the chorus and ask … "Where is God?" or admit "I'll walk this path until I die."
And don't forget the mechanization of the human race. Lanfear surely didn't on "I, Robo Sapiens." (So they read Phil Dick and play off his ideas … but maybe it should have been "I, Electric Sheep." Regardless …). This is one of the highly accessible songs, a composition that any Metal fan can embrace, even if you don't dissect lyrics. It has that double-bass shotgun start/stop, haunting accompanying backing vocals on the chorus, and just an overall expert … everything.
At this point, you get the idea. Calling themselves underrated doesn't make it any less true. This is one of the best releases of the year thus far, and they found themselves on a label in Pure Steel that seems to be behind their bands 100 percent. The underdog has to win some year … maybe This Harmonic Consonance will make it Lanfear's year.
Genre: Progressive, Power Metal
Band:
Nuno Miguel de Barros Fernandes/vocals
Markus "Ulle" Ullrich/guitars
Kai "Schinde" Schindelar/bass
Richie "Richer" Seibel/keys
Jürgen "Gen" Schrank/drums
Track listing:
1. Giorno del Giudizio
2. Colours of Chaos
3. By-Product Nation
4. The Reverend
5. Idiopathic Discreation
6. Camera Silens
7. I, Robo Sapiens
8. Spectrophobia
9. Word Not Spoken
10. Disharmonic Consonance
Label: Pure Steel Records
Online: www.lanfear.eu
Hardrock Haven rating: 8.5/10