LIVE! | Jane's Addiction with Black Box Revelation
by Sara Mccarthy
Staff Writer –
February 29, 2012 at Auditorium Theatre in Rochester, NY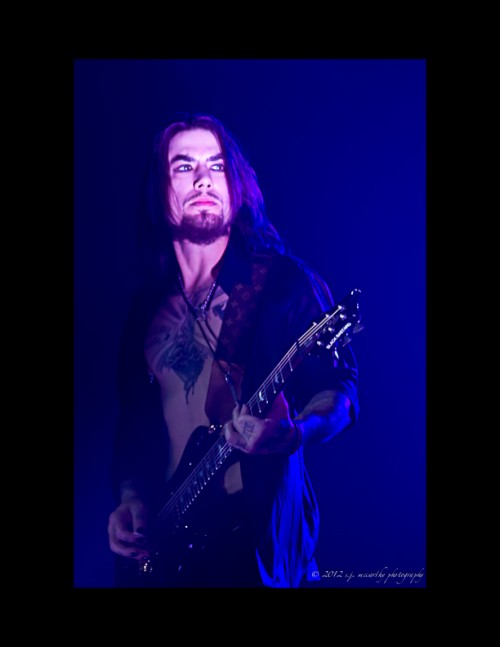 Wednesday night the Auditorium Theatre in Rochester, NY was filled to capacity with fans that grew up with Jane's Addiction through the '90s. Looking forward to a night of good music and reminiscing about their childhood and the last time the band stopped in Rochester (1991), concertgoers took advantage of the well stocked bars to begin their evening.
Opening the show was a guitar and drum duo from Brussels, Belgium, Black Box Revelation. Touring to support their recently released EP Shiver of Joy, Jan Paternoster (vocals and guitar) and Dries Van Dijck (drums and percussion) got the crowd on their feet and dancing with their growling, bluesy riffs and intense drums. Watching this duo play brings to mind, The White Stripes, The Black Keys and Middle Class Rut. Each song was a different adventure of sounds that took the listener into a world surrounded by nothing but tearing guitar and deep percussion, you could do nothing but listen and be impressed. This is a band whose star will continue to rise and the climb will be fun to watch.
The forty-minute set change transformed the stage into the Cirque de Satan Soleil, which is what Jane's Addiction is calling the Theatre of Escapists tour. Opening with "Underground" off their latest release The Great Escape Artist, two women dressed white voluminous dresses with twenty feet long skirts, were raised on trapeze bars high above the stage. The show was broken into three distinct sections, the first ending with "Ted" being paired with "Twisted Tales" and seemingly aged "home movies" of doll abuse, high school age children drinking and using drugs, adults engaged in sadomasochist sexual acts and other scenes that fit right in with a "twisted" frame of mind.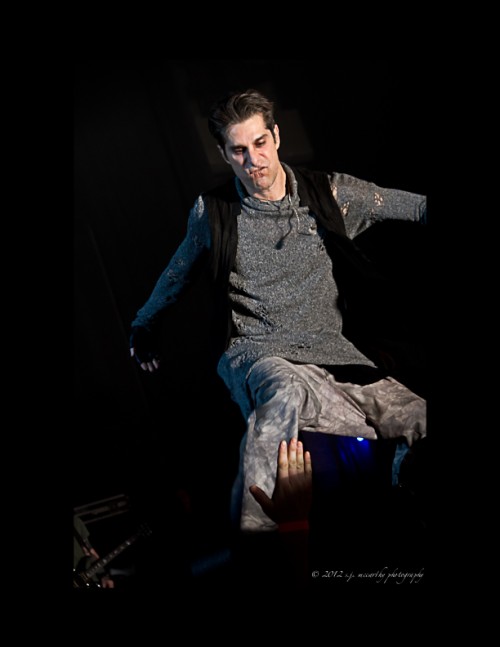 Perry Farrell, vocals, was obviously enjoying himself, interacting with the crowd and visibly reacting when he saw them singing and dancing along. Dave Navarro, guitar, shirtless and wearing an open jacket, played the part of the lead guitarist to a "T," posturing for the crowd and photographers alike. His charismatic performance showed off his skills honed from countless years of playing and touring. Bassist, Chris Chaney, also showed off his prowess producing some deep, low end sound that vibrated the internal organs of every individual within a five block radius.
The second portion of the show brought the entire band to the front of the stage, and showcased drummer, Stephen Perkins on a variety of percussion instruments. This more intimate feel brought the audience in closer with the band with "Classic Girl" setting the stage for a more mellow experience. Farrell introduced the final song in the three-song set, "Chip Away" by stating that "I've tried to find satisfaction from a woman, from a bottle and from a needle, but I will keep on chippin' away."
The final third of the band's performance showed everyone in the building exactly why after twenty plus years, this band is still able to sell out just about every show they book. "Lies" started the final leg followed by "3 Days." To say that Jane's Addiction killed it is an understatement; they took an amazing song and brought it to a new level. Fans left their seats and spilled out into the aisles dancing, all but unaware of others around them. Security tried to get them back into the rows, but eventually gave up, probably due in part to the fact that everyone was seemed to be having their own personal, but peaceful experiences. 'Stop" had the crowd even more riled jumping up and down and singing along. One of the last things Farrell had to say to the audience was a bit of sage advice to all of the "old people out there keep dancing or die!"
Jane's Addiction Set List:
Underground
Mountain Song
Just Because
Been Caught Stealing
Ain't No Right
Ted
Twisted Tales
Classic Girl
Jane Says
Chip Away
Lies
3 Days
Stop
Words Right Outta My Mouth
Ocean
Jane's Addiction with Black Box Revelation Photo Gallery
Photos appear courtesy of Sara Mccarthy