LIVE! | Van Mclain and the Movers
by Gary Dean
Staff Writer –
March 23, 2012 at Harrahs Voodoo Lounge in Kansas City, MO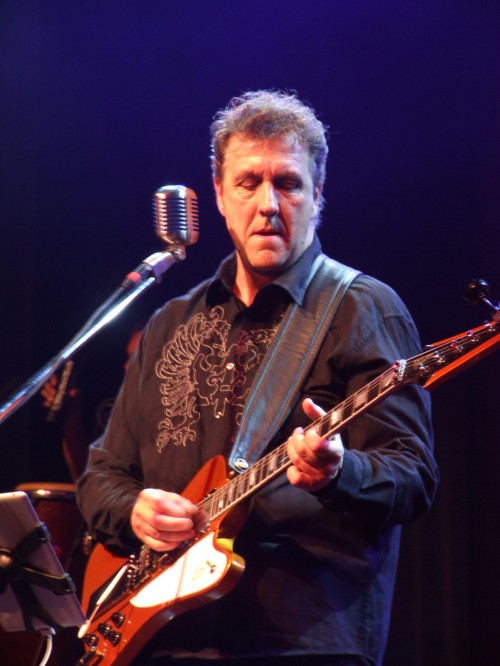 Van Mclain, singer, songwriter and guitartist for Shooting Star, kicked off his new solo project, "Van and the Movers," at The VooDoo Lounge, in Kansas City on March 23. Van and other members of legendary bands Shooting Star and Unidos played several numbers from his first solo CD, New Blue.
After listening to some sample songs on vanmclain.com, I settled in expecting a blues concert, but what I got was a rockin' good show. Mclain has said what a departure this would be for him, playing guitar and singing lead the entire show, but he made it look effortless.
The fun and excitement emanating from Van and "The Movers" was very apparent. The group comprises Shooting Star band-mates Steve Thomas on drums and Dennis Laffoon on keyboards with Unidos, a three-piece horn section, a percussionist and two beautiful female back-up singers.
For many, the four Shooting Star songs were the highlight, but crowd favorites turned out to be "I Wanna Rock," "Voodoo In Your Hoodoo," "You're Going Down," and "Tailbone Jones," which was written by Steve Werner.
There was a hush in the crowd as fans listened to the emotional "You'll Be There For Me," Mclain commented that this was his first time pretending to be James Taylor.
If you get a chance to view the DVD from the show, you may find yourself ready to petition Mclain on VanMclain.com to bring the Movers to your town and experience this show live for yourself. Having seen Shooting Star many times, this was a refreshing change that took one back to times remembered, and this was a time to remember.
Band:
Van Mclain – Vocals,Guitar
Dennis Laffoon – Keyboard
Steve Thomas – Drums
Ricky Carter, Mark Stafford, and Crayge Lindesay – Horns
Lope Munoz – Percussion
Tenesha Rochelle and Erica Baker Vocals
Set List:
Push it away
Nobody left but me
We've got history
Breakout
You'll be there
Temptation
I wanna rock
Tailbone Jones
Waiting on your fire
Keyboard intro
Voodoo in your Hoodoo
You're going down
Last Chance
Save your money
You've got what I need
Van Mclain and the Movers 2012 Photo Gallery
Photos appear courtesy of Glen Cutshall and John Croft