Lullacry | Where Angels Fear
by Joe Mis
Staff Writer —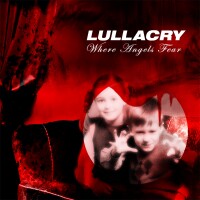 Seven years is a long time to wait between releases, but that's how long fans of the Gothic / melodic metal band Lullacry have been waiting. At long last the Finns have stepped back into the spotlight with Where Angels Fear, an 11 song album that shows no traces of ring rust.
Formed in the late 1990s, Lullacry joined the wave of female-fronted metal by releasing their first demo in 1998 and full-length album (Sweet Desire) in 1999. They signed a major contract and followed up with releases Be My God (2001), Crucify My Heart (2003), Fire Within (EP -2004) and Vol. 4 (2005). After great success in Europe, the band took a break. They refocused in 2010 and began work on Where Angels Fear. Fans of Lullacry will not be disappointed, but the band has grown in songwriting skills and broadened its stylistic range.
Where Angels Fear is not a Gothic metal album – it is more of a melodic metal release with Gothic and progressive influences. Tanja Lainio is a fine vocalist who tries to blaze her own path rather than imitate the other female greats. Her voice is strong while not overpowering, intense without dominating the rest of the band, yet soft and soothing at the same time. Guitars are provided by Sami Leppikangas and Sauli Kivilahti. Both are fine rhythm players, but the style of music doesn't really allow them to stretch their fingers as soloists – although many of the lead breaks are technically excellent, just not prominent. The bottom end consists of bassist Kimmo "Heavy" Hiltunen and drummer Jukka Outinen. They make a great team and their energy and intensity match the music perfectly.
"Antidote To You" opens the album on a high. Big guitar riffs and a solid vocal delivery make this upbeat rocker a winner, perhaps the closest thing to an arena rocker on the release. It also features the hottest guitar work on the album during the short and sweet outro. "Still An Angel" is a more pounding and intense Gothic-alternative metal track. A touch of apocalyptic metal permeates "Thousand Suns," and although Tanja's delivery is excellent her voice is too soft and mild to effectively covey the darkness of the words. "Feel My Revenge" is a dark ballad (for lack of a better term) which features a very good duet between Tanja and Mikko Herranen and top-notch musicianship from each band member – perhaps the most technically solid track of all. A booming bass riff and a very catchy chorus make "Bad Blood" a fun song, but at times Tanja pushes a little beyond her limits. "All Behind" is a more conventional rocker with good vocals and some interesting guitar hooks throughout.
The second half of the release opens with a very different sounding "Gone Are The Days." This flowing gothic track highlights the bass and drums of Hiltunen and Outinen, and has a very smooth feel to the vocal lines. "I Am" has an almost punk tone to it thanks to the energetic guitars and kicky drums – a catchy and upbeat song. Undoubtedly the strongest track from almost any aspect is the power ballad-like "Broken (Into Pieces)." It is softer than the other tracks, and very emotional and heartfelt. Tanja's voice it at its best, and the bass line carries the song to a very good lead guitar break. The title track "Where Angels Fear" is full on rocker with grinding guitars, bubbling bass and clockwork-precise drums and a sweeping chorus. "Stay" closes out the CD – a wonderful acoustic track is radically different in tone and delivery.
Overall Where Angels Fear is a very good album. Musically diverse and always interesting, this release proves that Lullacry does not use the "female-fronted" phrase as a crutch – they can hold their own against any band in the genre on pure musical talent. The production values are high, and the engineering allows the warmth of Tanja's voice to be heard, and enhances the many subtleties of her performance. One of the oddities of the album is the sometimes massive disconnect between Tanja's soft and sweet voice and the darker lyrics – to paraphrase comedian Steve Martin, it is like trying to play a sad song on a banjo. Lullacry seems to be strongest on their mellower songs, although they definitely rock when then turn it to eleven.
Where Angels Fear is a solid album from start to finish. The performances are technically excellent and the lyrics and music are emotional and passionate. All the songs are well-crafted and well-delivered, so any fan of the band, Gothic metal in general, or female-fronted rock will find much to enjoy about Lullacry's latest.
Genre: Gothic Metal
Band:
Tanja Lainio (vocals)
Sami Leppikangas (guitar)
Sauli Kivilahti (guitar)
Kimmo "Heavy" Hiltunen (bass)
Jukka Outinen (drums)
Guest musician – Mikko Herranen (duet vocals on "Feel My Revenge")
Track Listing:
1. Antidote To You
2. Still An Angel
3. Thousand Suns
4. Feel My Revenge
5. Bad Blood
6. All Behind
7. Gone Are The Days
8. I Am
9. Broken (Into Pieces)
10. Where Angels Fear
11. Stay
Label: OUTO Recordings
Website: www.lullacry.com
Hardrock Haven rating: 8/10