Mark Evans | DIRTY DEEDS: My Life Inside/Outside of AC/DC
by John Kindred
Staff Writer —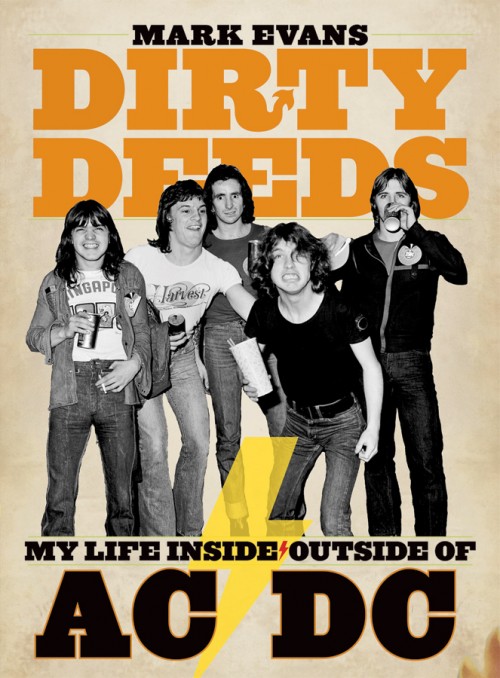 Former bassist with Australia's legendary AC/DC unveils the band's secret world behind the curtain. AC/DC's rough and tumble existence is revealed through the words of former bassist Mark Evans. Malcolm Young was handling those duties before Evans joined the band, but he wanted to return to hammering out chords as the rhythm guitarist. AC/DC's journey to their future bassist is told by Evans, beginning with his childhood and his landing the gig, his departure and subsequent musical accomplishments, to personal tragedy and, finally, understanding and acceptance.
This is first-hand look of not only Evans but of AC/DC from behind the scenes. Evans paints the picture that highlights the band as a well-oiled machine, driven and controlled by Malcolm Young and the Young family. Those in the band whose last name was not Young appeared to have been hired hands and most often were the casualties when the machine didn't run quite so well. Evans describes Angus Young as a driven perfectionist, who is always practicing; Bon Scott as the elder statesmen and a very private and lonely man; and Malcolm as a businessman who also participated in the behind-the-scenes party lifestyle with other band members. Obviously, Evans' strongest relationship in the band was with drummer Phil Rudd. But he also was friends with Scott, and their bond became stronger after he was fired from the band.
Evans' reflection on his childhood and teenage years builds the case that he was destined to be in a rock 'n' roll band. Living on his own as a teenager, he learned early on to chase women, teenage girls and alcohol. He was a guitarist before he picked up the bass. Evans' father and his subsequent death when Evans was a child had a profound affect on his life.
Joining AC/DC at age 19, Evans united the traveling circus that was always working. Their grueling schedule included extensive touring and TV appearances. Evans appeared on: 1975's T.N.T., '76's High Voltage, '76's Dirty Deeds Done Dirt Cheap and '77's Let There Be Rock. These albums are what many fans consider to the quintessential albums to own that were released by the band.
According to Evans, he was ousted from the band in 1977 due to "musical differences," and that the band said they wanted a more advanced bassist who also sang backup vocals. This changed his life and his direction. He later found himself as the guitarist in the band Heaven and bounced around in several bands and projects over the years. Evans tells of being teased with being included in the AC/DC induction ceremony in the Rock and Roll Hall of Fame in 2002, only to have been unceremoniously marked off the invitee list without explanation. This created further rift between Evan and the AC/DC family.
The book ends almost on a sad note, as Evans' daughter was killed tragically after surviving a illness as a child. The book includes Evans' encounters with George Harrison, Gene Simmons, Alice Cooper, Ronnie Wood and members of Metallica. While a lot of the pre-AC/DC history is chalk full of stories of sexual conquests, which seems irrelevant, drugs, violence and drinking, Evans manages to bring us into a world seldom experienced by outsiders. In some respects, it is a sobering experience. The early stories of AC/DC's travels and adventures are interesting and entertaining.
Product Details:
ISBN 978-1-935950-04-2
Deluxe 288pp illustrated softcover inc. 16pp color insert
Dimensions: 6.5″ x 9″ x .75″
Publisher: Bazillion Points
Hardrock Haven rating: n/a