by Nikiforos Skoumas
Staff Writer —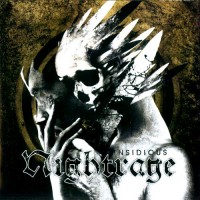 Greek-Swedish melodic death metal outfit Nightrage is back with its fifth studio album Insidious. It is the band's third album under Lifeforce Records and is being promoted as their best work ever.
Nightrage is bandleader: guitarist Marios Iliopoulos, lead guitarist Olof Morock (founder of Amaranthe), singer Antony Hamalainen, bassist Anders Hammer and drummer Jo Nunez (also of Firewind). Insidious also features guest appearances by former members, Gus G (guitar solos) and Thomas Lindberg (vocals) along with Appollo Papathanasio who performs clean vocals where required.
One has to admire the niche Nightrage have come to develop; they play down-tuned melodic metal with emphasis on guitar harmonies and staccato tempo, topped by screaming vocals (which for the biggest part are not that hard to make out). So Insidious is very much a death metal album, yet one that bares an undeniable mainstream-metal appeal.
Much like previous Nightrage albums, the song structure of the material featured on Insidious is pretty straightforward. The rhythm patterns are fairly consistent within the song while the core instrumental melodies remain simple and memorable. Experienced fans should no be surprised to find riffs and melodies reminiscent of Firewind on this album; for that matter, making out the two spots where Gus G lays his solos should provide quite a challenge for any enthusiast because Olof and Marios seem to share a very similar mentality with the renowned guitar hero as far lead guitar playing is concerned.
It has to be addressed, however, that after the first three-to-four songs, every track seems similar to the previous or following; that's not necessarily a bad thing as it does not cause the album to sound tiring, even though melodies, riffs, choruses and rhythm patterns tend to get overly repeated on the fifteen tracks of Insidious.
Having played the album a good number of times, one can pinpoint such highlights as the intensely furious "Utmost End of Pain," "Delirium of the Fallen" and "Hate Turns to Black". Bottom line you have to be a fan of head-bashing heavy metal to connect with Nightrage. Under this condition, Insidious should even satisfy audiences who share a very superficial relationship with the genre of death metal, much like the one writing this review.
Genre: Melodic Death Metal
Line Up:
Antony Hämäläinen – vocals
Marios Iliopoulos – guitar
Olof Mörck – guitar (bass on 2007 European Tour)
Anders Hammer – bass guitar
Johan Nunez – drums
Track List:
01. So far Away (intro)
02. Delirium Of The Fallen
03. Insidious
04. Wrapped In Deceitful Dreams
05. Hate Turns Black
06. Sham Piety
07. Cloaked In Wolf Skin
08. This World Is Coming To An End
09. Utmost End Of pain
10. Poignant Memories
11. Hush Of Night
12. Poisoned Pawn
13. Solar Eclipse (Prelude)
14. Solar Corona
15. Emblem Of Light (Outro)
Label: Lighthouse Records
Web: http://www.nightrage.com/index.asp
Hardrock Haven rating: 7.5/10