Pretty Maids | It Comes Alive – Maid in Switzerland
by Justin Gaines
Staff Writer —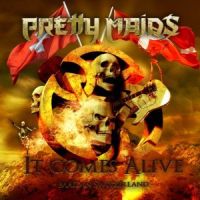 Long running Danish melodic metal masters Pretty Maids are back with another live offering this year, their first since 2003's Alive at Least. It Comes Alive – Maid in Switzerland is the title, and it is being released in conjunction with the band's first-ever live DVD. The DVD will no doubt rule, but this review covers only the audio half of the show.
Spanning two discs and 21 tracks, It Comes Alive is the most comprehensive live album the band has released to date, and accordingly it covers all eras of the band's lengthy career. They don't quite hit every album, but you get songs from their '80s releases Red Hot and Heavy and Future World, '90s albums Lethal Heroes (a.k.a. Jump the Gun), Sin-Decade, Scream and Anything Worth Doing is Worth Overdoing, as well as more recent albums Carpe Diem, Wake Up to the Real World and Pandemonium. Future World and Pandemonium are the most heavily represented here, and that's not a bad thing at all since those are arguably the band's best albums.
Beyond being a hefty, comprehensive live set, the performance captured on It Comes Alive is just incredible. This is not a band that is just going through the motions or simply serving up note-for-note reproductions of their studio songs. Pretty Maids has a fantastic energy live that comes through in every song. Each song sounds almost brand-new, and between the band's energy and the feedback they're getting from the crowd it's almost like being there in person.
While the smart money is on the full DVD package, the audio version of It Comes Alive is still a fantastic live release, and one that all serious Pretty Maids fans will want to check out. For fans here in the US, It Comes Alive is a terrific preview of what to expect when Pretty Maids finally plays here in America at the ProgPower USA festival this September.
Edition Notes: If you're buying It Comes Alive in MP3 format, you'll get an extra track – "Nightmare in the Neighborhood" – that's not on the CD version.
Genre: Melodic Metal
Band:
Ken Hammer (g)
Ronnie Atkins (v)
Allan Tschicaja (d)
Morten Sandager (k)
Rene Shades (b)
Track Listing:
1. Pandemonium
2. INVU
3. Hell on High Heels
4. Wake Up to the Real World
5. Destination Paradise
6. Another Shot
7. Scream
8. Walk Away
9. It Comes at Night
10. Queen of Dreams
11. Savage Heart
12. Clay
13. Yellow Rain
14. Rock the House
15. Back to Back
16. Rodeo
17. Love Games
18. Future World
19. Little Drops of Heaven
20. Please Don't Leave Me
21. Red Hot and Heavy
Label: Frontiers Records
Website: www.prettymaids.dk
Hardrock Haven rating: 8.75/10