by Justin Gaines
Staff Writer —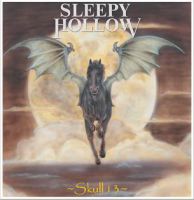 Leave it to the traditional metal merchants at the Pure Steel label to bring back another cult American heavy metal band. After more than two decades on hiatus, New Jersey-based traditional metal band Sleepy Hollow is finally back with a new album. Skull 13 is only the band's second full-length release, and is the long-awaited follow-up to their self-titled 1991 debut. This time around, the band – which features former Attacker vocalist Bob Mitchell – is joined on bass by none other than Symphony X's Mike LePond.
Sleepy Hollow's debut may have arrived in the early '90s, but the band's overall sound is decidedly '80s-inspired. The music on Skull 13 draws heavily from bands like Accept and Dio-era Black Sabbath, with some doomier elements along the lines of Solitude Aeternus added to the mix to keep things interesting. It's a good mix of sounds, and one that old school heavy metal fans are definitely going to appreciate. It's heavy, thrashing, headbanging metal with some very memorable vocals. Bob Mitchell has a very distinct voice somewhere between former Accept belter Udo Dirkschneider and their current frontman Mark Tornillo. It's his powerful voice that brings the Accept comparison, and Steve Stegg's fierce guitar work that recalls Sabbath and Solitude Aeternus. Songs like "Death of a Horseman" and "Black Passage" showcase the bands speed, while "Bleed Steel," "Spiral Effect" and "Midnight" have a heavier, more epic feel.
It's always good to see these old cult-status heavy metal bands (Exxplorer, Blacksmith and Overlorde SR also come to mind) reuniting, especially when the albums they release are this impressive. If you're one of the lucky few who knew of Sleepy Hollow back in the day, you won't be disappointed by what you hear on Skull 13. If you missed them the first time around but are a fan of the classic '80s heavy metal sound, now is the perfect time to discover this gem from the metal underground.
Genre: Heavy Metal
Band:
Tommy Wassman (d)
Steve Stegg (g)
Bob Mitchell (v)
Mike LePond (b)
Track Listing:
1. Death of a Horseman
2. Facemelter
3. Black Passage
4. Bleed Steel
5. Rear Window
6. Inquisition
7. Epic (The Legend Retold)
8. Eternal Bridge
9. Misery Waltz
10. Spiral Effect
11. Midnight
Label: Pure Steel Records
Website: http://www.myspace.com/theoriginalhollowmetal
Hardrock Haven rating: 8/10