Various Artists | Tribunal Records 100 – Cover to Cover
by Justin Gaines
Staff Writer —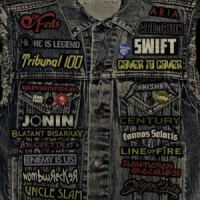 Home to a diverse lineup of artists from melodic rockers Line of Fire to thrashers Blatant Disarray to modern metal bands Vanisher and Age of Ruin to metalcore and hardcore bands like Killwhitneydead and Jonin, Tribunal Records has just celebrated their 100th release. To mark the occasion, the label has released a special album that reflects the diversity of their roster as well as the diversity of influences those bands represent. Tribunal 100 – Cover to Cover features 21 cover songs from bands currently (or previously) on the Tribunal label.
Diversity is the key word for this release (which is available in MP3 format only). It's a safe bet that no other album will have a metalcore band like Wombwrecker stomping their way through Korn's "Here to Stay" right next to a sublime cover of Queensryche's "I Will Remember" (courtesy of Line of Fire). The whole album is like that. That anyone would cover bands like EMF and Third Eye Blind is (pardon the pun) unbelievable enough, but hearing those songs from hardcore bands like Swift and He Is Legend is surreal. It works though, as do the more traditional choices, like Blatant Disarray doing justice to Megadeth's "Holy Wars…The Punishment Due" or Vanisher taking on Metallica's "Of Wolf and Man." There are even a couple of old school gems from Uncle Slam and Sargant Fury.
Line of Fire's Queensryche cover is an obvious standout of Tribunal 100 – Cover to Cover, but other highlights are Jonin's fierce version of Faith No More's "Caffeine" and instrumental progressive metal band Canvas Solaris's take on Coroner's "Arc-Lite."
This is just a fun collection of unexpected cover songs that are executed very very well. Whatever your tastes (assuming you're a fan of metal), chances are there's something on Tribunal 100 – Cover to Cover for you. If nothing else, you're in for some surprises with this one. Oh, and how cool is that cover artwork?
Genre: Metal, Hardcore, Melodic Rock
Track Listing:
1. The Feds: Barracuda (Heart)
2. Blatant Disarray: Holy Wars…The Punishment Due (Megadeth)
3. Aria: Clocks (Coldplay)
4. Vanisher: Of Wolf and Man (Metallica)
5. Age of Ruin: Buried Dreams (Carcass)
6. A Secret Death: Welcome to the Machine (Pink Floyd)
7. Killwhitneydead: Sacrifice (Inside Out)
8. Slowmotion Apocalypse: The Razor's Edge (AC/DC)
9. Line of Fire: I Will Remember (Queensryche)
10. Wombwrecker: Here to Stay (Korn)
11. Jonin: Caffeine (Faith No More)
12. He is Legend: Wounded (Third Eye Blind)
13. Sargant Fury: Maniac (Michael Sembello)
14. Century: Kiss From a Rose (Seal)
15. Canvas Solaris: Arc-Lite (Coroner)
16. Uncle Slam: Dazed & Confused (Led Zeppelin)
17. Enemy is Us: Stockholm Syndrome (Muse)
18. Swift: Unbelievable (EMF)
19. Vanisher: Superbeast (Rob Zombie)
20. Slowmotion Apocalypse: Be Quick or Be Dead (Iron Maiden)
21. Killwhitneydead & Jonin: Vote With a Bullet (Corrosion of Conformity)
Label: Tribunal Records
Website: www.tribunalrecords.com
Hardrock Haven rating: 8.75/10