Wrathchild | Stakkattakktwo
by Nikiforos Skoumas
Staff Writer —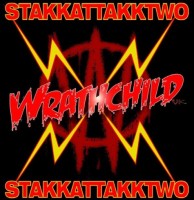 It would be safe to assume that any conversation regarding the pioneers of the glam/sleaze metal scene of the United Kingdom in the '80s is would bring two band references to front- these are Tigertailz and Wrathchild.
Though Wrathchild did not release a debut until 1984, they put out their first single in 1982 while many enthusiasts of the genre consider them the second oldest sleaze metal act internationally (the first obviously being Motley Crue).
It has been twenty two years since the release of the previous album Delirium but Wrathchild are back and meaning business, backed by the renowned American label Perris Records. Following the example of fellow-UK glam/sleaze metalers Tigertailz, Wrathchild name their comeback album after their most acclaimed release Stakk Attak, enter Stakkattakktwo.
The reformed Wrathchild features founding members Phil Wrathchild (guitars) and Marc Angel (bass) joined by drummer Eddie Star and new lead singer Gaz Psychowrath.
Musically, the Wrathchild of 2012 is far from the stereotypical sleaze rock'n' roll band. Indeed grooves and riffs are bread-and-butter for each of their songs, yet guitar melodies, vocal harmonies as well as piano accompaniments prove an equally significant part of their sound. The opening track "Going Down" might mislead one into thinking that Stakkattakktwo is the average sleaze-party soundtrack, yet the follow up, "All About U" is bound to give an entirely different picture with its melodic-minor quality. Then comes the album's first video single- "Cherrie Cherrie" is a melodic hard rock power house built on harmonious guitar riffs, shredding solos, infectious melodic lines and totally AOR-chorus.
Like any commercial sleaze metal outfit, Wrathchild is no stranger to power-ballads; "Psychofanatic suicide" is the ballad of Stakkattakktwo, also serving as the second promo video for the album built on atmospheric keyboards, piano rhythm, twin guitar melodies and Alice-Cooper-like balladic vocals.
One has to admire a band that goes beyond the obvious forms of its musical style-in this case sleaze metal- borrowing elements from neighboring genres as melodic hard rock and AOR. No question clichés are a must for a release of this kind, though you are looking at a lot more than that with Stakkattakktwo.
Genre: Sleaze Metal, Hard Rock
Line Up:
Gaz "Psychowrath" Harris – Lead Vocals
Marc Angel – Bass, Backing vocals
Phil "Wrathchild" Vokins – Guitar, Backing vocals
Eddie Star – Drums, Backing vocals
Track list:
01. Goin' Down
02. All About U
03. Cherie Cherie
04. Trikk Or Treat
05. Hollywood Or Bust
06. Nice 'N' Eazy
07. White Hot Fever
08. I'll Be Your Rokk 'N' Roll
09. Bad Billy
10. I Luv The Night
11. Sycophantic Suicide
Label: Perris Records
Hardrock Haven rating: 8/10