by Nikiforos Skoumas
Staff Writer —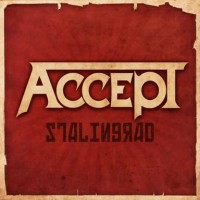 In retrospect most would agree that Accept served the metal community with one of the best comebacks in the new decade through Blood of the Nations. Blood of the Nations introduced American singer Mark Tornillo as the front-man of Accept along side founding members guitarist Wolf Hofmann and bassist Peter Baltes – the line up was completed by platinum-grade, six-string mercenary Herman Frank (the mastermind of Victory and Poison Sun) and drum titan Stefan Schwarzmann (who had previously supported Accept members David Reece and Herman Frank on their various solo endeavors.)
On account of the considerable success of Blood of the Nations it should come as no surprise that the very same team is back in 2012 with a brand new proposition in Teutonic metal (or Teutonic-US metal to be fair). Accept in collaboration with producer-extraordinaire Andy Sneap bring us Stalingrad, and you will be hard pressed to find a more metal title than this in 2012.
Though a fair part of the press have been quick to label Stalingrad as the artistic sequel to Blood of the Nations, the new album bares fundamental differences to the previous as a few more thorough plays clarify. For starters the double-bass drum attack has been kept to a minimum, prioritizing drum breaks and improvisations as opposed to a standardized pedal beat. In addition the rhythm and lead guitars seem to reach equilibrium on Stalingrad since the riffs are kept within the song opening, verses and choruses instead of having one riff playing over and over throughout the track. On the other hand the twin guitar melodies establish a firm presence early on in the play-list commonly found in the verses and solos, and often times following the chorus.
Thematically, it is critical to note that Stalingrad though named after the well documented WWII impact, is far less of an epic metal album than Blood of the Nations. Opposing its title, Stalingrad promotes rebellious attitude, liberalism and heavy metal as a lifestyle instead of going down the concept format of war-history.
Truthfully, Stalingrad has a lot in common with Accept's earlier works such as I'm A Rebel and Balls to the Wall; hence it is the kind of metal that shares strong ties with hard rock, rarely touching upon their speed metal heritage (which does not make the album any less enjoyable).
Above all Stalingrad does justice to all Accept fans who demanded an album of similar artistic credibility to Blood of the Nations. Though different in many ways to its predecessor, Stalingrad verifies that the new Accept is far from a one-hit-wonder.
Genre: Heavy Metal, Melodic Metal
Line up:
Mark Tornillo – vocals
Wolf Hoffmann – guitar
Herman Frank – guitar
Peter Baltes – bass
Stefan Schwarzmann – drums
Track List:
1. Hung, Drawn And Quartered (4:35)
2. Stalingrad (5:59)
3. Hellfire (6:07)
4. Flash To Bang Time (4:06)
5. Shadow Soldiers (5:47)
6. Revolution (4:08)
7. Against The World (3:36)
8. Twist Of Fate (5:30)
9. The Quick And The Dead (4:25)
10. The Galley (7:21)
Band website: http://www.acceptworldwide.com/
Hardrock Haven rating: 9/10