Brian Hunsaker | Across the Galaxy
by Alissa Ordabai
Staff Writer —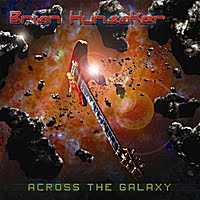 The style of the late 80s – when instrumental guitar rock was at the peak of its popularity – to this day curiously dictates its methods to legions high-tech guitar aspirants all over the world. Seattle born and raised Brian Hunsaker is one such hopeful who on his freshly released CD channels the vibes of the time when the shred gurus of today were still at their tadpole stages.
Conventional tunes, greenhorn tone, unvarying rhythms, hurried phrasing, and standard-issue (although technically commendable) chops place Hunsaker somewhere between a hobbyist and a pro. Standouts such as "At Nebula's End" hint at a knack for memorable tunecraft and a willingness to explore beyond the truisms, but overall the record is a peculiar throwback to a certain late Eighties instrumental guitar style where casual sentimentality, pseudo-mysticism and artifice in the disguise of profundity were de rigueur.
Most of this vibe is seeping into Hunsaker's work from the early albums of today's shred gods. But where the masters have since then progressed to a different level of perception and connecting the inner with the outer, this record is imitating the time when they were still struggling for independence and dealing with identity issues.
Genre: Instrumental Guitar, Melodic Rock
Track listing:
1. Into Orbit
2. Blue Angel
3. Reverie
4. The Voyage
5. Gila Monster
6. Surreal Majesty
7. Spring Break
8. At Nebula's End
9. Across the Galaxy
10. Atlantis Rising
11. Farewell to the King
Label: Independent
Hardrock Haven rating: 5/10