Deep Purple | Total Abandon: Australia '99
by Steve Patrick
Staff Writer —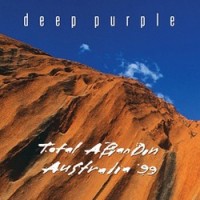 Sometimes ignorance truly is bliss. If one did not know any other information about this release, Deep Purple's new live disc Total Abandon: Australia '99 would sound like a great idea. However, Purple fans out there should know that this release isn't really new at all. It's a stripped down, 1-disc version of a show that was previously released both on 2-disc CD and on DVD back in 1999.
The decision to condense a full show down to a 1-disc version is a curious one, especially given the fact that a 2-disc version already exists. For any of those out there that are curious, the tracks omitted include "Lazy," "Perfect Strangers," and "Speed King."
It goes without saying that the performance itself is phenomenal. This is Deep Purple after all! The band is in fine form and touring behind their most recent studio release at the time, 1998's Abandon. These live tracks also give listeners a taste of Steve Morse's early days in the band. It's clear that Morse's presence gave the rest of the guys a much-needed kick in the pants.
The Mark VII line-up of Purple tears through a nice mix of old and new material in this show. The set opens with the rollicking "Ted the Mechanic" which is the lead track from Morse's first record with the band, Purpendicular. It's clear that the veterans in the band are proud of Morse and are more than happy to show off his guitar prowess.
Ian Gillan's voice sounds great at this point as evidenced by his distinctive wailing on tracks like "Bloodsucker," "Pictures of Home," and "Fireball." Mid-set features a couple of tracks from the album that Purple was supporting at the time, Abandon. Gillan offers an amusing introduction to "Almost Human" and Morse's guitar dominates "Watching the Sky."
Morse's soaring guitar on "Sometimes I Feel like Screaming" is a high-mark of the show and turns a potentially mediocre song into a full-blown anthem. Also, Morse's designated guitar solo in the set is a veritable tour through classic rock riff history with Zeppelin, Hendrix, Cream, and The Beatles all represented and ultimately culminates in delivering the famous "Smoke on the Water" riff in all its glory.
The last things Deep Purple fans need are more live versions of "Strange Kind of Woman," "Woman from Tokyo," "Smoke on the Water," and "Highway Star," but they are most certainly included in this 1-disc version. It's a shame that some of the material that is lesser known by comparison was omitted. Overall, no one can slight Roger Glover, Jon Lord, Ian Paice, Morse or Gillan for giving a bad performance on Total Abandon: Australia '99, but we can wish that we could hear all of it.
Genre: Classic Rock
Band:
Ian Gillan (v)
Roger Glover (b)
Jon Lord (k)
Ian Paice (d)
Steve Morse (g)
Track Listing:
01. Ted The Mechanic
02. Strange Kind Of Woman
03. Bloodsucker
04. Pictures of Home
05. Almost Human
06. Woman From Tokyo
07. Watching The Sky
08. Fireball
09. Sometimes I Feel Like Screaming
10. Smoke On The Water
11. Black Night
12. Highway Star
Hardrock Haven rating: 7/10