by Joe Mis
Staff Writer —
The Italian groove-metal band Rhope released their debut album entitled Turning Maybes Into Reality on 27-February-2012 after signing a deal with Bakerteam Records. This up-and-coming quartet consists of Diego Minach (vocal growls, guitars), Giammi Giuliani (lead vocals), Paolo Minach (bass), and Giovanni Tani (drums).
Guitarist / Vocalist Diego Minach has graciously volunteered to answer a few questions for Hardrock Haven.
-=-=-=-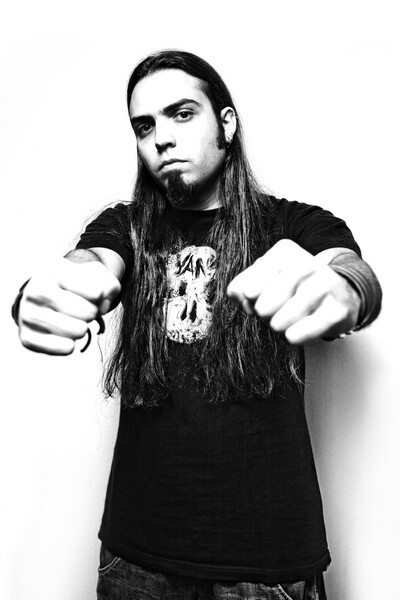 Hardrock Haven – Hi Diego! Thanks for taking the time to visit with Hardrock Haven.
HRH – Congratulations on the release of Turning Maybes Into Reality – a solid debut album. Tell us a little about Rhope, and how you guys came together.
Diego Minach – Hi! Thank you for the great review! Rhope was formed in 2007 with the arrival of Giammi [Giuliani – lead vocals]. In 2004 me and my brother [bassist Paolo Minach] were already producing an album, but we decided to change the name of the band. Giammi created the new name as a mixture of ROPE+HOPE. In 2009 Giovanni Tani [drums] joined the band and we began to work on new songs, shaping our new style.
HRH – Rhope lays down some great groove metal tracks, along with lots of metalcore and thrash riffs. Who are the band's biggest influences?
DM – We all have quite different musical tastes, but in the beginning we were all connected by Korn as our reference point and that kind of groove metal, the so-called nu-metal. Then we developed something that isn't very similar to Korn (and that's really good because we didn't want to copy or clone them!). Apart from that we all love a lot of different genres; I listen to classical and new age quite often. I've recently been studying some fingerstyle music and I like to explore Music (with a capital M) in its complexity.
HRH – Tell us a bit about the metal scene in Italy – something we don't hear that much about in the States.
DM – We have a lot of good bands here, and although there are a lot of people that love metal and heavy music it is very difficult in Italy to find a way to make your music heard. Metal isn't "for the masses" – it isn't "popular" here. It is still music for a relatively small group of people, and the average Italian would think we're "strange". I remember seeing a YouTube a video of Corey Taylor on Top of the Pops and being quite impressed because in Italy it's impossible to see a hard rocker on a commercial TV channel!
HRH – If you ask most casual metal fans about Italian bands, they only seem to mention Lacuna Coil. However, it seems that the music scene there is very alive – last year we had some great progressive metal releases from Italy by Silver Lake and Odd Dimension. How do you try to break away from their shadows and make Rhope stand out from the rest of the pack?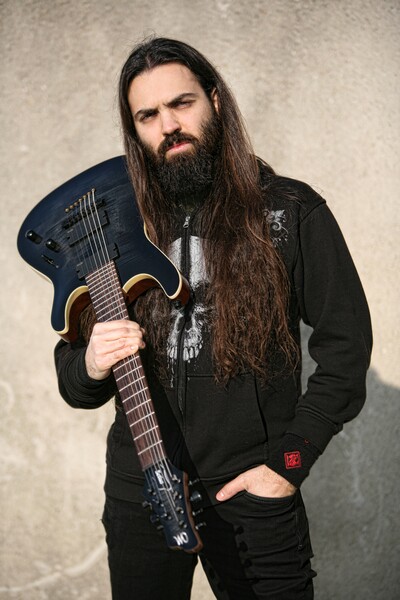 DM – We've tried to develop a strong personal sound, something that is new, especially in Italy. As you said we have a lot of good bands especially in progressive metal and power metal, but I think that Rhope are really something new here. We've also paid a lot of attention and detail to achieving the right sound. We're still developing and working on us as a band to become even more unique in our style – but being natural with it, not forcing it. We still want to be ourselves!
HRH – Lyrics seem important to Rhope, as most of your songs are quite well written. What is your songwriting process like, and where does the band find most of its inspiration?
DM – We look around us, and we generally find inspiration in everyday life, social issues and problems. Sometimes we write about more individual things, like "Parallel", "Into The Box", or "Lust." We write spontaneously but we also care a lot about writing well as English is our second language. We respect the language and we don't want to sound odd or unnatural. We always submit the lyrics to mother tongue speakers to check before considering them definitive.
HRH – You work well with fellow vocalist Giammi Giuliani. How do you come up with the great back-and-forth vocal lines?
DM – It depends on the situation. Usually we work on the vocals in our home studio, sometimes together, other times we integrate our individual ideas. In some cases we came to the final vocal arrangement while we were recording and working altogether with Paolo and Giovanni. We almost always agree on the vocals and that's really a positive thing for the final result.
HRH – What is your favorite song on the album, and why?
DM – "Extinction is Forever" is probably my favourite song in this album. I wrote the main parts and the lyrics. The subject is a problem I really care about – animals and their extinction, and the fact that we all must do something to change the crazy way we're living and wasting resources. I really love the music as well, with the alternating strong violent parts and the clean and atmospheric ones, as well as the long guitar solo.
HRH – As a guitarist, who are some of your influences and favorites?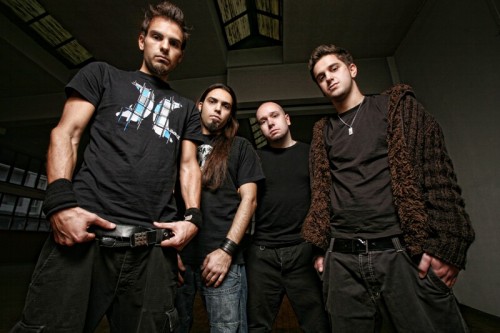 DM – There are a lot of guitarists I love! I must say Steve Vai and Slash are my favourites.
Steve Vai really is a genius and he never repeats himself, he's not just a guitarist. He's got a superb technique of course but he's a lot more than that. Slash on the other hand is the one with the best sound in my opinion, when you listen to his solos you can immediately recognize it is him, he sings with the guitar, he is so expressive. I really like Zakk Wylde, especially on the Pride and Glory album.
Kiko Loureiro is one guitarist I listen to a lot as a solo artist. I think Universo Inverso is his best album – he really produced something different. I'm amazed by his mastery in that fusion language.
John Petrucci is another artist I like a lot although I'm not really a fan of Dream Theater. Recently I discovered Misha Mansoor from Periphery and I think he's really good and Periphery's album is great!
I also really like Mark Morton's style and Mastodon's guitar atmospheres. I listen to a lot of acoustic guitarists as well like for example Tommy Emmanuel and Massimo Varini. For rhythm guitar and riffing I think my biggest influence is Robb Flynn.
HRH –You got to work with well-respected metal veteran Tom Baker during production and mastering. How did you guys hook up with him?
DM – We contacted Precision Mastering as we wanted a definitive mastering engineer! I'm a sound engineer and I worked on every step of the recording and mixing of the album but I'm not a mastering engineer so I thought we needed someone who was really into our genre. Tom did an amazing job, he didn't alter the mixes but he added that magic touch and the punch that was necessary!
HRH – And speaking of "sound," please tell us a little about the gear and equipment you used in the studio.
DM – I played my brand new Setius 7 strings by Mayones equipped with EMG's 707 through a Mesa Boogie Triple Rectifier with its cabinet 4×12 Rectifer, combined with an Orange Thunderverb 50 with its Orange 4×12 cabinet. I also used a preset I made with a Line 6 Vetta II to give more definition to the analog sound. So the guitar sound is a combination of those 3 layered amps. For some of the solos and some of the clean parts I used a Mayones Regius 6 strings with Seymour Duncans Jeff Beck and Jazz pickups.
HRH – So what comes next for Rhope? Any touring plans, festivals?
DM – We're looking into support tours with bigger bands and we're in the process of signing a contract with an Italian-based booking agency. We'd really like to go outside Italy as well but at the moment we don't have any fixed plans. Right now we're busy writing new songs as we want to bring out a follow-up of Turning Maybes Into Reality soon.
HRH – And finally, is there anything else you like to share with our readers?
DM – Buy the music you really like because bands like Rhope can't exist without your support!
HRH – Thanks for taking the time to visit with Hardrock Haven. Congratulations again for your debut release, and we wish Rhope much continued success!
-=-=-=-
For more on Rhope, visit http://www.rhope.it, or the band's MySpace page at http://www.myspace.com/rhopeband
For HRH's take on Rhope's debut, visit:
http://hardrockhaven.net/online/2012/02/rhope-turning-maybes-into-reality/