Donnie Vie | Wrapped Around My Middle Finger
by Marcel "Mars" Groeneveld
Staff Writer —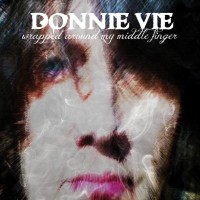 Of course when you say Donny Vie, one thing comes to mind, frontman of the amazing '90s poprock sensations Enuff Z'Nuff. But he is not only just that. He is a minstrel, a painter with words, so much a poetic songwriter and a multiply talented musician. Vocals, guitar, keyboards, piano and so much more, Donnie is the man.
OK first thing first, the man and the history behind the man. Enuff Z'Nuff' was on Atlantic Records, and the debut release spawned the hits "Fly High Michelle" and "New Thing," regular favorites on MTV's "Dial MTV" and both of which charted in Billboard's Top 50.
Over their 25-year career, Enuff Z'Nuff has produced a discography of 16 international releases, been invited and played on Late Night with David Letterman (two times), become Howard Stern's favorite band, and toured the world over and over again.
Although not fully active for the band after 2002, Vie still was available to record the albums while on tour vocal duties were taken over by Johnny Monaco. This left time besides Enuff Z'Nuff to pursue a solo career as well and now 2012 brings us something very special.
Wrapped Around My Middle Finger is the brand new album from the critically acclaimed singer/songwriter and could well be one of the finest that he has ever recorded. Consummate songwriting combined with his and stellar performances make this gem a must have album for all melodic rock fans!! Mixing rock, glam and a Beatlesque vibe, Vie still continues with this but makes it in to his own new thing.
With the opener and title of the cd "Wrapped Around My Middle Finger", a heavy groove, nice hooks and melodic vocals, Vie illustrates using his vocal cords as a musical instrument playing with melody. His distinctive vocals and feel for melody is his trademark on the whole album songs like "Lisa" (which is absolutely not sounding like the Beatles rif ;-)) is being done with a little humor by Vie and is music candy for the ears.
With the beautiful ballad "Daddy's Little Girl" goosebumps may rise and a feeling to sing along comes to mind. The flow in Vie's singing is amazing as on the other amazing ballad "Wonderland" and bringing some diversity with another groovy song "Now Ya Know" sounds like if the Beatles and Kip Winger bred together, then their son would probably sound like this. The solo brings a little bit of "the '60s and '70s" vibe which you also hear with "Rattle On" and "No Escape" but in a songwriter's way, poetry folks! Before we doze off the more upbeat "Flames Of Love" put us on edge again to rock.
Still feeling in the peace mode "I Won't Let You Down" put you back again in time coming in from the '70s but evolves into a rock song from the '80s then when you think WOW, the surprise track kicks in after a long minute and a half. "Smokin Hot Lolipop" is a cheerful upbeat and still catchy although the solos are a bit messy which contradicts the feeling of the song.
Conclusion, Wrapped Around My Finger is a play of melody of the '80s with elements of the '60s and the '70s in a 2012 coating. Eleven high quality songs which will stand the test of time because his songwriting and melody are magical. Now ya know!
Genre: Rock
Line Up:
Donnie – Vocals, Guitar, Piano
Randi – Drums, Vocals
Jimmy – Lead Guitar, Vocals
Patrick – Bass, Vocals
Track Listing:
1. Wrapped Around My Middle Finger
2. Wunderland
3. Lisa
4. Daddy's Girl
5. Now Ya Know
6. No Escape
7. Lil' Wonder
8. Flames Of Love
9. Rattle On
10. I Won't Let You Down
11. Smokin' Hot Lollipop
Label: Livewire / Cargo UK www.cargorecords.co.uk
Website: http://www.donnievie.com/
Hardrock Haven rating 9.8/10