Dr. Living Dead | Dr. Living Dead
by Justin Gaines
Staff Writer —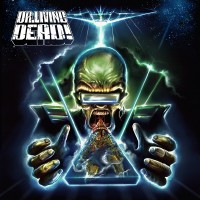 This self-titled release is the first full-length album from Swedish crossover/thrash metal band Dr. Living Dead. The band, whose members operate under aliases (Drs. Rad, Dawn, Toxic and Ape) and wear skull masks, obviously have a real love for classic thrash and crossover, as their entire sound serves as a tribute to the classic '80s sound, especially Anthrax and Suicidal Tendencies. There's a fair bit of Tankard in there as well. Dr. Living Dead's more recent peers are bands like Toxic Holocaust and Municipal Waste.
Dr. Living Dead is not a complicated album. It is, however, a very fun album, especially if you're a child of the '80s. Not only does their music capture the best elements of the '80s crossover/thrash sound (see the tongue-in-cheek tributes to Suicidal Tendencies and Anthrax "Feeding the Cyco" and "You're Not the Law"), their songs are more often than not about the best and cheesiest movies that decade had to offer (as evidenced by "Chucky," "Gremlins Night" and "Kindergarten Cop.") There's also a party till you puke vibe that's going to appeal to the Tankard/Municipal Waste crowd. It's obviously not meant to be taken too seriously, and that's more than fine. Sometimes you just want an album you can turn up to the max and bang your head to, and that's where Dr. Living Dead excels. Make no mistake though, as goofy as the lyrics may be, the musicianship and production are no joke. The riffs are tight, the vocals are solid (and very much in the old Joey Belladonna style at times), and even the cover art is awesome.
This is not an album for everyone, but the ones who get it are going to get it big-time. If you're a fan of old Anthrax, Suicidal Tendencies, Tankard and bad '80s movies, Dr. Living Dead is for you. It's 15 songs and they're all short (2 minutes is the average), fast, and fun.
Genre: Thrash Metal
Band:
Dr. Rad (b) (v)
Dr. Dawn (d)
Dr. Toxic (g) (v)
Dr. Ape (v)
Track Listing:
1. World War Nine
2. Slime From Above
3. Revenge on John
4. Streets of Doc Town
5. Kindergarten Cop
6. Kill Me!
7. Dead End Life
8. My Brain is For Sale
9. Dr. Living Dead
10. Hard Target
11. Feeding the Cyco
12. You're Not the Law
13. Chucky
14. Gremlins Night
15. UFO Attack
16. Reptiles Beneath
Label: Tribunal
Website: http://www.deathfuckingthrash.se
Hardrock Haven rating: 8/10