Jim Marshall: His Legacy Goes to Eleven
by Chris A.
Staff Writer —
In Tribute | Jim Marshall: July 29, 1923 – April 5, 2012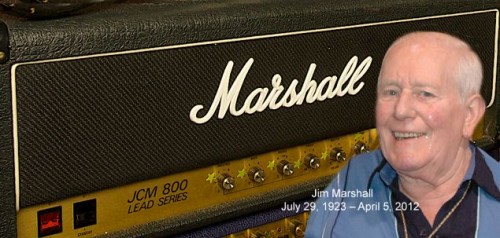 Every rock 'n' roll fan who has been to a concert has seen his products. The large Marshall Amplifiers that festoon the stages of rock 'n' roll. From the walls of Marshalls used by KISS to just a single amp as Clapton often did, Marshall amplifiers have been the sound, the voice and the volume of rock 'n' roll since the early 1960s. Iconic often is overused but not in this case. The man and his products are absolutely iconic.
Sadly, the man behind the amp, Jim Marshall, died April 5th. He was 88 years old and, in all seriousness, his importance to the tone, volume, presence and roar that is a distorted electric guitar is beyond comprehension. His amps delivered the sounds of The Who, Jimi Hendrix, Led Zeppelin, Van Halen, Megadeth, Slayer, Eric Clapton and thousands of other bands.
From my earliest days listening to rock 'n' roll, Marshall Amplifiers held a mystical aura of power and "cool" that simply can't be denied. The first time I saw a full stack of Marshall amps was in Alpena, Mich., in 1975, and the band was Brownsville Station. At 15 years old, living in the boonies of the Wolverine state three hours north of Detroit, I'd never seen a Marshall stack in person, but, that day, I did, and I fell in love.
Like a lot of kids in high school in the '70s, I was a hack guitar player – a noodler. I jammed a lot but never really played in any bands. I loved playing but never really got any good, and I had a great guitar, a 1958 Les Paul Jr. My amp, however, was a very low-end Trynor. I really wanted a Marshall, but back in the day, Marshall amps were not easy to obtain and, it seemed, often were not available.
In 1979, I was a kid serving in the USAF, stationed in England. I didn't make much money as a GI, and I remember that for recreation, I would take the bus to the city of Ipswich or to London and visit music stores to gawk at the Marshall amps that continued to be out of my financial reach.
I once stopped by the Marshall HQ in London, but no one was there. It was closed. It wasn't until the late 1980s that I got my first Marshall Amp. It was a used 1981 Marshall JCM800 100-watt 2 x 12 combo. It was massive overkill. I could play any arena in America with that amp, yet I was buying it to play in my little house in which I lived on the Air Force base. I didn't care. I wanted a 100-watt Marshall and, as much as I wanted a stack, I couldn't rationalize an excuse to plunk down all the required dough. Besides, that's a lot of heavy gear.
Since that first Marshall, my appreciation for the equipment only has increased. My collection of Marshall amps is now at six. Last year, I was able to purchase blues rock guitarist Robin Trower's 1983 100-watt JCM 800 that he used on the road and studio for more than 20 years. It's an amazing piece of gear that I photographed Trower using on tour. I'm glad to have it.
In 2007, I attended the National Association of Music Merchants, NAMM, in Los Angeles, while promoting my newest book and discovered that Jim Marshall was somewhere in the building. The NAMM show is huge, but I soon found out where the Marshall booth was and made my way over to it. Sure enough, there he was. Jim Marshall, the man behind the sound of rock. He was 83 years old, short and stocky, with bright eyes and a wry smile.
He was seated behind a table in front of a gigantic wall of assorted Marshall Amplifiers, signing posters for folks who were interested. The line was quite short, so I jumped in, and in just a few minutes, I found myself sitting next to Jim Marshall.
Marshall had given away all the posters on his table, so while his assistant went to get more copies, I had a chat with the man. I introduced myself, telling him I was a writer and music photographer. I also said I played guitar and loved Marshall amps.
"Do you own one?" Marshall quizzically asked me. "I own five," I replied as a wide grin broke out on his face, while reaching for my hand. "Thank you," he said. "Thank you for buying my amps." The guy was serious; he wasn't just spouting an emotionless reply. He meant it. I was wearing my Black Label Society vest and asked Marshall if he would sign it for me, and he was quite happy to do so. Moments later, the assistant returned with posters, and Marshall signed one for me. I still have it.
I asked one of his helpers if they would take a photo of us, and I set my camera up, framed the shot I wanted and explained how to take the photo to the assistant. The photo turned out great, and unlike so many of the rock star "grip and grin" pics where the dude in the photos shows no interest, the sparkle in Marshall's eyes in the photo tells me all I need to know. He was glad I was there. I'm glad I met him.
Like Les Paul and Leo Fender, Jim Marshall's contributions to rock 'n' roll are unmeasurable. Despite rubbing elbows with everyone from Jimi Hendrix and Pete Townsend to Zakk Wylde and Slash, Marshall remained a humble guy who created a product that changed the world. He's going to be missed. While "rest in peace " is the thought one normally sends for those who have died, in the case of Jim Marshall, I'm going to say, "Crank it up to 11." \m/
Photos appear courtesy of Chris A.