by John Kindred
Staff Writer —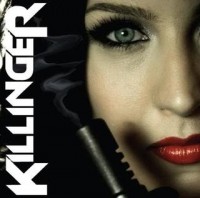 Looking to return to the glory days of the '80s Hard Rock scene, where huge arena anthems rang out in stadiums all over the world, Killinger have emerged to leave their mark. These Canadians first came together with vocalist Dave Williams and guitarist Kevin Morin, whose sole purpose was to "… retain the melody and power, which define the genre." Their self-titled debut CD, Killinger, is 12-track affair soaked in volume, melody and power. And, yes, it evokes the grandeur of the '80s hard rock music scene.
The CD was recorded and produced by Rick Plester (Black Symphony) and mixed by the legendary Mike Fraser, who lend even more credibility to a finely crafted studio album. Complementing the vocals and guitars is the solid rhythm section provided by drummer Pete Holmes and bassist Justin Craig. Holmes has an extensive resume, having worked with the likes of Black 'n Blue, Malice, Monster, Ian Gillan, Ted Nugent, Black Symphony and the Michael Schenker Group. Holmes is the hammer bashing out the groove, while Craig provides the rumbling thunder on the CD.
From the get-go, on "We Are Here," it is apparent that the production, mixing, musicianship, songwriting and mastering on Killinger is flawless. Killinger aim is to rock you with a wall of sound, and, for the most part, they achieve this on every track. Excluding maybe the song "Listen," which is the only true '80s-style ballad on the CD, the music maintains a constant energy and drive. Dave Williams' vocals are clean and soar into full-voice range, much like Robert Mason (Lynch Mob, Warrant), and his upper-range sounds eerily similar to Michael Sweet of Stryper. Guitarist Morin has the '80s guitar hero mantra locked down to perfection. He brings forth stellar solos and heavy crunchy rhythms that float under the vocals and help carry the melody and intensity of the music.
Plenty of golden nuggets comprise Killinger. There really isn't any filler tracks here, except maybe "Listen," which could have been dropped off the final track list and still would have produced a solid and cohesive lineup of songs. Highlights are "We Are Here," "Illuminati," "The Gun" and "The Sky." Killinger have nailed down the '80s hard rock vibe and have molded it to fit within in the confines of today's music scene. The caliber of the musicianship is top-notch and the songwriting follows suit.
As a quick note, Pete Holmes was replaced by Chris Challice, as Holmes had prior commitments preventing him from continuing on with Killinger.
Genre: Hard Rock
Band:
Dave Williams (v)
Kevin Morin (g)
Pete Holmes (d)
Justin Craig (b)
Track Listing:
1. We Are Here
2. Never Change
3. Holding On
4. The Gun
5. Crazy Things
6. I Don't Care
7. King Of The Hill
8. The Sky
9. You Still Love Me
10. Listen
11. Got To Have You
12. Illuminati
Label: Red Distribution
Web: http://killingerrocks.com/
Hardrock Haven rating: 8/10