L'Alba Di Morrigan | The Essence Remains
by Joe Mis
Staff Writer —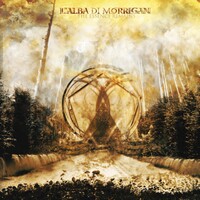 More and more interesting rock of all sub-genres is coming out of Italy these days, and fans of flowing and melodic progressive rock are in for a treat if they pick up the debut album from the Italian 3-piece, L'Alba Di Morrigan. The Turin-based trio has just released The Essence Remains on the My Kingdom Music label, and it is a solid debut in every respect.
The band consists of vocalist / guitarist Ugo Ballisai, bassist Alessio Caruso, and drummer Luca Costanzo. Together since 2008, this trio plays like a group with a much longer history. They excel at setting mood, and their performances have real depth and numerous complex layers that manage to blend seamlessly into a cohesive and melodic whole. There are plenty of vocal harmonies and instrumental subtleties, long atmospheric passages and moody melody lines, and just enough variety of tone and tempo to make it all interesting. As is the case with many "power trios" there is not a single standout performer – each member of the band does a fine job and contributes greatly to each and every track. The vocals, guitars, bass and drums are all equally important to L'Alba Di Morrigan's music.
"Snowstorm" opens the album with smooth, flowing vocals, nicely done guitars, slick bass and almost tribal drums. This track carries a good deal of warmth and pretty much sums up the sweeping and melodic sound that is the band's keystone. Progressive tempo changes make it a fine tune, and signals great things to come. Thick and chunky guitar / bass riffs open "The Fairies Circle" before leading to a very mellow and hypnotic vocal line by Ugo Ballisai. Drummer Luca Costanzo seems to keep everyone focused and handles the tempo changes and subtle elements deftly. Alessio Caruso's bass work drives a number of the more ethereal passages with grace and delicacy. Layered guitars, lush vocals and amazing keyboards make "Silence" one of the stronger songs on the album. "Lilith" is a very modern rock track featuring some great bass and drum work, and it is sung in the band's native Italian making for a totally immersive sonic journey if you don't speak the language.
"Holy Mountain pt.1" and "Holy Mountain pt.2" feature a powerful and pulsating bass opening and some interesting guitar dissonances. Ballisai's vocals are much simpler on this epic journey and allow the music to be the driver. Both parts of the song showcase the underlying instrumental talents of the entire band. "24 Megatons" is the most "metal" and energetic track on the album and this instrumental features some incredible bass guitar hooks. "Equilibrium" is a very low key instrumental and a long track at almost 8 minutes. It is well-executed, but a little drawn out and breaks some of the momentum of the album as a whole. "The Essence Remains" wraps the release in melancholy (but not depressing) style – great bass and drums here.
Fans of progressive rock or metal will without a doubt enjoy this solid debut. It is creative, imaginative and well executed. There are few weak spots anywhere on the release. The only one worth mentioning is the occasional burying of the vocals under the instruments – just a bit more volume on the voice would help in some of the more subtle moments. The raw talent of the band is obvious, as is the level of care and creativity they put into their music. Highly polished and very well done, The Essence Remains is hopefully the first step on a long and successful road for L'Alba Di Morrigan.
Italy is musically much more than just the home of Lacuna Coil. Perhaps this is another sign that the NWOIHM is upon us…
Genre: Progressive Rock
Band:
Ugo Ballisai (guitar, vocals)
Alessio Caruso (bass)
Luca Costanzo (drums)
Guest musician – Frank Default (keyboards, programming on "Snowstorm" and "Silence")
Track Listing:
1. Snowstorm
2. The Fairies Circle
3. Silence
4. Lilith
5. Holy Mountain pt. 1 (The Alkemist's Frode)
6. Holy Mountain pt. 2 (The Rebirth)
7. 24 Megatons
8. Equilibrium
9. The Essence Remains
Label: My Kingdom Music
Website: http://www.myspace.com/lalbadimorrigan
Hardrock Haven rating: 9/10