by Nikiforos Skoumas
Staff Writer —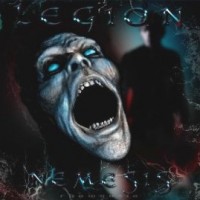 For those melodic rock fans who have a habit of digging into the underground hard rock scene, the name Phil Vincent should be more than a well-known one. The singer-guitarist-songwriter debuted in the mid-late '90s as a solo artist and in the process gave new meaning to such terms as 'DIY/self-produced albums' and 'One man band'.
Fifteen years past his debut, Phil has established a firm presence in the industry, fronting such hard rock acts as Tragik, D'Ercole and Legion, never forgetting his solo albums which he puts out at steady pace.
Round about this time Vincent is set to release the third Legion album, darkly titled Nemesis. Legion features guitarist Vince O'Regan, bassist Gavin Cooper, drummer Steve Hopgood and Phil himself on lead vocals.
Now, the cover artwork, one has to admit, is fairly misleading going down the path of extreme metal aesthetics while Legion is nothing but guitar driven, melodic hard rock. The guitar is clearly the protagonist instrument on Nemesis carrying just about every melody, riff or groove throughout the ten tracks featured here. In fact one gets the impression that Phil's vocals are actually following the guitar lines rather than opposite, which does not make the experience any less enjoyable. Many have compared Phil's tone and singing style to that of iconic front man Don Dokken which one finds perfectly justifiable when playing Nemesis, a remarkable resemblance indeed.
One also has to give credit to the talents of Vince O'Regan who comprehends the importance of balancing thick riffs with melodic guitar lines; having played the album a good number of times, one gets the impression that it is Vince's guitar playing that retains and reinforces the '80s-rock elements on Nemesis. You will find a fair bit of '80s-Scorpions and MSG guitar shredding on this album which makes for a memorable and more enjoyable album.
Overall one has to admire Legion's ability to deliver in-your-face guitar driven hard rock without undermining the melodic aspects of the compositions, for every speedy riff there is a melodic verse and chorus following; so you are really treated at the best of both worlds- no artistic compromises are to be found on Nemesis.
Genre: Melodic Hard Rock, Melodic Metal
Line up:
Phil Vincent (vocals)
Vince ORegan (guitar)
Gavin Cooper (bass)
Steve Hopgood (drums)
Irvin Parrot (keyboards)
Tracklist:
01. Nemesis
02. Seems Like Yesterday
03. Lay It On the Line
04. Sea of Sorrow
05. Never Enough
06. Lost in Love
07. Just Because
08. Walk Through Fire
09. Make Some Noise
10. Obsession
Label: Z Records
Web: http://www.philvincent.com/
Hardrock haven rating: 8.5/10