Mark "Gus" Scott of Trixter
by Alexandra Mrozowska
Staff Writer —
Having released their first self-titled album in 1990, Trixter achieved some moderate success but was never able to be counted among the biggest acts of an era. The story of this underrated band follows perfectly the hair band cliché: early success – touring with big names of the scene – loss of mainstream interest with the rise of grunge in the early '90s – disbanding – late '90s reunion. Now the Jersey boys are back with their new album New Audio Machine, determined to conquer the music world once again… Mark "Gus" Scott, according to his own words "drummer and lunatic for Trixter", was kind enough to share his thoughts about the new record and making music in the new era with Hardrock Haven, with a bit of blast from the past as well…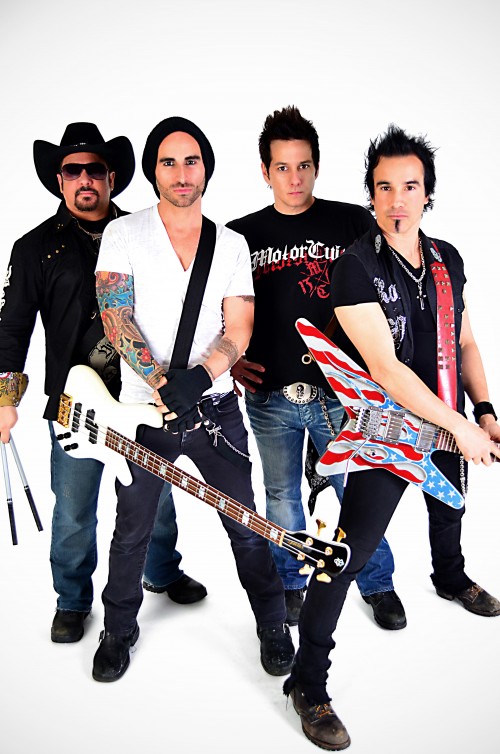 Hardrock Haven: Thank you for the possibility of talking. The new Trixter album 'New Audio Machine' is planned to be released on April the 24th via Frontiers Records. Could you please take us through your personal highlights of the album?
Mark "Gus" Scott: First off, Making the CD was a real interesting experience. Everything was recorded at Steve Brown's (guitarist) home studio. Right off the bat it put us in a very relaxed environment with no time constraints. We didn't have a recording contract yet so no one was there saying, "Hey guys, we gotta get this thing done!" We just started doing it because we felt like it! Then something really weird happened… The more we recorded, the better the songs sounded! I don't know what it was, we all were inspired by the songs when we heard the demos, but when we actually started to record, the songs really blossomed! It certainly fueled our excitement levels and made us want to do more and more. Serafino Perugino, President of Frontiers Records heard a few songs and signed us to a deal. We wanted the CD to be release prior to the summer so now we had a deadline. This put us to work and I cannot tell you just how excited and proud we are of "New Audio Machine"… more so than any other recording we have done! I know, I know. It is very cliché to have a new CD out and say, "Oh, It's the best thing we ever did!" But let me tell you – don't buy the CD. Go to iTunes and listen to the FREE samples of the songs. I'm willing to bet that you will hear something that turns your head and will make you say, "Wow! This sounds great!"
HRH: What is your favorite songs off this record?
MS: Crap, this is hard. But three of my favorite songs on New Audio Machine are "Tattoos and Misery," "Dirty Love" and "Machine." Our first single "Tattoos and Misery" is a great song that shows, I think, where TRIXTER is today. Great solid rock song with great musicianship, vocals and hooks! Very proud. "Dirty Love" – This one is special. When you talk about making a CD, you think about what songs would stand out or really shine. I remember when Steve (Guitarist) played me the demo. He played it for me first. It had been a long time since I heard any of Steve's original material. I was always a big fan of what he wrote but it had been a long time. I heard the riff and I was sold – Bigtime! Killer fuckin Track! It's very naughty. Sexy. Now that's what I call a pole-dancing-ass-slappin Rock song!!! "Machine" was a song that Steve asked me to help co-write. Funny thing… I don't think he used any of my lyrics. That son of a bitch! Actually, he did use some lines of mine. Anyway, it reminds me of a Van Halen / WHO – Classic Rock song and the ending just kicks ass!!! There are also a couple of real hot ballads on there too…
HRH: Were your inspirations any different while recording the new material in comparison to what has been always present in Trixter music?
MS: First off, above all else, the members have not changed. Peter Loran, Steve Brown, P. J. Farley & Mark "Gus" Scott are TRIXTER! All original members! Funny, it's the kind of thing you just don't see very often these days. After a 13-year vacation, we all got back together to rock once again and enjoy what we love to do best…Play Live and Kick Ass! We got back together and played some big shows in 2008. We did a few outdoor festivals like ROCKLAHOMA, we opened for Poison, the band Boston, Cinderella, Scorpions, and Warrant – Awesome bands – Awesome times! To do it all over again is such a rare privilege. Steve Brown (Guitarist) had some song ideas that he made demos of and we just started working on a new CD. Then, the weirdest thing happened. The more we worked on it, the better it sounded. It went from demo, to laying drum tracks, then bass, the guitar, vocals, etc….. Every time something else went down in the studio, it just sounded better and better. OK – I admit it. It is very cliché for a band to brag about how good their new CD is. But all bullshit aside, I can't wait for everyone to here this f*ckin' thing – It truly RIPS and I can't express just how proud we all are of how it came out. Our first single "Tattoos and Misery" will be released on March 19th. That will give you a taste of just what I'm talking about. Great guitar riffs, Pete's Vocal is nothing short of class-act Rock. But please, pay very close attention to the rhythm section. Me and PJ on bass… It just doesn't get any better!!! [laughs] As far as different inspirations go, I think just by aging 20 years, everyone in the band grew somewhat so when you put it all together, something happens. In the case of Trixter, it certainly was a positive effect! I truly believe that when people hear the songs on New Audio Machine that they will hear growth and something they never heard coming from Trixter. We might have grown up, but we are still 'little bastards!'
HRH: The new album is produced and engineered by Chuck Alkazian (known from working on the music of Elton John, Vixen, Uncle Cracker, Christina Aguilera, Tesla etc.). How do you judge this co-work?
MS: Chuck is AWESOME! He helped create a very aggressive sound on songs like "Machine" and "Save Your Soul" and his mix on "Tattoos and Misery" is Kick Ass! Did I mention he is a drummer as well? We totally click! (No pun intended for drummers)… There are some guys that are 'In-Tune' and some guys who are not. Chuck is on the fuckin' money!! He runs a hell of a ship at Pearl Studios in Michigan. He has truly become a part of the Trixter Family! Too bad he can't drink his way out of a paper bag. We are going to have to work on that!!! I also heard he was lousy in bed. That report is unconfirmed though so I'm hesitant to say. I personally wouldn't know but I will be sure to ask around.
HRH: Some of the new Trixter songs are the result of songwriting contribution of Skid Row's Snake Sabo and Rachel Bolan and Styx's Glen Burtnik. Why have you decided for some outside songwriting input this time?
MS: A few friends were called to collaborate for our new release. Some artists resent having other people "take credit" for work on their CD. I think that attitude is immature. It actually can be a lot of fun and if your collaboration yields a great song, well, damn! Isn't that something special? As a Songwriter of several "Top 40 Hits,, former Styx member Glen Burtnik co-wrote "Drag Me Down" with Steve and created one of the CD's hottest tracks. Snake Sabo and Rachel Bolan of Skid Row wrote "Walk with a Stranger" back in the late 80's. TRIXTER used to play the song live back in the day, ripped it out of the closet and slammed the up-tempo rocker on the new disk. There were a few men responsible for putting the "finishing touches" on the NEW AUDIO MACHINE. With production/editing credits from Shinedown and Paramore, Bret Michaels Guitarist Pete Evick was called in to help mix as well. From groove oriented rock tracks like "Dirty Love" to Rock ballads like "The Coolest Thing", classic TRIXTER sound can be heard from track 1 through 11! There was also a TRIXTER "Classic" that made it to this CD. "Physical Attraction" was a song we used to play back in the old days even before we got our first record deal. It was always a fan favorite – Killer Riff – Sexy vocals – very powerful with a very catchy chorus. To tell you the truth, I'm not sure why it never made it to a CD before now. Our fans from the "very old days" are gonna smile when they here that one!
HRH: It's "Tattoos & Misery" that was chosen to be the first single off the album. Why you've made such a choice – is this song representative to the album's general content anyhow? How is your co-work with Frontiers going? Are you satisfied with the label?
MS: It's funny… Serafino, the President of Frontiers Records thought it was a great 1st single… and we agreed with him! You never hear about the record company and the band seeing eye to eye. You always hear about how the record company wants to change everything or they want this and the band wants that… This is a very unique situation. Serafino is so in tune! Great guy!!! (I have to say that or he will cancel my contract [laughs]) All kidding aside, we really thought Tattoos and Misery was a great choice for a 1st single. It blends a little old-school Trixter with a new-school sound and is very representative of other material on the CD. Chuck Alkazian did a GREAT re-mix for the single release as well. New Audio Machine has a lot of great songs on it…. Not just one obvious single so for us, the band, it can be a little hard to choose. But I thing Tattoos and Misery was a very good choice! The team @ the record company is very on target. Charise in our Press room is top notch! The Frontiers team is truly top notch and it is an honor to be an artist on their label.
HRH: As the album is soon to be released – are there any further plans for the promotion of New Audio Machine? Can you reveal the band's tour plans before the readers?
MS: We intend on taking all of the money from the pre-orders on iTunes and Amazon and we will all fly to Aruba. We will party for 6 days straight, spend all of the money, get one night sleep and then get back to work! This new CD will be distributed in US, Canada, Australia, Japan, Europe and Russia. Our Record Company President Serafino is also working on other markets as well. Let me just say that we will be very busy in the next year to come. We intend on rocking this planet very hard! If there are people to play to, we are there! We will start in the U.S. and systematically rock every area that rock fans want to see TRIXTER! This is what we live for! Playing live is truly THE GREATEST THING IN THE WORLD!!! If it were illegal, we would do it anyway!!!
HRH: "Tattoos & Misery" is already available on the iTunes. What do you think about the digital distribution of your music – and, going even further, about the all-pervasive piracy that seems to be inseparably connected with the world of the Internet nowadays?
MS: Interesting topic… digital distribution can be amazing. To just e-mail a song…zap…like that. It's also a lot cheaper than mailing a few thousand CD's to radio people around the world. There certainly are a lot of pros! By the same token, piracy has always been prevalent in the record industry. I also believe that we don't know to what extent piracy exists. Nothing is ever perfect. This is our new world. Better get used to it or get out there and do something about it. I am certainly not going to bitch and complain about it. It is a big difference from the way we used to do things 15 years ago. I'm glad we work alongside of some real pros who know what the hell is going on out there. Media and technology can change so fast and we want to be on top of it. Social media is also something new that can truly be an asset to a band if utilized properly. To be able to get the word out with the push of a button is amazing… and it doesn't cost anything! I remember all of those stamps we used to put on fan mail responses and fan club mailings….
HRH: How do you judge the first band's effort now, from a distant time perspective?
MS: Although so much time has passed (22 years), Our 1st CD entitled TRIXTER is something very special to this band. It was our first major-label release that brought us a great deal of success. And success aside, there were some really great songs on that CD. It's fun to crank it up in my car from time to time…
HRH: In the band's early career, you played with many notable acts of the '80s rock era. What were your favorites among those? Any memories worth sharing in particular?
MS: We toured with KISS, POISON, SCORPIONS, WARRANT, L.A. Guns, Firehouse, Faster Pussycat, Winger, Slaughter, Stryper, Dokken, Great White and then some! Just the opportunity to play with cats like that… damn… I would have given anything when I was a kid. We truly are very blessed and I don't believe we ever lost site of that. All of our dreams have come true many times over and we still live our dreams of being a rock and roll band every day. I'm one of the few people who can say that they used to have dinner with Gene Simmons several times a week! I got to jam with my childhood heroes! I got to share the big stage with rock icons! I am one lucky mother*cker! And I will never forget it! The idea that some of these people have actually become our friends is inconceivable. By the way – we will be touring with our good friends Warrant and Firehouse this summer so please keep your eyes open!!!
HRH: The second album Hear! failed to capture the attention of the MTV mass market; short after having released this record; the band was dropped by MCA Records. In your opinion, who is to blame for that – was it a rise of grunge many '80s bands blame for the sudden end of their career?
MS: Blame… Hmmmm… 'Blame' is a funny word for this. Here's what actually happened. In the '80s we saw a lot of things happen. The most notable was the birth of cable television and MTV. And who did we see on MTV? Rock acts like Van Halen, Judas Priest, Motley Crue, Ratt, Bon Jovi, Def Leppard, Kiss, Scorpions, Winger, Warrant, Slaughter, L. A. Guns, Guns and Roses and yes, yours truly, Trixter. All bands that visually (whether it be big production sets, outrageous costumes or just plain old good looks), captured attention and truly lent itself to exciting TV. We had three #1 Videos on MTV – 15 or 16 weeks @ #1. We were #1 for the second week in a row with a song called "Surrender." It was our 3rd hit single from our debut album. We were #1 and MTV eliminated "Dial MTV". It was an opportunity for the public to call in and vote for their favorite video and MTV just closed the door. Dial MTV was a major chart that MTV created. To just eliminate it? Why? Video did in fact "kill" the radio star. MTV saw a change on the horizon and they had the power to pour fuel on the fire. There were these bands from Seattle (like Pearl Jam and Nirvana) with a different image and different sound. In the 80s, these bands were considered "alternative". They were the "alternative" to what the "mainstream" were listening to. MTV was responsible for creating that mainstream and in the end, flipping it and making what was once alternative, was now the mainstream. Bands like Bon Jovi and Def Leppard that sold 8 – 10 million copied per album were now selling 25% – 35% of what they were selling. Bands like Trixter…. Well… You get the idea. It's not a blame game. Its business. It's better to lead change than to be a victim of it. And if you can control a whole industry….
HRH: What was the reason of the band's break-up?
MS: It started a long time ago. There was a lot of negativity with all of us. Coupled with bad timing in the industry we just busted. Getting back together with level heads is very exciting! I certainly do not see a break up in the near future at all.
HRH: There is no doubt that the most famous New Jersey rock band is Bon Jovi – in their interviews they often emphasize the influence the variegated Jersey Shore scene (and acts such as Bruce Springsteen or Southside Johnny) had on them. Do you, as a Jersey-based band, draw some of your inspiration from the scene too?
MS: Absolutely! The only difference is we are a little younger. Bon Jovi was a huge influence on me as opposed to Springsteen. I certainly respect "The Boss" but Bon Jovi was always something special to us. A lot of talent from NJ!!!
HRH: Your early '90s songs such as "Line of Fire," "White Knuckle Scorin" and "One Mo Time" were featured on the movie soundtracks. Do you plan to wind up in the movies in the future?
MS: We actually have some friends in this area. Producer Michael Wehrhahn, one of my best friends, is currently co-producing the first of a 3-D film trilogy; The Monkey King starring Chow Yun-Fat and Donnie Yen. For any budding film producer, it is a dream come true; The opportunity to co-produce a real $110,000,000 "big-budget" Hollywood vlockbuster! He has been given an endorsement by the Chinese film community elite to share a very special story with the West; something that has never been done in cinema history. In his spare time, Michael is also producing a television show Ancient Technology for the Discovery Channel. However, you just don't get a song in a movie because you want to…. They have to like your music or it has to be appropriate for the movie. You never know what may happen.
HRH: Being somewhat a controversial period in music and pop culture, the '80s have as many adherents as adversaries. How do you personally recall the '80s era? Do you mind labeling Trixter as 'yet another '80s hair band'?
MS: Hell yes I recall the 80s! It was an awesome time for rock and music in general. Although people list Trixter as an '80s band, we really didn't have an album out until 1990. The '80s were so big that they actually spilled over into the '90s! Go figure! The fact that people recall Trixter to me is a major accomplishment. We were listed as #29 on VH-1's "Top 40 Hair Bands of All Time!" That certainly lends itself to an '80s reference. Who cares. Let's ROCK!!!
HRH: What would you call the highlight and the downside of Trixter's career?
MS: Highlights: 1991. Our dreams coming true. Touring with our idols. Sold out arenas. Three #1 hits. Gold Album. Playing our hometown Arena – The Meadowlands in NJ – Opening for the Scorpions. Selling Out the World Amphitheater in Chicago with Warrant and Firehouse. A live concert pay-per-view Special. Best New Band by Hit Parader Magazine. Best Concert Tour by Metal Edge Magazine. On the road in a real tour bus… Damn… The greatest dream come true… Downside: Losing our record deal, losing our booking agent, endorsements, respect, getting cut from MTV and Trixter breaking up. We are on such an upswing right now.
HRH: What is your opinion about the modern day rock music and the music business in general?
MS: The music and the business are 2 different things. I'm glad there is a place for us in all this commotion. I think record companies in general have a lot to be concerned about. They truly failed to foresee how the internet can change the whole industry and to this day they have failed to make back the ground that they lost. Most have not even carved the inroads that is necessary to compete in today's market.
HRH: Thank you for taking your time to do this interview! In the end, I would like to ask you for a word or two for Hardrock Haven readers; no doubt there are many Trixter fans among them!
MS: The best thing I can say is "Thank you." "Thank YOU!" We would be nothing without YOU! The fan! The individual that waits in line, that buys the CD. When Mom and Dad tell you to keep it down, you turn it up! It's YOU – that pays too much for parking at the show. That buys the tickets and waits for the show to start. And when the lights go down and the band takes the stage, it's you that can be heard screaming your head off… because you love it. God Damn It… We love it too. We Love You …. More than anything we do… Thank you! We will be coming to see you soon!!! Keep you eye out for us on the road @ www.TrixterRocks.com.