Michael Clayton Arbeeny of Tyketto
by Alexandra Mrozowska
Staff Writer —
Forget the 2007 farewell: Tyketto is back and not to call it quits! New Jersey rockers, known from such classics of melodic rock as Forever Young or The End of the Summer Days released in the early '90s, return in triumph with their new album Dig in Deep due to be released this month… The new record soon to see the light of day and the band being back on track are, however, just two among many topics Michael Clayton, the drummer of the group, covered in his recent interview he provided for Hardrock Haven.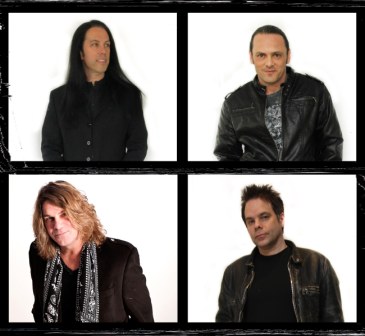 Hardrock Haven: Thank you for the possibility of talking. The title of your last album up to now, 'The Last Sunset: Farewell' (2007) suggested it was the end of Tyketto; also shows from that period were announced to be 'farewell.' Why have you eventually decided to continue?
Michael Clayton Arbeeny: The farewell came at a time when we felt stagnant. Actually I initiated it, as I felt Tyketto had run its course and had nothing new to say. With no new albums on the horizon and everyone living in different parts of the world, it seemed like the best idea at the time. We did indeed do a few select shows after the breakup, but with no new album, there was really no point to them. We vowed not to become a "nostalgia" band, and if we didn't have something new to give our fans, it was best to fade away. Once Danny started sending me some of his ideas in 2009 and 2010, (all of which made it onto 'Dig in Deep'), we were all inspired to move ahead, and the new album was born.
HRH: 2012 is a year of a long-awaited new Tyketto studio album – Dig in Deep, planned to be released April the 24th in North America. Are you satisfied with the final result of the recordings? What in your opinion are the strongest points of the new CD?
MCA: My favorite aspect of the new album was seeing the chances we took. Danny's lyrics aren't your typical "boy/girl" pop lyrics. He wrote some of his most insightful and poignant stories that will challenge the listener to think. That doesn't mean we don't still pack a punch! The record has guts, brains, and brawn. It was a hard record to get used to, as we hit on new themes and new musical territory, but the result is something unique and powerful.
HRH; What has inspired you in terms of lyrics and music during the period of working on new album?
MCA: I believe Danny looked through the eyes of a man just turning 50, settling into his happy marriage and "taking in" in his life experiences; both new and old. We wanted Tyketto to grow as a band the way we did as people. Songs like 'Dig in Deep' and 'The Fight Left in Me' are lyrics of pure inspiration, while 'Monday' and 'This is How We Say Goodbye' are more introspective. I believe we successfully managed to weave deep lyrical content into great pop melodies and music.
HRH: The album's title may be understood literally at some points – there are moments where you dig deep into your blues/southern/country roots (a track 'Monday' in particular)… Any comment on genres that inspired the album's content?
MCA: As you can hear, we approach many diverse styles. The title track. 'Dig in Deep' has a real Black Crowes feel, while 'Sound Off' would do Def Leppard proud. Danny's folk inspirations always make their way onto our albums (a'la 'Seasons' and 'The Last Sunset'). Brooke in particular, was seeking new styles to infuse into the Tyketto sound, with some unique guitar effects and innovative solo sections. This album has many styles intertwined, which makes it so distinctive; all the while still being a TYKETTO album.
HRH: Which of the new songs is your favorite?
MCA: There is something about the song 'Let This One Slide' that puts a smile on my face every time I hear it. The message is simple… "Life is tough, but never forget to enjoy the ride each and every day."
HRH: Dig in Deep is what could be a natural follow-up to a killer 1994 release Strength in Numbers. Weren't you tempted to go for something more experimental and unexpected and to explore modern genres of music?
MCA: You are actually the first person to say that! Most critics feel this album IS a total departure from the Tyketto of old. We LOVE the fact that everyone is reading this album differently.
HRH: Talking about Strength in Numbers – it took you quite long to release it, as it was rejected by Geffen and released under a different label. Were the changes in music industry a reason for that?
MCA: Yes, 100%. We were swept up in the grunge movement, and almost overnight, we were obsolete. It was a sobering experience, and forced us to step up and pave our own path without the support of a powerhouse like Geffen. Sometimes, through adversity, you realize your true strengths. As a result, we had more success with 'Strength in Numbers' than any other album in Europe.
HRH: The third band album Shine is not really listed among the fans' favorite – often labeled as "too '90s" or a "Journey-oriented" and showing a bit of departure from classic Tyketto sound. What is your take on that?
MCA: I never felt Shine was a complete thought. We were forced to rush it, and didn't give the songs the proper cultivation time they needed. In retrospect, I would have approached the album differently, as I felt there were some gems on that album that didn't come to fruition.
HRH: The band's first album was produced by Richie Zito (The Cult, Poison, White Lion etc.). How do you recall co-work with him? Are there any chances you'd like to join forces with him again in the future?
MCA: I loved Richie. We were mere kids when we met him to record our debut album, and he educated us well. He and I bonded, as we shared New York Italian roots. Richie was an integral part of what made 'Don't Come Easy' so special. He and Danny had done some other work together, and he is actually credited with co-writing one of the songs on the new album.
HRH: Legend has it that Tyketto took its name from a graffiti tag scrawled across a Brooklyn wall. Is it true?
MCA: TRUE!!! We saw it spray painted on a wall in Brooklyn and fell in love with it. We loved the fact that we would define the name with our music.
HRH: Talking about legends – the wave of '80s nostalgia we experience nowadays spawned many band reunions. Sometimes what they deliver is simply disappointing, a mere shadow of their former selves… Weren't you afraid to be perceived as being yet another '80s hair band trying to cash in on this back-to-the-'80s journey when you reunited in 2004?
MCA: Indeed, to a small extent, we felt like we were just "cashing in" on the name in 2004, which is why that was so short lived. We put all that aside when we started work on Dig in Deep, and set out to make a record WE wanted to make. People who chase the tail of the industry are fools, as only the bands with vision and integrity survive. Although we are proud of we did in the past, we set our sights on the future.
HRH: Also nowadays many new acts – from Crashdiet and Babylon Bombs to Lady Gaga – claim to draw inspirations from the '80s and early '90s rock and pop records. How do you personally judge such retro tendencies? Is there anything on the contemporary scene you find interesting?
MCA: I find it all interesting, and feel that after many decades, varied styles and passing trends, there are really only two kinds of music… GOOD and BAD! I like to think that despite trends and images, 80s or 90s or 2000's… Tyketto always wrote good music.
HRH: Apart from this nostalgia we've been talking about, many music critics find pleasure in bashing the '80s hair metal genre for its overproduced, polished records, the "big hair" look and lack of what they call genuineness. What is your personal view on the genre and the decade, and the memorable acts and albums of that era?
MCA: Like any musical era, some depended more on their image than their musical ability. Geffen marketed us as a "pretty boy" band back then, but we always felt we had more to offer than that. Some 25 years later, I feel we can still light up a stage just as good as anyone. My faves of the era were always Bon Jovi, Guns and Roses, Aerosmith and Whitesnake. All managed to keep up great images and persona's, but wrote some amazing songs along the way.
HRH: Recently, you have performed on festivals such as Sweden Rock or Download. What was the reception of the audience and your personal impression after those massive open-air festivals? Has the atmosphere changed anyhow from what you remember from the gigs in the '80s?
MCA: We still do the same thing onstage we always do… nothing short of 1000% focus and dedication. Our audiences react the same, and are always ready to sing along with Danny!
HRH: This October, Tyketto is going to headline a famous melodic rock festival Firefest in Nottingham, England. What are your expectations?
MCA: We are already FULLY sold out, so I predict madness, energy, intensity, and one hell of a show.
HRH: Do you plan to announce any further tour dates in 2012 in support of your album?
MCA: Not at this time… but stay tuned! Dates are coming!
HRH: Do you have any other plans concerning the band and promotion of Dig in Deep?
MCA: Frontiers are doing an AMAZING job getting the word out. We have been doing global press for weeks, and so far all reviews are fantastic!
HRH: Thank you very much for this interview! Is there anything you'd like to add in the end?
MCA: We feel that this album is special, and will make old and new fans proud. In my opinion, 'Dig in Deep' defines us, and shows our fans who we really are. I couldn't be prouder of the work of my band mates, and it was a real labor of love to produce. This is a special album, and we hope you agree!