Royal Hunt | Heart of the City (Best of 1992-1999)
by Justin Gaines
Staff Writer —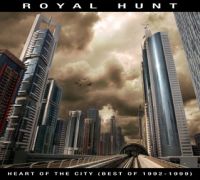 Danish melodic/progressive metal band Royal Hunt celebrates their 20th anniversary this year, and what better way to do that than with an extensive, multi-disc "best of" collection that captures the highlights of the band's career and best albums? Unfortunately, Heart of the City (Best of 1992-1999) does nothing of the sort. The idea of a compilation covering Royal Hunt's '90s output is a good one. There hasn't been anything like that since 1998's Best, and that was only available in Japan. The problem with Heart of the City is that it's limited to a single disc and just ten songs, and those songs appear to have been chosen by someone utterly unfamiliar with the band's history.
With this collection, you get a pair of songs from each of Royal Hunt's first five albums, which means that despite being far more successful and superior in just about every way, the DC Cooper-fronted albums Moving Target and Paradox get the same amount of songs as the largely unknown early albums Land of Broken Hearts and Clown in the Mirror, and even then they gloss over some key songs. No "Last Goodbye" or "1348?" No "River of Pain" or "Message to God?" That's an instant fail right there.
A real best of Royal Hunt's '90s era should ideally have two discs, but failing that the non-DC Cooper albums should have one song each…tops. Throw on "Land of Broken Hearts," "Clown in the Mirror" and "Fear" and you're done. After that you want 3-4 songs each from Moving Target and Paradox, plus a song or two from the live albums 1996 and Paradox – Closing the Chapter. Royal Hunt's career in the '90s was defined by DC Cooper's vocals as much as anything else, and a good "best of" set would acknowledge that.
Heart of the City just doesn't get the job done. It's barely acceptable as an introduction for fans unfamiliar with the band, and even then newcomers are better off with a collection like Double Live in Japan. And without any b-sides or noticeable remastering, there's definitely nothing here for serious Royal Hunt fans to bother with.
Genre: Melodic Rock, Melodic Metal, Progressive Metal
Track Listing:
1. Running Wild
2. Kingdom Dark
3. On the Run
4. Clown in the Mirror
5. Making a Mess
6. Time
7. Tearing Down the World
8. Silent Scream
9. Fear
10. Sea of Time
Label: Scarlet
Website: www.royalhunt.com
Hardrock Haven rating: 5/10