by Justin Gaines
Staff Writer —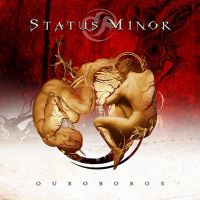 Finnish progressive metal band Status Minor is back with their second full-length album, titled Ouroboros. The band turned some heads with their 2009 debut Dialog, and if anything Ouroboros is an even stronger album. The band still plays a highly melodic, Dream Theater-inspired brand of progressive metal, but they've refined their sound as well as their overall songwriting.
If nothing else, you have to give Status Minor credit for not simply imitating their more popular countrymen in Stratovarius and Sonata Arctica. Instead of taking those bands' often cold and neoclassical approach to the genre, Status Minor emphasizes powerful melodies and brings some real heaviness that brings to mind Evergrey as well as Train of Thought-era Dream Theater.
While Ouroboros is a strong album throughout, you soon notice that three key elements are driving the overall sound. The first is Sami Saarinen's guitar work, which is dazzling and technical enough to satisfy most progressive metal fans, and subtle and steady when that's called for. The second is Jukka Karinen's keyboards, which play a huge (but not overpowering) role in how these songs sound. So often the keys can sound like an afterthought or simply echo what the guitarist is doing, but that's definitely not the case here. And of course there's the vocals. Markku Kuikka has an amazing voice and a terrific range, and he knows just when to break out of that steady mid-range to deliver some extra emphasis. There are also some occasional female backing vocals here, which is a nice touch.
Most of the songs on Ouroboros clock in at the 5-minute mark, and given how melodic and accessible they are, that's probably a smart move. They're more effective that way. However, as with Dialog, Ouroboros closes with a massive, overtly progressive song. This time it's the 10-minute "Sail Away," which comes directly from the Dream Theater playbook. It's an obvious highlight, but the more straightforward "Hollow" and "Flowers Die" also stand out.
Ouroboros is another fantastic album from a band that deserves a lot more attention in progressive/power metal circles. Fans of bands like Circus Maximus and Seventh Wonder in particular should definitely enjoy this one. Hopefully this time around Status Minor will get some recognition.
Genre: Progressive Metal
Band:
Eero Pakkanen (b)
Rolf Pilve (d)
Sami Saarinen (g)
Jukka Karinen (k)
Markku Kuikka (v)
Track Listing:
1. The Wind
2. Hollow
3. Glass Wall
4. Like a Dream
5. Confidence and Trust
6. Stain
7. Smile
8. Flowers Die
9. Sail Away
Label: Lion Music
Website: www.statusminor.com
Hardrock Haven rating: 8.75/10