by Joe Mis
Staff Writer —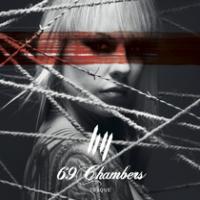 Swiss female-fronted metal trio 69 Chambers has just released its sophomore effort entitled Torque and it is a fine follow up to their 2009 debut, War On The Inside. A bit alternative, a bit Gothic, and a bit old school, 69 Chambers delivers 14 varied and interesting tracks that should appeal to fans of almost any of the darker genres of metal.
The trio is led by the expressive vocals and multi-instrumental talents of Nina Vetterli-Treml (who is an automotive and motor sports journalist when not performing). Her voice is well-suited to the genre, and runs the gamut from soft and smoky to gritty and intense. She also contributes some fine bass and guitar to the album. Nina is backed nicely by standout guitarist (and husband) Tommy Vetterli (Coroner, Kreator) and drummer Diego Rapacchietti. The tracks on Torque stylistically range from the standard rock ballad to "beauty and the beast" metal to near pop-metal, but no matter which genre dominates melody is always present. The band's musicianship is excellent, and the production values of the release are high.
The album opens with a bit of electronica during the intro to "Cause And Effect," a thrashy track that sets the gritty tone for the remainder of the CD. Nina does a bit of back and forth with growling vocalist Chrigel Glanzmann (Eluveitie), and the pair change from sweeping melodic metal to snarling near death metal without difficulty. A more alternative sound (with a hint of pop metal) takes over with "Bring On The Flood." This track features some great drum / bass coordination and a smooth layered chorus – a nice job all around. The band goes doom metal with the gloomy, guitar driven "Naughty Naughty Naughty," and Nina adapts her vocals perfectly, coming across as a bit sinister. "Anhedonia" is a more conventional metal track with some manic drumming, well done vocals, and interesting rhythm guitars. Nina's voice and passion are apparent on the conventional bass oriented rocker "Burn Some Gasoline."
"The Peep Hole" is a very dark gritty track with great vocal performances (including some cool growls) and a complex rhythm line. "Ring A Bell" has an electronic opening and a bluesy vocal line. It would be a great track if it wasn't for the distracting electronic manipulations of Nina's voice. These last two tracks don't seem to fit the image that 69 Chambers is trying to build – they are better suited to a pop-rock band, especially when followed up by the very dark and Gothic "Closeure" and the doomy "And Then There Was Silence." The latter features some excellently brutal growls by Nina and slick guitars throughout. Unfortunately this track is marred by an annoying spoken (well, yelled actually) section at the end. "Temple Down" is another well-done Soundgarden influenced rocker.
The ballad-esque modern rocker "Your Fool" is a nicely done song, but again lacks the brutal edge of most of the other songs and as a result it seems a bit out of place. Fortunately the band dials the intensity right back up with the guitar-heavy and drum-centric "The Doom Of Her Power" – one of the best tracks on the release on lyrical, tone, and performance levels. "Grace" conjures up a bit of Lacuna Coil with its somber mood and strong bottom end. The soft and smooth "Elegy" wraps the album and features an emotional and heartfelt guitar solo. This final track really highlights the full range of Nina's voice and the talent of Vetterli and Rapacchietti, as well as the stylistic depth of their songwriting skills.
69 Chambers Torque should appeal to most alternative metal fans, and to those who are into the Gothic or groove metal scenes. The band writes good dark songs without being overly morbid and depressing, and delivers them for the most part with appropriate levels of emotion and enthusiasm. The variety of styles highlights the band's versatility, but leads to some tonal inconsistency. Not a perfect album by any means, but one that comes from the heart. Solid performances and gritty lyrics, coupled with good production techniques make 69 Chambers a band to watch in the future.
Genre: Alternative Metal
Band:
Nina Vetterli-Treml (vocals, bass, guitar)
Tommy Vetterli (guitars)
Diego Rapacchietti (drums)
Guest musician: Chrigel Glanzmann (vocals on "Cause And Effect")
Track Listing:
1. Cause And Effect
2. Bring On The Flood
3. Naughty Naughty Naughty
4. Anhedonia
5. Burn Some Gasoline
6. The Peep Hole
7. Ring A Bell
8. Closure
9. And Then There Was Silence
10. Temple Down
11. Your Fool
12. The Doom Of Her Power
13. Grace
14. Elegy
Label: Massacre Records
Website: http://www.69chambers.com/
Hardrock Haven rating: 7.5/10