by Justin Gaines
Staff Writer —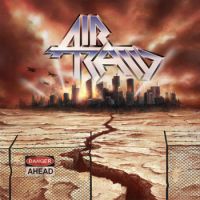 Swedish traditional heavy metal band Air Raid makes their debut this year with an EP titled Danger Ahead. Following in the footsteps of fellow Swedes Wolf and Enforcer, Air Raid falls into what has been called the New Wave of Traditional Metal – an emergence of newer bands with a decidedly old school heavy metal sound.
Air Raid's sound has its roots in the obvious places – Iron Maiden, Judas Priest, Accept and maybe a bit of Mercyful Fate. You can't go wrong with those influences, and as a result, Danger Ahead is a very satisfying EP. It's got a great twin axe attack, fantastic melodies, and a crushing heaviness to the rhythms that you don't always see from a lot of newer traditional metal bands. Between that and the heaviness and power in Michael Rinakakis's vocals, this is a very muscular, hard-hitting collection of songs. If you don't bang your head and raise your fist to the metal assault of "Annihilation" and "Midnight Burner," then you may need to rethink this whole metal thing. And who could forget the awesome battle anthem "The Metal Cult?"
The EP also includes the band's 2-song 2011 demo as bonus tracks. The songs – "Traitor's Gate" and "Fight Street" – sound like they could have been taken from some forgotten early '80s Neat Records 7" release. They're straight-up, old school NWOBHM all the way, and close out the EP with a bang.
There may only be seven songs on Danger Ahead, but there's enough pure metal awesomeness to fill multiple albums. Whether you're a disciple of the classic bands named earlier, or newer bands like Skull Fist, In Solitude, White Wizzard and the like (or better yet, both), you have to check out Air Raid. It doesn't get much better than this!
Genre: Heavy Metal, Traditional Metal
Band:
Johan Karlsson (g)
Andreas Johansson (g)
Robin Utbult (b)
David Hermansson (d)
Michael Rinakakis (v)
Track Listing:
1. When the Sky Turns Red
2. Annihilation
3. The Metal Cult
4. Midnight Burner
5. Free at Last
6. Traitor's Gate (demo 2011)
7. Fight Street (demo 2011)
Label: StormSpell
Website: http://www.facebook.com/AirRaidOfficial
Hardrock Haven rating: 8.75/10