by John Kindred
Publisher —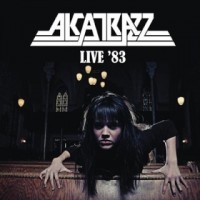 Alcatrazz was formed by former Rainbow and MSG vocalist Graham Bonnet in the early '80s. The band featured former members of the band New England, bassist Gary Shea and keyboardist Jimmy Waldo, as well drummer Jan Uvena of Iron Butterfly and a member of Alice Cooper's band. The legendary Yngwie Malmsteen initially handled guitar duties. Having recently arrived in the U.S. in '82 thanks to Mike Varney, Malmsteen worked with Ron Keel's Steeler and was just beginning to make a name for himself. Alcatrazz proved to be his true launching ground before becoming a solo artist in 1984.
This lineup produced one studio album, No Parole From Rock 'N' Roll, which originally was released in 1983 on Rocshire Records. Alcatrazz then followed that up with the live album Live Sentence in '84. The writing partnership of Bonnet and Malmsteen produced a heavy commercial sound that appealed to fans of Rainbow and MSG. With support of MTV, the song "Island the Sun" granted the band a brief exposure to possible fans, but the album received limited radio airplay. Malmsteen quit the band in '84 to move his solo career forward and was replaced by another legend Steve Vai.
The release of Live '83, again, features the original band lineup performing at The Country Club in Reseda, Calif., in the early '80s for a live radio broadcast. Originally only attainable as a bootleg, Deadline Music has released the official copy, which was mastered by Anthony Focx. The live performance features 10 songs, with a majority of those coming from the debut album. Alcatrazz also performed Rainbow's "Since You Been Gone" and MSG's "Desert Song," as well as Malmsteen's own instrumental composition "Evil Eye." The 11th and final song on the CD is a bonus studio track of the Rainbow classic "All Night Long," featuring George Lynch on guitar.
Considering that the original source of the live performance probably was stashed away in someone's vault for years, the quality of the recording and performance here are top-notch. The band is on fire, and Malmsteen's guitar playing fits perfectly into the audio landscape of Alcatrazz's sound. Even when he dashes off into lead runs under the vocals of Bonnet, his fret board antics work without clashing with the vocals, or the band for that matter. It is the rhythm section of Shea and Uvena that holds the foundations together, while Waldo keeps the melodies and rhythmic heartbeat alive with his keys.
Live '83 is a true gem that Alcatrazz and Malmsteen fans should add to their collection. It highlights a raw, unrefined Malmsteen on equal footing with Bonnet's raw, gritty voice.
Genre: Hard Rock, Heavy Metal, Neo-classical
Band:
Graham Bonnet (v)
Yngwie Malmsteen (g)
Gary Shea (b)
Jan Uvena (d)
Jimmy Waldo (k)
Track List:
1. Too Young To Die, Too Drunk To Live
2. General Hospital
3. Kree Nakoorie
4. Island In The Sun
5. Evil Eye
6. Since You Been Gone
7. Hiroshima Mon Amour
8. Suffer Me
9. Desert Song
10. Jet To Jet
11. All Night Long (Bonus Studio Track featuring George Lynch)
Label: DeadLine Music
Hardrock Haven rating: 8/10