Blind Guardian | Memories of a Time to Come
by Justin Gaines
Staff Writer —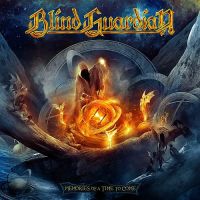 It's almost impossible to believe that there hasn't been a Blind Guardian "greatest hits" collection until now. Blind Guardian is arguably the biggest and most important band in power metal, and their career spans a quarter-century and nine studio albums (plus a host of live albums, singles and b-side collections). Fans finally get a "best of Blind Guardian" collection in the 2-disc Memories of a Time to Come. This deluxe set isn't your everyday anthology either. Instead of just tossing together tracks from each album (and maybe a new song or two), the band opted for something a bit different. All of the older songs on Memories of a Time to Come have either been remixed for this collection or re-recorded completely, which means that even the most dedicated Blind Guardian fans – the ones who already own all of the band's albums – will get to hear these classic power metal songs in a new light.
Blind Guardian has always tended towards longer songs, so even though Memories of a Time to Come spans two CDs, there are only 16 songs total. This means we can argue endlessly about the songs that made the cut and especially those that didn't. The collection does cover all the main albums (some more than others), but there are some notable absences, like "A Past and Future Secret," "Lost in the Twilight Hall" and more recent singles like "Fly" and "Another Stranger Me." Still, the songs that did make it more than deserve to be here. Honestly, a true "best of" set that pleased just about everybody would probably span 3-4 discs!
As far as the remixed songs go, for the most part the changes are pretty subtle. It's more noticeable on the Battalions of Fear and Follow the Blind songs, and almost impossible to tell on the songs from A Twist in the Myth and At the Edge of Time. The new recordings are where you see the real changes. On the two "The Bard's Song" tracks the new versions may actually be an improvement on the originals, but the new version of the 14-minute epic "And Then There Was Silence" seems somehow colder and more sterile than the original.
Memories of a Time to Come does a good job as a career retrospective, and makes an effective introduction to Blind Guardian for newcomers (of course, picking up Imaginations from the Other Side and Nightfall in Middle Earth works just as well). Long time Blind Guardian fans should at the very least find this collection interesting for the new recordings, though whether that's worth the price of the entire set probably depends on how die-hard a fan you are.
Genre: Power Metal
Track Listing:
Disc 1
1. Imaginations From the Other Side (2011 remix)
2. Nightfall (2011 remix)
3. Ride Into Obsession (2011 remix)
4. Somewhere Far Beyond (2011 remix)
5. Majesty (2011 remix)
6. Traveler in Time (2011 remix)
7. Follow the Blind (2011 remix)
8. The Last Candle (2011 remix)
Disc 2
1. Sacred Worlds (original version)
2. This Will Never End (2011 remix)
3. Valhalla (new version)
4. Bright Eyes (2011 remix)
5. Mirror Mirror (2011 remix)
6. The Bard's Song (In the Forest) (new version)
7. The Bard's Song (The Hobbit) (new version)
8. And Then There Was Silence (new version)
Label: EMI
Website: www.blind-guardian.com
Hardrock Haven rating: 8.5/10