Chris Laney of Laney's Legion
by Alex Barbieri
Staff Writer —
Reason for the Legion: Interview with Chris Laney on Laney's Legion …
Chris Laney: Producer, engineer, songwriter, artist. Classic Rock magazine called him, "One of Europe's finest purveyors of sleazy but tuneful hard rock." And Hardrock Haven wrote that Laney—along with his PLATFORM studio partner Anders Ringman—are "the Mutt Langes of the current hard rock scene."
Laney's production credits and client list are extensive: Candlemass, Europe, Crashdiet, Brian "Robbo" Robertson, Therion, Crazy Lixx, Steevi Jaimz, Zan Clan, Randy Piper's Animal, The Quill, Vains of Jenna, Babylon Bombs, TV4, Dynazty and many more.
In 2009, he wrote and recorded his first solo album Pure, followed by the critically-acclaimed Only Come Out At Night in 2010. Now, Laney is ready to launch "his best band ever," Laney's Legion—now with the just-announced Rob Marcello on guitar.
Pull up a chair, pour a drink and let's visit Laney at his studio in Stockholm, Sweden.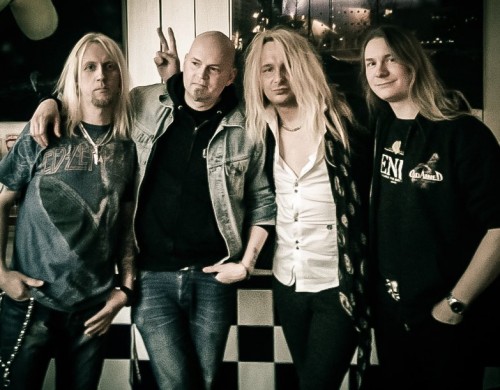 HRH: Chris! Good to finally talk again. Tell us the latest on Laney's Legion: How is the recording going, and when do you think it will be released?
CL: The same man! The recording is pretty much done—but we are re-doing some guitars. Rob Marcello (Obsession, Marcello-Vestry, Danger Danger, House of Lords) joined the band a few weeks ago, so we wanna re-record the guitar tracks John Berg had recorded before.
I love John—he is like a baby brother to me, talented as fuck—but he just didn't have that spark any longer. John's heart wasn't in the right place and to my joy, at that very moment, Rob calls me and wants to join the band … TIMING!!! I am so excited!
HRH: That's awesome about Rob Marcello joining the band. Sounds like it was meant to be! His guitar work on Danger Danger's 2009 Revolve album is nothing short of melodic rock brilliance. When will the Laney's Legion album be released?
CL: I dunno when the album will be out, and I won't rush it. I know we sit on a real treasure, so I want to give it the time it deserves.
If you think about it, I released two albums within two years (2009's Pure and 2010's Only Come Out at Night), so I still feel I can give it some extra love and time.
HRH: Who is in the band, and why did you decide to form a group instead of doing another solo project?
CL: The band is me on vocals and guitar, Mats Vassfjord on bass, Patrik Jansson on drums and Rob Marcello on guitar.
When we were asked to do the WASP tour, we talked about doing it as a REAL band, not just as "Chris Laney." That is how we felt. But as contracts and shit were signed, we did the tour as Chris Laney. After that we had a meeting and decided to call it Laney's Legion. That was Mats' idea.
HRH: I read on Facebook that guitarist Rob Marcello was on a plane to Stockholm recently. How did that collaboration come about?
CL: Rob came to meet us and we had a blast, hit it off to the max. I have known Rob for years, but the other guys had not met him before. Rob will be coming over shortly to start the work on the album.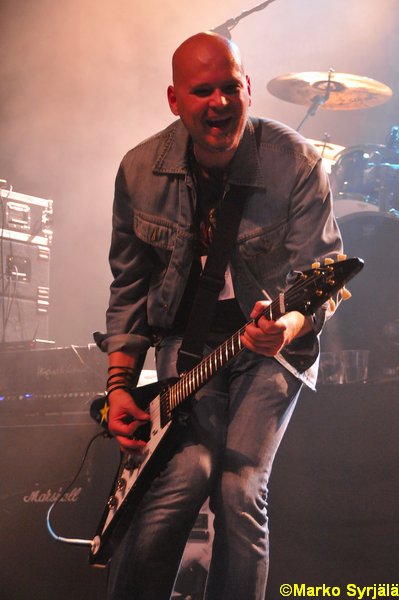 HRH: Do you have any touring plans for Laney's Legion? Can you announce any show dates, and any chance we'll get to see you live in the States?
CL: We will not tour or play any shows yet—we want to make sure everything is done the right way. Our first focus is on the album, then photos for the album, a video and then play live. U.S., hell yeah, this time we will play wherever they want us!
HRH: Cool. There are some fun summertime rock festivals in the States you should look into … the M3 Rock Festival in Maryland and Rocklahoma in Oklahoma, to name a few. Both are held in May. Maybe Laney's Legion can play them next year! When you do play live with LL, will you just play new songs, or anything from your past solo and band catalog?
CL: We will play a lot of stuff from Chris Laney (solo), Laney's Legion … we even talked about doing some other related stuff too. We are a band with histories and backgrounds—we do not underestimate where we all came from.
HRH: Aside from Laney's Legion, what bands have you produced lately? Anyone we should know about and should be listening to?
CL: I produced a Finnish band called White Flame—their upcoming album is killer!!! Also check out the power pop album Casablanca with Ryan Roxie!
HRH: Have you ever thought about putting out a compilation album of all the artists you and Anders have recorded? That would be one killer hard rock album. I'd buy it!
CL: Thanks buddy!!! (Laughs out loud.) I already have one in my iTunes playlist! No, not really, but I have often thought of doing some of these songs live, like "Amazing" and "Something Good Something Bad" from the Steevi Jaimz album.
HRH: You just named two of my favorite songs from one of my favorite albums of the last few years.
Side note: Hardrock Haven readers, if you're a fan of melodic hard rock/glam, check out former Tigertailz singer Steevi Jaimz' album My Private Hell, which Laney produced. Here's the review I wrote a few years ago: http://hardrockhaven.net/online/2010/09/steevi-jaimz-my-private-hell/
HRH: What bands/artists are you listening to lately? What's on heavy rotation in the Laney household?
CL: Sixx AM, Nickleback, Van Halen, Mummyheads, Carrie Underwood, Foo Fighters, Bad City.
HRH: What are five favorite bands and albums of all time? (I know this is a tough one.)
CL: KISS Unmasked, JellyFish Spilt Milk, Shotgun Messiah's first album, Def Leppard Pyromania and WASP self titled.
HRH: This question is for the techies and studio geeks out there: Please describe your studio setup—what kind of software do you use, microphones, amps, etc.
CL: This is the very first time I ever got asked this question!!!! It took some 15 years to my surprise! I use Mac, Logic Pro, Waves, SSL, Lexicon, Genelec 1030 monitors. Most sounds you hear is me fooling around with different microphones. I never use the same except for vocals. Nowadays, I always record with the Sure SM 7, it really just does the trick. For guitars, I blend my IR cabs with real cabs and mics and powersoak with a Palmer and then direct to my DAW. I use Hughes & Kettner Coreblade and Tubemeister as my main amps, they are so damn good all around, I do not need to bother testing anything else—just different mics and cabs. On drums, it is all about the room and drummer. Sometimes I use trigs. I have built my own drums samples for ages and if you'd hear them by themselves, you'd laugh. (I find) a good drum sound to start, and then just add on the ugly stuff that makes it sound Laney (smiles).
HRH: Is there anything else you want to say to the rock fans and Hardrock Haven readers around the world?
CL: I'M BACK WITH THE BEST BAND EVER!!! Join the Laney's Legion Facebook http://www.facebook.com/pages/Chris-Laneys-Legion/220154594677951 and you will get the latest info and spread the word.
HRH: Chris, thank you again for your time. You're always very gracious and a pleasure to talk to. Please give Anders our best from Hardrock Haven, and stay in touch.
CL: Thank you brother, and yeah, I'll tell "Pants" or "Uncle Boobs" (Anders) you said hi!
Check out the official Chris Laney website:
www.chrislaney.com
Friend Chris Laney on Facebook:
www.facebook.com/laney.chris
Laney's Legion Facebook:
http://www.facebook.com/pages/Chris-Laneys-Legion/220154594677951
Chris Laney Myspace page:
www.myspace.com/chrislaney
Watch the Laney's Legion teaser on YouTube:
www.youtube.com/watch?v=_ZLXl1WNLFE&list=UUuyzgwKvBM1dvJ7R-aYjeVQ&index=1&feature=plcp
Watch videos on Chris' official YouTube channel:
www.youtube.com/user/chrislaney72?feature=results_main