Cyclone Temple | My Friend Lonely
by Justin Gaines
Staff Writer —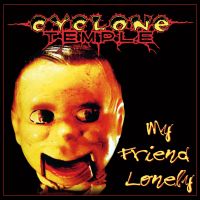 When groundbreaking Chicago area thrash metal band Znowhite lost vocalist Debbie Gunn (she decided to join Sentinel Beast), guitarist Greg Fulton, bassist Scott Schafer and drummer John Slattery III decided to soldier on, bringing in a new vocalist and eventually changing the band name to Cyclone Temple. By the time their second album – My Friend Lonely – came out in 1994, Cyclone Temple was on their third vocalist, and faced with a changing musical climate that didn't exactly favor thrash metal. The album, released on a much smaller independent label, went largely unnoticed, and the band went their separate ways soon after.
It's a shame Cyclone Temple never reached a wider audience, because they were more than just your average thrash metal band. You hear that clearly on My Friend Lonely, an album that reveals a surprisingly diverse set of influences beyond the usual machine gun riffing. There's a bludgeoning heaviness in the guitar sound that brings to mind Prong, and Sonny DeLuca's soulful vocals are just as heavy in their own way. The album has a hardcore meets groove vibe that fans of Pantera will recognize, but it also makes sharp, if brief, shifts into almost reggae territory on occasion. This may prove to be a bit too… out there…for some, but Cyclone Temple's willingness to experiment is a huge part of what makes My Friend Lonely so remarkable all these years later.
Divebomb's 2012 reissue of My Friend Lonely not only features the original album, fully remastered by Jamie King at Basement Studios; it also includes a newly remastered version of the rare 1993 EP Building Errors in the Machine, which featured Marco Salinas on vocals. The EP is a very interesting addition, as all of the songs on it were later re-recorded for My Friend Lonely. Salinas did a solid enough job, but it really highlights just how much DeLuca brought to the band. The remastering is incredible, but that's to be expected given King's track record for restoring older metal gems. The liner notes include an essay/band interview by AOL Noisecreep Editor Carlos Ramirez.
Chalk up another first class thrash metal reissue for the Divebomb label. This upgraded version of My Friend Lonely is not only a must-have for Cyclone Temple (and probably Znowhite) fans, it's also an album that will appeal to fans of forward-thinking, innovative thrash metal in general.
Genre: Thrash Metal
Band:
Greg Fulton (g)
Scott Schafer (b)
John Slattery III (d)
Sonny DeLuca (v, tracks 1-9)
Marco Salinas (v, tracks 10-14)
Track Listing:
1. Hate Makes Hate
2. Down the Drain
3. My Friend Lonely
4. Me, Myself & I
5. Drug of the Masses
6. Comfortably Superficial
7. Killing Floor
8. Time Heals All
9. The Law of Relativity
10. Hate Makes Hate (alternate version)
11. Me, Myself & I (alternate version)
12. Down the Drain (alternate version)
13. Killing Floor (alternate version)
14. Drug of the Masses (alternate version)
Label: Divebomb
Website: www.myspace.com/cyclonetemple
Hardrock Haven rating: 8.25/10