Fly Machine | Come Metamorphosis
by Justin Gaines
Staff Writer —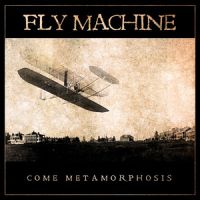 Formed in the early 1990s from the ashes of North Carolina-based progressive/thrash/doom metal innovators Confessor, Fly Machine was similar to Confessor in a lot of respects. Both bands embraced technicality and had an unusual approach to their music, pushing the boundaries of the metal genre in interesting new ways. Fly Machine seemed somehow more suited than Confessor to life in the post-Nirvana musical landscape of the mid '90s.
Divebomb's 2012 collection Come Metamorphosis collects the eight demos that made up the original, self-titled (and self-released) Fly Machine disc as well as three additional songs. All of the songs have been remastered by Jamie King at Basement Studios, and the disc features additional multimedia content. The liner notes feature a brief band history from drummer Steve Shelton.
As Shelton points out in the liner notes, some of these songs had their genesis in the Confessor days, so you're going to hear a lot of that sound on songs like "Empty Circle" and "Downsize." There's a more '90s vibe to most of the songs on Come Metamorphosis. Maybe that's due to Dave Dorsey's vocals, which are less overtly "metal" than Scott Jeffreys or the Soundgarden-like groove that keeps popping up. Either way, Fly Machine's sound probably would have gone over very well with the alternative rock and metal crowd if they had any kind of spotlight at all. Obviously that wasn't the case, so Fly Machine's career was limited to that one self-released album.
Obviously a collection like Come Metamorphosis is going to be of most interest to serious Confessor fans. It's no accident that this Fly Machine collection comes just as Divebomb has released a collection of early Confessor demos (the excellent Uncontrolled). Both make effective bookends to Confessor's lone '90s album (1991's Condemned), but beyond that Come Metamorphosis has plenty to offer fans of innovative progressive metal on its own merits.
Genre: Doom Metal, Progressive Metal
Band:
Dave Dorsey (g) (v)
Chris Nolan (g)
Cary Rowells (b)
Steve Shelton (d)
Track Listing:
1. Becoming
2. Cell
3. Take You On
4. Drowning
5. Empty Circle
6. Downsize
7. Mover
8. Victimize
9. Big Down
10. Gun in Me
11. Thrown
Label: Divebomb
Hardrock Haven rating: 8/10