Igz Kincaid and Lariyah Daniels of HËSSLER
by Alex Barbieri
Staff Writer —
Get On the Hess Xpress: An Interview with Igz Kincaid and Lariyah Daniels of HËSSLER
Not long ago, a friend of Hardrock Haven let us know, "You have to check out this band HËSSLER from Chicago! They kick ass! And the singer is super hot!" Not ones to ignore good advice from a well-respected rock fan, we put the call out to HËSSLER band and the result is the chat below. (Special thanks to friend and fellow hard rock fan, Andy Kalenowsky, for his input and help with this interview.)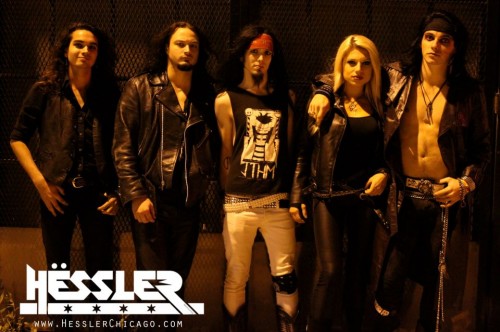 HRH: Igz and Lariyah! Andy said we should check you out, so here we are! Thank you both for spending a little time with Hardrock Haven. Tell the hard rock fans around the world a little about
HËSSLER—What you're about, describe your sound and philosophy.
IK: We are about high energy, playing only what we love, kicking ass and looking like a million bucks while doing it.
LD: The sound has evolved over time—the closer we are to each other, the longer we share the stage together, the more powerful we get.
HRH: How did the name come about, and who is HËSSLER named after?
IK: I spawned it. It involves lots of fire, lots of gasoline, a maniac's mastermind, and a connection with spiritual and netherworld demons and beasts.
LD: 'Nuff said.
HRH: You have a new album out called Bad Blood. Where did you record it? Who produced/engineered it? Are the songs and sound a step forward for HËSSLER?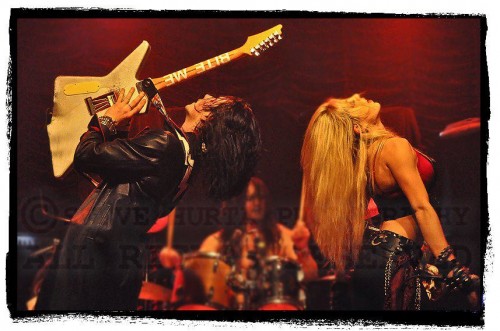 IK: The drums were recorded in one day at Groovemasters Studios in Chicago, in the same room that Airbourne recorded their new record. Being limited financially, we recorded the guitars, vocals, bass, etc. at our loft/recording studio. The drums were engineered by Daniel Salcido at Groovemasters—an awesome young virtuoso—and the rest was guinea pigged by Adam Arling from The Last Vegas. Tony Mac did the mixing on the tunes with what we had to work with. All in all, we had great people working on it, but the budget and the rush to get it ready and pressed by the deadline for the album release show limited the end result. Bad Blood was actually released last year in April, and Lar can tell you about the new album.
LD: Well, I would say that the upcoming album is going to be the real HËSSLER as we are now. The majority of the songs have been written after Frank came back full time in September, and everyone has their part, a piece of their own soul, and it really shows. The songs are straight from the heart. We now work as a unit and that is what we always wanted to be. Passion, emotion, whether positive or negative, feeds the lyrics and the music, and that is what keeps it pure.
HRH: HËSSLER has really made a name from your lives shows. In 2011, you shared the stage with Steel Panther, Sebastian Bach, Dokken and Stephen Pearcy, to name a few. Who was your favorite band to open for and who treated you the best?
IK: We have yet to play with a national act that are assholes; everyone is always very nice to us, polite, and helpful but I think since we carry ourselves well, people show us more respect or at least look at us as equals. Fans showed Baz video footage of our show and he was mad he missed it! Luckily, we get to play with him again on May 12, 2012. I really enjoyed playing the same night as Sister Sin because they kick ass live and Liv is a babeasaurus. Loudness as I am huge fan of Akira Takasaki; also playing with Blaze Bayley because he is an AWESOME guy, fantastic singer and sang for Maiden \m/.
LD: Ohhh … Sebastian Bach … yes, yes, my biggest crush and definitely the most inspirational vocalist. When you are a kid you stare at his videos, dreaming to see him performing live, and then you get to play on the same stage. The feeling is just hard to explain. But, going back to your question, I think I most enjoyed playing with Steel Panther. Got to meet the band, Satchel was really nice to us, came over backstage and introduced himself. Michael Starr gave me a shout out on stage, and then Lexxi and Stix partied with the boys at our pad. Really nice people and top notch musicians. I would say the band that stole my heart was Sister Sin; Liv Jagrell was just a darling. Igz can say much more than I about it, I got to hang out with her only one day, they spent a little more time together, hanging out in Chicago between shows, and we became friends.
HRH: Lariyah, as an attractive and talented front woman, how do people react to you? Do you find that you are a source of inspiration for people, especially other women who want to sing or play music?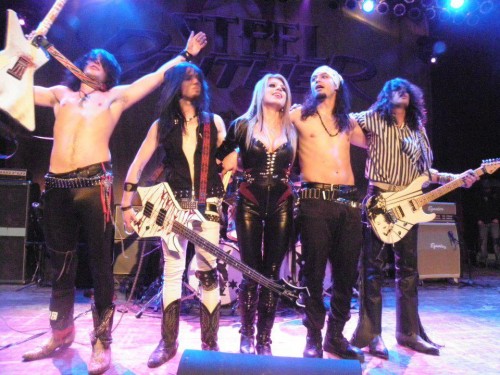 LD: I actually do, which is very flattering. I am proud that ladies come to me, ask questions, look for advice, and I am happy to help if I can. Some people come to our shows just to check out LD that they see online from the pictures, and after seeing US live they quickly realize it is not just an image. We are proud to say that our shows are not just visual but actually the music and performance make them one of a kind. It's pure energy, pure passion, pure emotion; that's when the look does not matter anymore; that's where your personality and skills shine.
HRH: Over the past few years HËSSLER has gone through various lineup changes. When was it apparent you had all the right people to make HËSSLER what it is today?
IK: Ideally I wanted a singer, singer. The guys I had first in the band were great people, but what I wanted to achieve with the music of this band, was different to what they wanted to do which lead to initial line up changes. I've always known what I wanted, just needed the right gunslingers to believe 100 percent in the cause. Lar is a singer singer, and she was also virgin to singing the style I wanted for the Hess, thus making it a mouth watering situation to mold her over time into a banshee. The line up now is perfect for doing what is necessary to make us a deadly force on all sides.
LD: Hehe, damn right. From my Tarja Turunen and Christina Scabia influences, I gotta say that now on stage it's a mix of Blackie Lawless, Doro and Sebastian Bach. Quite a change but DAMN it feels so good when you can sing your ass off, scream with the power of the devil and still maintain melodic softness for the slower songs. The new album will show it all. I just can't wait for that!
HRH: How did the Pepsi commercial come about (starring Igz and Lariyah)?
IK: Lar was doing lots of commercials and she set it up.
LD: Yea, Igz never talks about it, but he does commercials and what not as well. The producers had an idea for us, called me and said to bring my guitarist. The good thing about the commercial is that it really shows us the way we are so a script was not really necessary for that particular spot. Plus the producers had some footage from one of our concerts and used that as well, so it turned out very realistic.
HRH: If HËSSLER could write an entrance theme for any wrestler, who would it be and why?
IK: HAHAHAHHAHAHA. BRET HIT MAN HART!!!!
LD: (Igz puts hand over Lar's mouth) Sorry, I am HUGE wrestling fan. Once again Bret, or Rob Van Dam, or when we tour Japan and Vader wants to come back, I would love to scream IT'S TIME, IT'S TIME, IT'S (leans mic to crowd VADAHHH) TIME! (Lar throws Igz's hand off) – oh HELL NO!
HRH: Tell us about the Hess-Express—what is that exactly?
IK: A nickname used for the band when we used to boast that we were "trainwreck rock." Now we can say we are Heavy Metal because everyone actually knows their parts (disrespectful in my eyes to claim you're heavy metal and everyone in the band does not know the song from A to Z), but we're still the Hess Xpress!
LD: We consider Hess Xpress not only as us, but also our fans and friends. We all ride the same train to hell.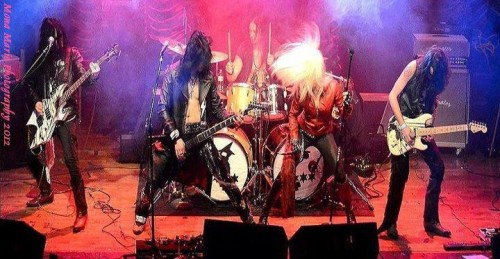 HRH: You're scheduled to play Rocklahoma May 25, 2012. How psyched are you for that? Any other cool shows in the near future?
IK: We are playing with Sebastian Bach again on May 12, 2012. We are playing an awesome show I set up at Double Door in Chicago with all young, hungry bands including Wildstreet from NYC and Diemonds from Canada. May 24, we are in Kansas City and then Rocklahoma. Booking more battles for the summer.
LD: We are quite restless and we want this year to be the beginning of something really big. Being on the same festival with Megadeath, Rob Zombie, Slash and all of the bands during Rocklahoma is definitely what we are looking forward to in May. There are many more great things down on the rocks, as Igz said, but we won't reveal them yet.
HRH: What are some other plans and goals for HËSSLER in 2012?
IK: We HAVE to record the new album to continue with our steady progress and show the world how the band has grown and how much Lar's voice for this style of music has improved. I want to capture the deadliness of the band's live performances on disc, and get our overseas invasions going.
LD: Couldn't agree more.
HRH: Is there anything you want to say to your fans, and the Hardrock Haven readers around the world?
IK: Our new website is going up soon, that will be in html instead of flash. Stay tuned for updates and spread the disease on Facebook. As always, support the bands you love. Buy music, merch, and tickets for shows. Feed the machine, cause no one should ride for free in heavy metal; we keep alive the bands we love. I bought all of my Iron Maiden albums. Did you? \m/
LD: As always, thank you everyone for the great support, keep being so amazing and keep up with us as we steal the world. Thank you so much Hardrock Haven.
HRH: Igz and Lariyah, thank you so much for spending some time with Hardrock Haven today—you two are an awesome interview. All the best to HËSSLER in 2012 and please keep us posted on what you're up to. Hardrock Haven readers, if you're into fun, catchy and kick ass rock, check out HËSSLER!
Check out the official Hessler website:
http://www.hesslerchicago.com/#!news
Like the official HËSSLER Facebook page:
http://www.facebook.com/Hesslerchicago
Watch HËSSLER videos and commercials:
http://www.hesslerchicago.com/#!videos
Order HËSSLER Bad Blood and other swag:
http://www.hesslerchicago.com/#!shop